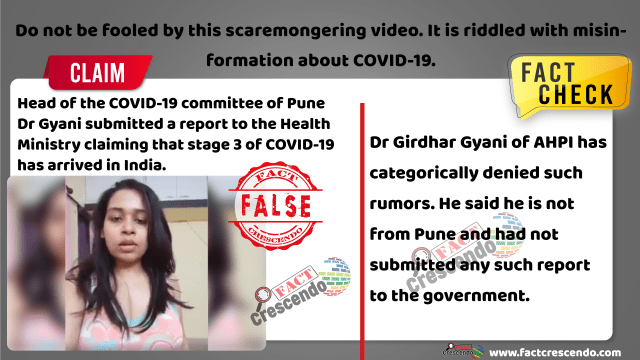 A video of a woman claiming India has entered stage-3 of COVID-19, citing a source in the government, is doing rounds on the social media. The woman, speaking in Bengali, asks people to stock up on food, medicines and baby food so that they don't have to step out for at-least one month. She also cautions people about the Army being deployed to enforce a strict lockdown in the upcoming days.
Many Fact Crescendo readers have sent us this video for fact-checking. Through our investigation, we found that the claims made in this video are not true and have no evidence to support it.
What's in the video?
In the 9-minute long video, a woman claims her husband is associated with a major TV channel. From where he got the information that Dr. Gyani of Pune, who apparently is the head of The COVID-19 Committee, has submitted a report to the Health Ministry that India is in the Stage-3 already and will soon be proceeding to Stage 4 of COVID-19.
Sounding the alarm bell, she urges people to stock up daily need items before the situation deteriorates further. She warns that once Sec. 144 is implemented, the Army will be deployed on the streets and only 2-3 hours of will be available to buy essentials. You can watch this clip below.
See the original post – Facebook
FACT-CHECK
To get started with our investigation, we zeroed down the name Dr. Gyani of Pune. The woman claims that he is the head of some kind of "COVID-19 Committee" set up by the government.
Taking the clue, we searched on the internet about him. We could not find any Dr. Gyani from Pune who is involved with state formed COVID-19.
Then we turned our focus onto the committees formed by the central government to check if there is any Dr. Gyani on such body.
We came across a news report by All India Radio. According to it, the government had constituted a high-level technical committee of Public Health Experts for COVID-19 to guide the prevention and control activities in the country on March 22. The 21 member committee will be headed by NITI Aayog member Dr. V K Paul.
Times of India published the complete list of the members of this committee. As you can see, Dr. Gyani does not feature in the list.
Then we searched whether any Dr. Gyani was working regarding coronavirus, If not with the government?
We came across one Dr. Girdhar Gyani who seems to be in the news lately. Recently, a news website published a news report with the claim that India has already entered Stage-3 of COVID-19. They have mentioned Dr. Girdhar Gyani as the source for this information.
According to the news article, Dr. Gyani is the convener of a task force on COVID-19 hospitals. This task force is among a couple of task forces that were created in response to an initiative led by the NITI Aayog.
When we searched more about him, we found that Dr. Gyani has clarified that the headline of the article was misleading and blown out of proportion.
A reporter from ANI had got in touch with Dr. Gyani after the news report went viral in his name. The editor of ANI Live Services Ishaan Prakash has tweeted that "Dr. Girdhar Gyani who says this headline was blown out of proportion. Dr Girdhar clarified, "luckily till today increase in No. of cases is pure arithmetic while in community spread its goes geometrically or exponentially."
PIB's fact-checking wing also tweeted about it clarifying that Dr. Gyani considers the news report as misleading. He denied making such statements.
To strengthen the investigation, Fact Crescendo contacted Dr. Gyani. He categorically denied the claims made in the viral video. "I have not submitted any report to the Health Ministry claiming that stage 3 or 4 for COVID-19 has arrived in India. Neither have I ever claimed anything as such thing over the interviews that I have given," he said.
Further, he clarified that he has no connection with Pune city nor does not head any "COVID-19 committee" there as claimed in the video. "I am based in Delhi. I am currently linked with AHPI and we are not a government body nor are we connected with them. We are focusing on a 5 tier program to prepare for emergency in case it arises," he told.
He also told us that he had not given any information to any person related to any news channel as claimed by the woman in the video.
Learning about the viral video which propagates false information in his name, he was shocked and surprised. He urged the people not to share such fear-mongering videos and especially not in use his name. "It is really sad to see people spreading fake news amidst this emergency that will create more panic among the masses. Please do not share fake news about coronavirus. I will file a legal complaint against anyone who spreads false information using my name." he said.
Who is Dr. Gyani?
Dr. Girdhar Gyani is the founder director of the Association of Healthcare Providers (India) (AHPI). It is a non-profit organization and advocates with the government, regulatory bodies and other stakeholders over issues of healthcare. Dr. Gyani is an engineer who holds a Ph.D. in Quality Management.
What is the Task Force?
In an Interview with HuffiPost India, Dr. Gyani said, "On 19th March some of key associations including IMA and AHPI were invited by the Secretary of Health to appraise us with the preparation for COVID-19. The purpose of the meeting was to inform them what the government was preparing for and in what way the private sector can help with COVID-19."
On 23rd March they set up 6-task forces with the involvement of NITI AYOG. The first was on dedicated COVID-19 Hospitals, which Dr. Gyani leads as convener. Other task forces were on fever clinics, telemedicine, home care, financing & capacity building/ training.
You can hear from him the same in the following interview he did with Brut India.
What about Army Deployment?
The government has clarified that viral messages claiming likely declaration of emergency in mid-April and deployment of India Army are FAKE and baseless.
Conclusion
Further to the confirmation received from Dr. Girdhar Gyani, we can safely conclude that the viral video is riddled with the false information. Dr. Gyani has not submitted any report on COVID-19 in India nor he has he said that India was in Stage-3. He categorically rubbished such rumors.

Title:Do Not Be Fooled By This Scaremongering Video. It Is Riddled With Misinformation About the COVID-19 Situation.
Fact Check By: Mayur Deokar
Result: False