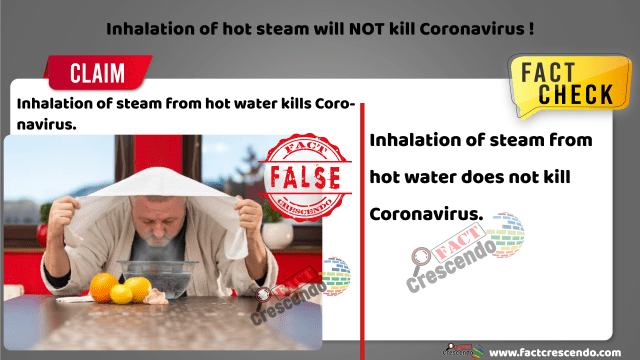 Social Media is flooded with misinformation related to Coronavirus. Amidst this we received a request for a fact check on our WhatsApp number 9049053770. According to the message it claims that Chinese experts have suggested that inhalation of steam from hot water will kill the Coronavirus.
The message reads "A Chinese expert assures everybody that inhalation of steam from hot water kills Corona virus 100 percent. Even if the virus entered the Nose, throat or Lungs. Corona Virus can not stand the hot water steam…
PLEASE CIRCULATE THIS INFORMATION TO ALL YOUR FAMILY MEMBERS AND FRIENDS."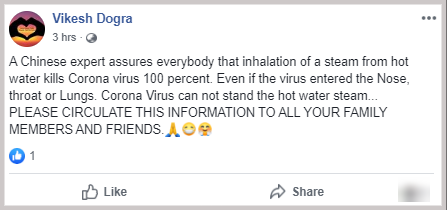 Fact Check-
We started our investigation by using a keyword search on Google to find relevant research and reports on the same, however the results did not reveal any relavent information. Further we searched for relevant reports on World Health Organisation (WHO) and Ministry of Health and Family Welfare (India) website but we were unable to find any information confirming that inhalation of hot steam can kill Coronavirus.
However we came across PIB's Fact Check's Facebook post published on 30th March 2020. The post mentioned that "There is no scientific evidence to prove that inhaling hot water steam kills #Coronavirus.
Remember: Respiratory hygiene, social distancing and washing hands are effective measures to prevent #Covid19."
PIB Fact Check has also posted the same on their official Twitter handle as well.
Conclusion- Fact Crescendo found the above mentioned post to be False. Inhalation of steam from hot water does not kill Coronavirus. We request our readers to not forward any messages without verifying it's authenticity.

Title:Inhalation of hot steam will NOT kill Coronavirus !
Fact Check By: Aavya Ray
Result: False