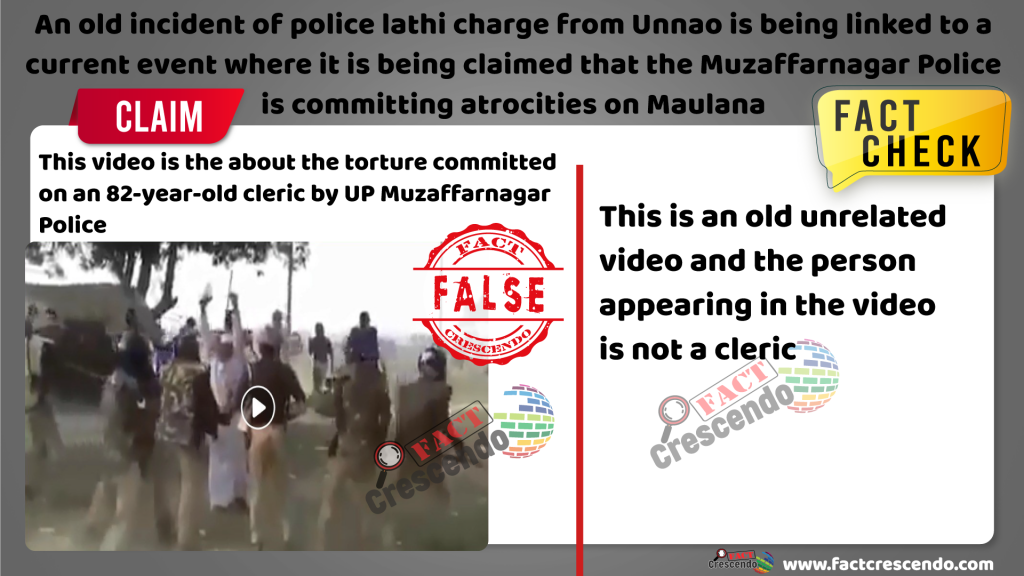 On 1st January 2020 a video was shared by NoushadElambady', in which the police is seen beating an old person with a stick. It is being claimed that this 42-year-old Maulana Syed Raza Hussaini was brutally beaten by the Uttar Pradesh Police with lathi in Muzaffarnagar.
Is that really so? Let us know the truth of this video.
Beginning the research, we found screenshots of the video shared in the post by searching on Yandex image search. As a result we found a video uploaded on Youtube by UNews on 16th November 2019. Clips of this video from 01:26 to 02:00 looks similar to the video shared in the post. It's been said that this video is about a protest by the farmers against the Trans-Ganga City near Unnao in Uttar Pradesh.
TheWire also published a News report on this incident on 18th November 2019, according to which the police had to lathi-charge when the protesters who were protesting against the project initiated by UPSIDC in Unnao turned violent. To read the full News, click on the link given below.

After this we contacted the Unnao District Officer Devendra Kumar Pandey. Seeing this video, he confirmed that the video is from the lathi-charge conducted by the police during the protests by farmers over the building of the Trans-Ganga City in November 2019.
From the above research, it is clear that this video has no relation with the arrest of Maulana Asad Raza Hussaini by the Muzaffarnagar police. Although, it is true that 66-year-old cleric, Asad Raza Hussaini, was arrested in Uttar Pradesh Muzaffarnagar from Sadaat Madarsa on 20th December 2019, and he was allegedly tortured by the Muzaffarnagar police but it is clear that the aforementioned viral video has nothing to do with this case.
NewsArchivedLink| NewsArchivedLink
Even before this, Fact Crescendo had fact-checked the false rumours doing the rounds in Unnao. You can read that fact-check at the link given below.
For protest, fake news is being spread that the person collapsed on the ground after he was unconscious due to the lathi-charged by the police.
This video is about the police lathi-charge that took place during the protests by farmers in Unnao on November 2019, which is being spread with incorrect details. The person appearing in the video is not Maulana.
Result of the investigation: The claim in the above post "Video of an 82 year old cleric being tortured by Muzaffarnagar police" is incorrect.

Title:An old incident of police lathi charge from Unnao is being linked to a current event where it is being claimed that the Muzaffarnagar Police is committing atrocities on Maulana
Fact Check By: Ruchika M
Result: False