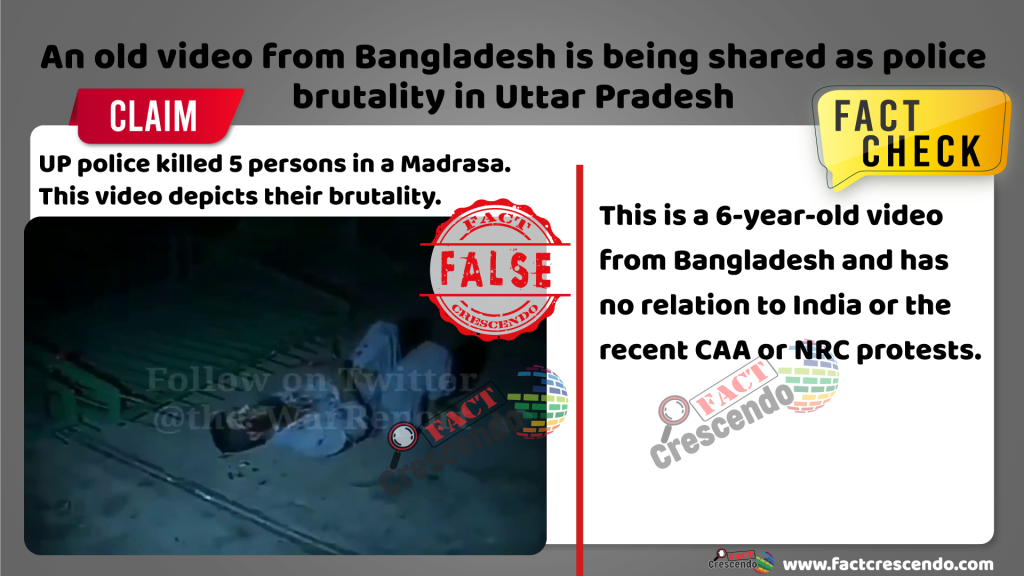 A gruesome and violent video of police action in the night is being shared on social media as UP police attacking a Madarasa. A Twitter account had tweeted this 2-minute video on January 3 and claimed that: Indian Official Terrorists (#uttarpradeshpolice) attacked a Madrasa in UP and opened fire on peaceful students and teachers of that Madrassa and killed more than 5 people there,many were injured badly. The same video is also being shared on Facebook claiming that this video is from Assam.
Given the ongoing CAA protests and police-brutality in clamping them down, this claim can stoke the fear among the public. Hence, it necessary to know the truth of this video and the claim with it.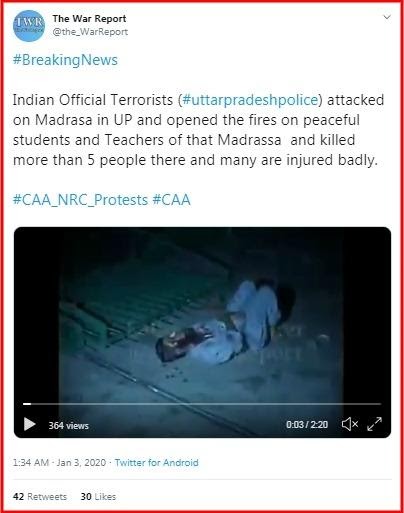 Original Tweet – Twitter | Archive
FACT-CHECK
After examining the video closely, one can easily see letters – RAB – on the police uniform. Upon searching on the internet, it is understood that RAB stands for Rapid Action Battalion. It is an elite anti-terrorist unit of the Bangladesh Police.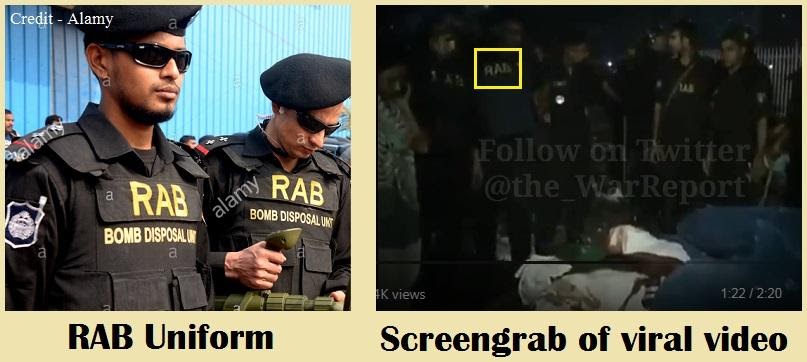 Using In-Vid tool, we found a YouTube video uploaded in 2013. According to the information shared with the video, it is from Bangladesh where the Police, RAB and BGB forces attacked the members of Hefazat-e Islam group in early hours of May 6, 2013.
This led us to the 2013 Shapla Square Protests/Massacre incident. According to BBC and Al-Jazeera news reports, Hefazat-e Islam group had organised a protest on May 5, 2013, in Dhaka. They were demanding the enactment of a blasphemy law in Bangladesh. In the late afternoon, clashes erupted between protesters and the police.
By night, thousands of protesters gathered at Shapla Square. While the leaders of Hefazat were addressing the protesters, Bangladesh Police and Rapid Action Battalion (RAB) started, what is now known, as 'Operation Shapla at 2.30 am on May 6.
At first, security forces used tear gas, rubber bullets, and stun grenades to disperse the protesters. However, many refused to do so and hid in a nearby building. In subsequent shootings, many protesters were killed. Reportedly, more than 50 people were killed in the clashes. You can read in detail here: Odhikar
This clarifies that the video is old and is from Bangladesh. It is not related to the UP police or Assam or CAA/NRC in India. Even the UP Police have also termed this claim as 'Fake-News'. Their tweet can be viewed below: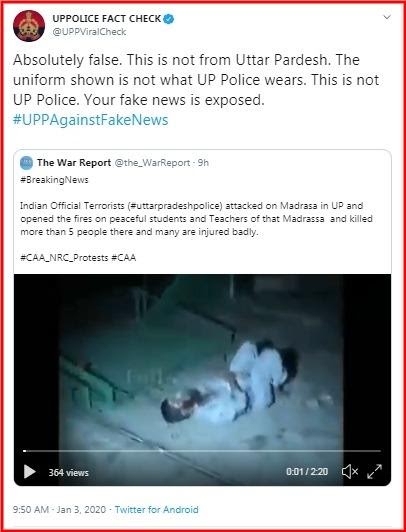 CONCLUSION
The viral video of the police action is not from India. It is from Bangladesh. It happened when the Bangladesh police clamped down the protest organized by Hefazat-e Islam group in Dhaka on May 6, 2013. This video is being falsely linked to the CAA/NRC protests in India.

Title:Old Video of Bangladesh Police Falsely Shared As UP Police Killing 5 Madarsa Students
Fact Check By: Mayur Deokar
Result: False