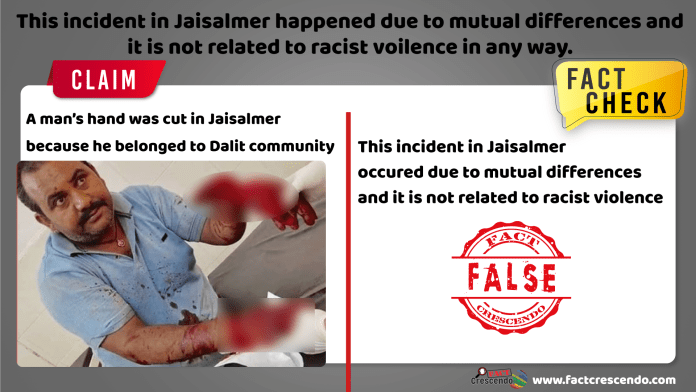 On 16th July 2019, a Facebook user named Nirdesh Singh posted this photograph on Facebook. It was mentioned in the photograph that an auto mechanic Suresh Sain from the dalit community offered his hands to save himself from the gangsters. The racist goons cut both his hands with their sword. 
We can see a person in this picture whose hands have been cut from his wrist.The picture is claimed to be from Rajasthan. The man in this picture is Suresh Sain, he is an Auto Mechanic and belongs to Dalit community.  He hands have been cut by goons. This post is spreading fast on social media and it received 1200 responses until the facts were checked.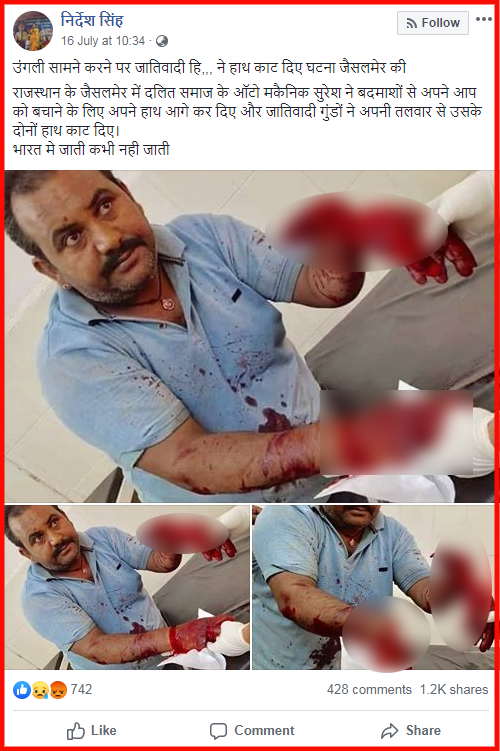 Upon our investigation as a result, we got a report published by dainik bhaskar. According to the published news, some youths attacked a Mechanic on his hands by a sword in Jaisalmer's Indira Colony. Suresh Sain (the Mechanic) was doing his work when few men arrived in a Bolero car and attacked him with a sword. In defense, Suresh offered his hands and they cut his hands. This dispute between Suresh and attackers happened over the RC of a car.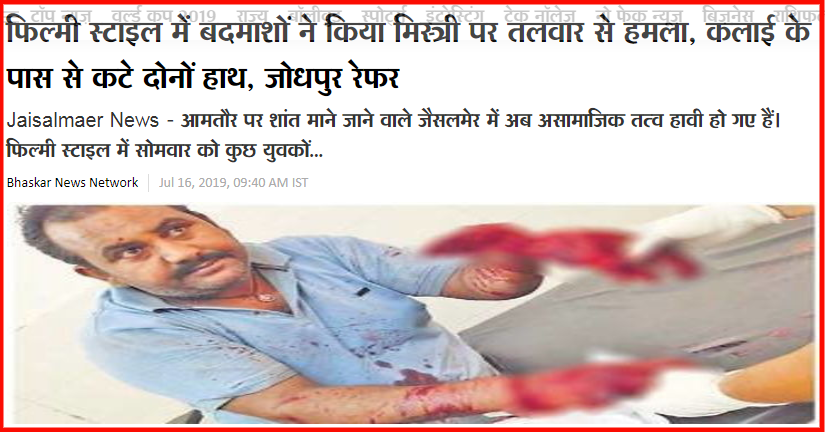 After this, we contacted the SP of Jaisalmer Dr. Kiran Kang, she told us that the man depicted in the viral picture, Suresh Sain, belongs to the OBC community. The victimn Suresh had a fight with  the accused and they had beaten each other with sticks. They both used to work in a DTO as a delivery agent of RC. Even though the alleged accused is a Rajput but this episode is a case of mutual dispute between both of them which happened due to the RC of the car. Earlier to this, the victim Suresh had beaten the alleged accused with sticks. In the same dispute after the following days, the alleged accused and his friends attacked Suresh Sain and cut his hands. This episode happened due to their personal differences and in order to take revenge. It has nothing to do with caste violence.  This incident was done with a sense of revenge and three alleged criminals have been arrested so far in this case.
The viral claims on social media are wrong because this incident is being falsely linked to caste voilence. We would like to make it clear that this incident happened due to personal enmity.  The names of arrested accused are Shayam Singh, Raju Singh and Akheraj Singh and they have been arrested under IPC section 143, 147, 323, 341, 307 and accused for using a sword and arrested under 4/25 Arms Act. 

On 15th July 2019, this news was published in patrika. According to this news, in Jaisalmer's Indira Colony, few people arrived in a Bolero car and all of a sudden cut a man's hand with a sword. This caused the entire area to freeze clueless.  

Conclusion :
After the investigation, it has been confirmed that the above-mentioned post is false. This incident happened in Jaisalmer due to mutual differences and it is not related to caste violence in any way. Suresh Sain is neither a dalit nor an auto mechanic. He belongs to the OBC community and he is a skilled labor. In order to take revenge due to personal differences, his hands were cut off. 

Title:This incident in Jaisalmer happened due to mutual differences and it is not related to caste voilence in any way.
Fact Check By: Ruchika M
Result: False