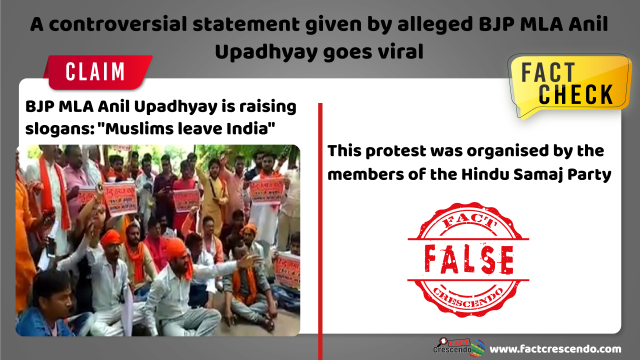 On October 29th 2019, a Facebook user named "RashmudinDehngalGuwalaya" posted a video that reads, "B.J.P. Vidhaayak Anil Upadhyay kay is bayaan par kya kahege Modi ji, in video ko itna viral karo ki ye poora Hindustaan dekh sake."
It can be seen in the video that many people are sitting on the road shouting slogans of "Muslims leave India, betrayers leave India". While spreading this video on social media, it is being claimed that in the video, BJP MLA Anil Upadhyay is seen shouting slogans of Muslims leave India. By the time the fact check was done, this post had received 4 responses.
At the beginning of the investigation, we looked closely at the video and found that the people sitting on the street have posters of "Hindu Samaj Party" in their hands. After this we searched for this video on YouTube using the keywords "Hindu Samaj Party Muslims Leave India". From the search result, we found a video published by Parmarth Awaaz News on 22nd July 2019. It was mentioned in its description that "Hindu Samaj Party Muslims Protested and chanted Muslims leave India". According to this video, this incident is from Lucknow.
A YouTube user named Ravikant Sharma Bharthana wrote in the title of the video that "Gaurav Goswami ji's brilliant performance from Lucknow in Traitor Muslims Leave India Movement". It has been mentioned in the description of this video that under the leadership of Hindu Samaj Party, its National President Mr. Kamlesh Tiwari launched a campaign 'Traitor Muslims Leave India' which all the staunch Hindu brothers are supporting. In the recent days, the atrocities on Hindus such as rape and murder of the young girls are not stopping, for which Mr. Kamlesh Tiwari is fighting courageously.
However, we did not find any article by the media on this video or any such demonstration in Lucknow. Also we did not find any article on any such demonstration by the BJP. It is clear from the above facts that this protest was organised by the Hindu Samaj Party. Although we could not independently find the origin of this video, but we can reject the claim that this demonstration was done by BJP MLA Anil Upadhyay.
After this, we searched about the alleged BJP MLA named Anil Upadhyay on Google. In the result, we found a link to the website MyNeta.info. We searched on MyNeta database and found that there is no BJP MLA named Anil Upadhyay. We found the profiles of two people by this name. First was Dr. Anil Upadhyay, a BSP leader from Jodhpur, who contested from Rajasthan in 2018. Second profile was of Anil Kumar Upadhyay, an independent candidate from Lucknow, who contested the Uttar Pradesh assembly elections in 2008 and 2012. But none of these are BJP leaders.
Archive Link | Archive Link | Archive Link
Result:
After checking the facts, we have found the above post to be incorrect. There is no MLA named Anil Upadhyay in the BJP party. This video is being misleadingly shared in the name of BJP MLA Anil Upadhyay, saying that he is raising slogans against members of the Muslim community asking them to leave the country. This incident is originally from Lucknow in Uttar Pradesh about the protests conducted by the members of Hindu Samaj Party.
Even before this, many fake claims in the name of Anil Upadhyay have gone viral. To read the fact check of these claims, click on the link given below:
Fact Check – BJP MLA Anil Upadhyay is making anti-BJP statements
Fact Check – BJP MLA Anil Upadhyay issued statement against the Prime Minister
Fact Check- Did MP Anil Upadhyay of Madhya Pradesh Congress became the disciple of Modi?

Title:A controversial statement given by alleged BJP MLA Anil Upadhyay made viral
Fact Check By: Ruchika M
Result: False