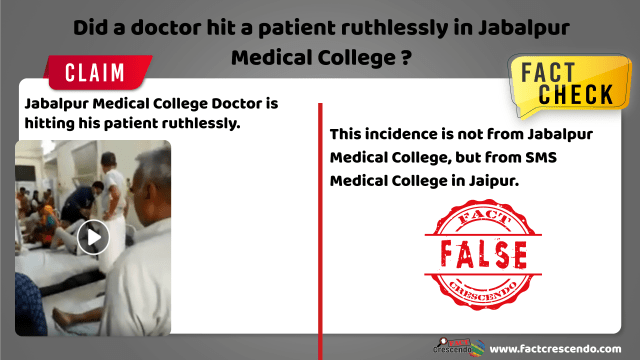 A Facebook user named 'Ritesh Sen' shared a post containing a video on 13 June 2019. The video shows a doctor manhandling a patient ruthlessly. The post as translated from Hindi quoted "This is Jabalpur Medical College condition where patients are treated this way." As per this post's claim, Jabalpur Medical College Doctors hit their patients ruthlessly. Let us see what the facts are!  
NARRATIVE ON SOCIAL MEDIA:
FACT CHECK:
We started our search by using 'doctor hitting a patient inside a hospital' key words on Google. What we got in the search is below:

'Zeenews' published a news dated 3 June 2019. This news had the same video and stated that this incidence is from SMS Medical College (Sawai Man Singh Medical College) in Jaipur. As per this news, the patient whom we can see getting beaten up is claimed to be a mentally disturbed patient. When the doctor came to collect the medical samples, the patient attacked two doctors. One of the resident doctor retaliated to this behavior and hit the patient back. To read the entire article, please click on the link given below.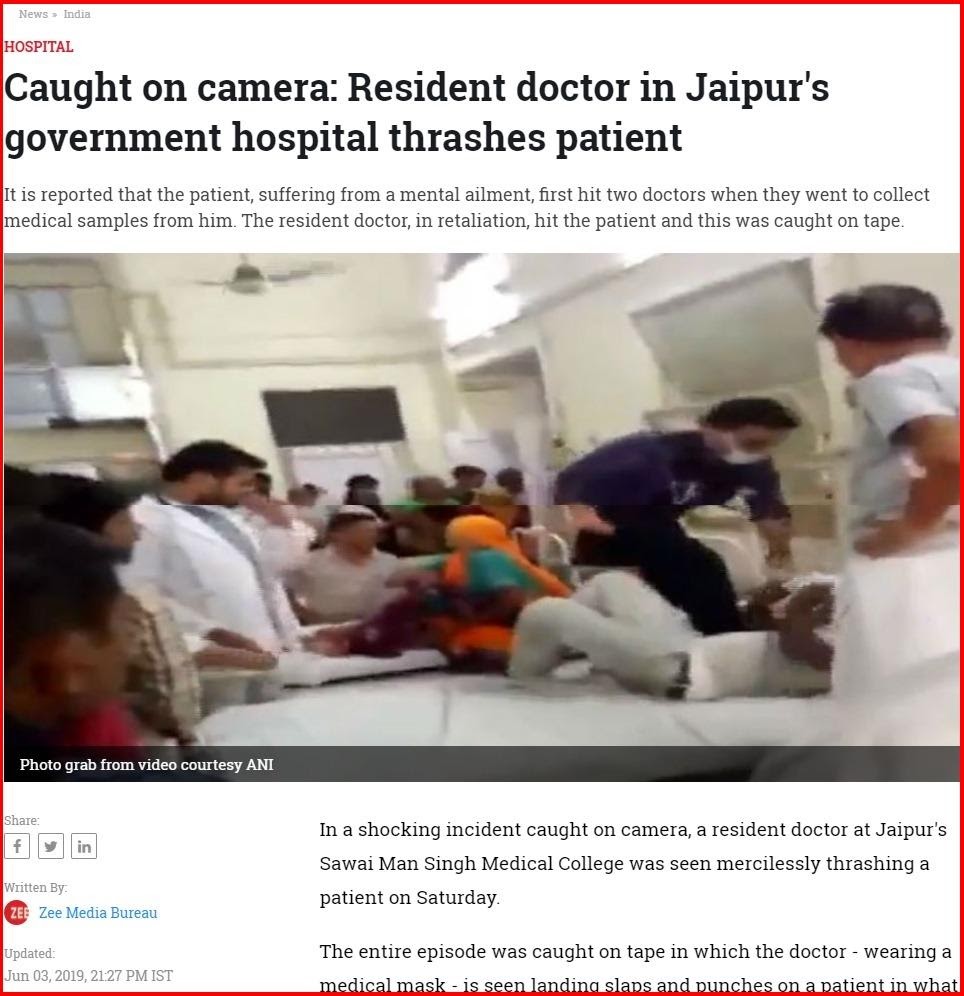 Upon finding some information in the above article, we searched on Google with 'doctor hitting a patient SMS medical college jaipur' key words to confirm. What we got in the search is below:
NDTV, Indiatoday, Newindiaexpress, Indiatvnews have published news based on the same story and every news confirms that this incident happened in SMS Medical College, Jaipur and it does not have any connections with Jabalpur. The entire news so far revealed that the patient's name is Mubarik and he is a resident of Uttar Pradesh. He was admitted in SMS Medical College on 1 June 2019 for the treatment of gastritis poisoning. The patient first man handled the female doctor, who had come to collect the medical samples from him. When another doctor and the patient's family members came to stop the matter, Mubarik started attacking them too. A resident doctor retaliated to this incidence and started slapping him in response.
When this video got viral, Rajasthan State Human Rights Commission sought a full report on this incidence from the Medical College. State Health Minister Raghu Sharma also sought a detailed report on this incidence and said, "We have instructed the authorities to submit the report of the whole incident that what has really happened in the hospital."
To read the entire articles, please click on the links given below.
These news confirms that the video shared in the above post is not from Jabalpur. It is from SMS Medical College, Jaipur.
When the patient came for medical treatment, because of his mental instability he started attacking and man handling doctors and his family members around him. A Resident Doctor retaliated on the patient's behaviour and in response hit him.
IN CONCLUSION:
Fact Crescendo has fact checked and confirms that the photograph is being share in the post with a wrong narrative. We categorise the story as FALSE.
FactCrescendo advises its readers to refrain from sharing such misleading and communally biased photographs and do a self-check on the true narrative of such incidents before believing them.

Title:Did a doctor hit a patient ruthlessly in Jabalpur Medical College ? Fact Check!
Fact Check By: Nita Rao
Result: False