The viral video shows the footage of an earthquake that hit Taiwan in September 2022. The video has no relation with the recent earthquake in Indonesia.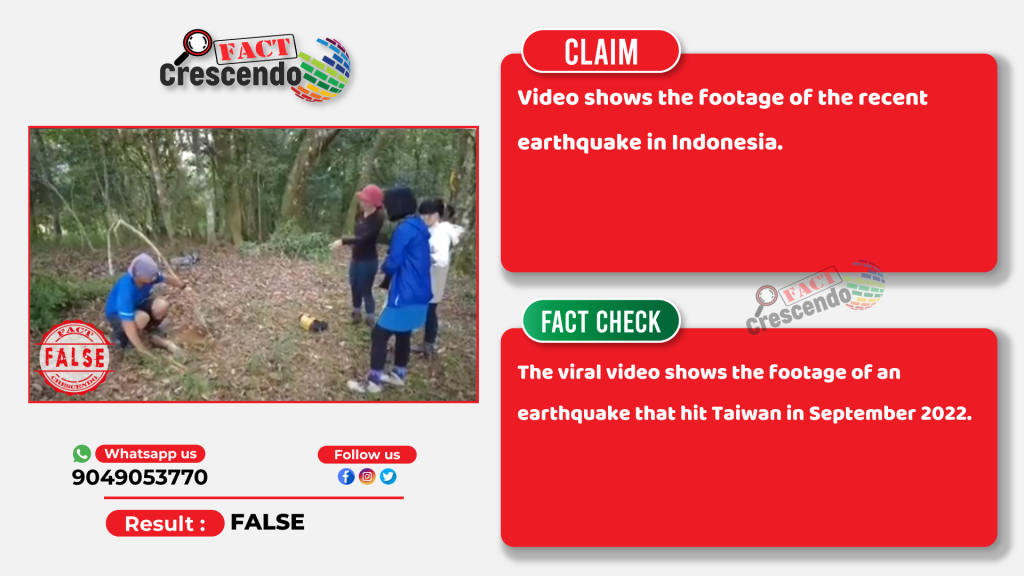 Indonesia was struck by a 7.6 magnitude earthquake on 10 Jan Tuesday on the Tanimbar islands, prompting panicked residents in the area to flee their homes, although a tsunami warning was lifted after three hours and initial reports indicated limited damage. The Tanimbar Islands are a group of about 30 islands in eastern Indonesia's Maluku province.
In the video, four people of a group are seen falling to the ground due to the intensity of the earthquake inside the forest. The caption of the video states "A powerful 7.7-magnitude #earthquake in #Indonesia was caught on camera".
Fact Check-
We began our investigation by conducting a reverse image search on Google using the video frames, and the results led us to a YouTube video uploaded on September 19, 2022. The video was posted on the Chinese YouTube channel EBCNews. Description states" When the strong earthquake hit yesterday, the lecturers of the Hualien "Zhuoxi Township" Mountaineering Association were leading students up the mountain, and the ground shook immediately. Students screamed in panic, and even lecturers lay on the floor to prevent disasters. The lecturer said that he had never experienced such a strong earthquake, and he could still hear the sound of "Mountain Ming". "
In further search we found the same video published 19 September 2022 by a news website called setn.com with a caption "He is doing the teaching activities of the Zuoxi Mountaineering Association. Half way up the mountain there was a massive earthquake. Not only were the mountains and forests shaking violently but there was also a strange roar. "
The full video of the incident was uploaded on the Facebook page of the Zuoxi Township Mountaineering Association and the information was given, " Zhuoxi Mountain at 1000 meters. A handmade trail ethnographic flora and fauna course was conducted. Gao Jianxiang was teaching when the earthquake struck. "
Other Taiwanese media outlets carried a more detailed report on the incident. According to the reports "When Zhuoxi Township Mountaineering Association was implementing a hand-made course experience on a 1000-meter mountain, it encountered a 6.8-magnitude earthquake on the Richter scale, and the instructors and students got down on the ground to evacuate".
Conclusion-
Fact Crescendo found the claim made along with the viral video to be False. The viral video shows footage of an earthquake that hit Taiwan in September 2022. This video has no relation with the recent earthquake in Indonesia.

Title:Video from Taiwan shared as footage of recent earthquake in Indonesia
Fact Check By: Usha Manoj
Result: False