Video shows Ronaldo's  goal for Juventus Serie A opener against Udinese on August 2021.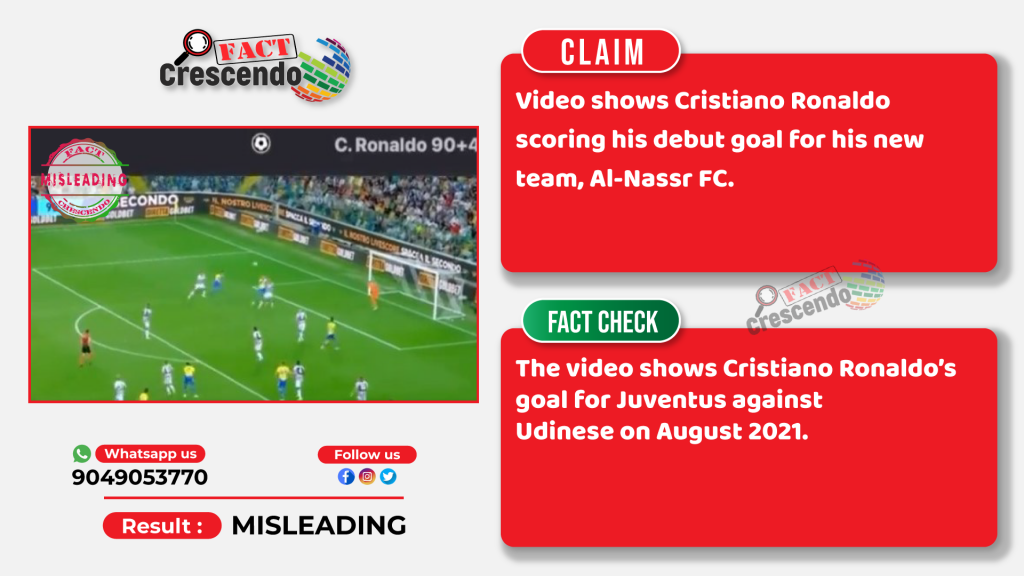 Portugal captain Cristiano Ronaldo has joined Saudi Arabian club Al Nassr on a 2-1/2 year deal in the aftermath of the 2022 FIFA World Cup. Ronaldo was officially unveiled by his new club Al Nassr on Tuesday in Riyadh. Al Nassr FC is a Saudi Arabian football club based in Riyadh. Formed in 1955, the club plays its home games at the Mrsool Park. Al Nassr plays in the country's top division – the Saudi Professional League (SPL), which has 18 teams.
In this scenario a video making rounds on social media with the claim that video shows Cristiano Ronaldo scoring his debut goal for his new team, Al-Nassr FC.
Fact Check-
First, we investigated whether Ronaldo had begun playing for Al Nassr, and we discovered only news reports of training sessions with the club. According to the report "Ronaldo took part in his first Al-Nassr training session on Tuesday evening and scored an impressive goal to kick off his time in Riyadh. The 37-year-old surprised everybody with a move to the Saudi Arabian outfit after mutually terminating his contract with Manchester United. The five-time Ballon d'Or winner was presented to Al-Nassr fans at Mrsool Park in Riyadh on Tuesday, January 3".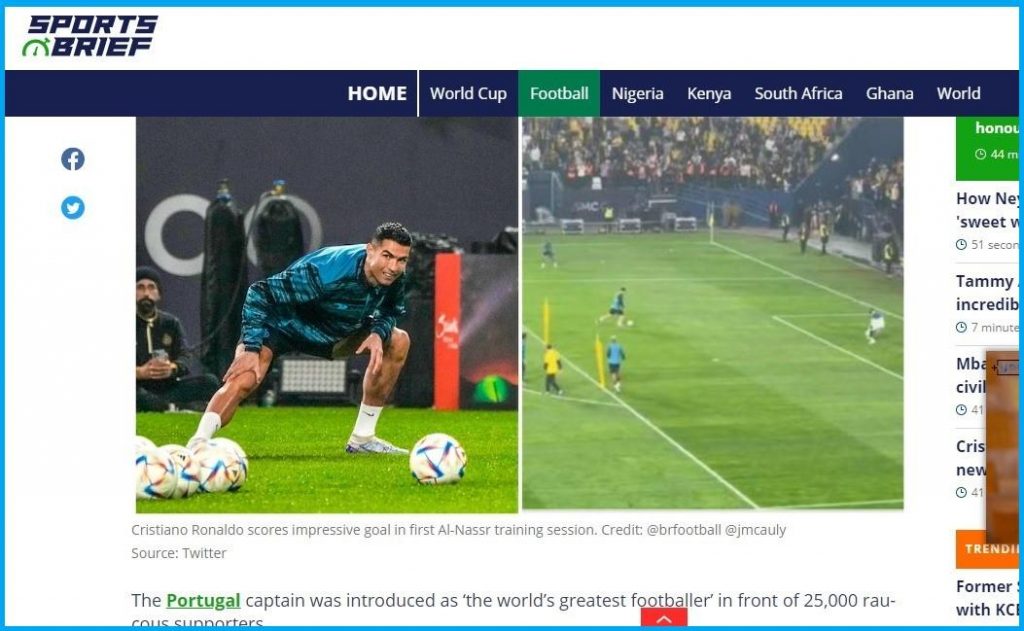 We also discovered a tweet on ESPN's official account with the caption "Fans are going WILD every time Cristiano Ronaldo touches the ball in his first Al-Nassr training session." 
Further we performed a reverse image search on Google using the key frames of the viral video and discovered that the video was old. It was Cristiano Ronaldo's Goal for Juventus against Udinese on 21 August, 2021. 
Keeping this in mind, we conducted additional search and discovered relevant reports published on 21 August 2021. According to the reports "Cristiano Ronaldo hit the headlines before and after Juventus' (Professional football club based in Italy) Serie A opener against Udinese on Sunday night, with his 94th minute winner ruled out by VAR, thus ensuring a share of the points in a 2-2 draw".The match ended with the teams drawing 2-2.
Furthermore, a photo was uploaded to Alamy on the same date showing Ronaldo celebrating the goal with his former teammate Giorgio Chiellini before the goal was ruled out.

Conclusion – Fact Crescendo found the claim made along with the viral video to be misleading. Viral video does not show Ronaldo's debut goal for Al-Nassr FC, It was Ronaldo's  goal for Juventus  against Udinese on August 2021.

Title:Video does not show Ronaldo's debut goal for Al-Nassr FC
Fact Check By: Usha Manoj
Result: Misleading