Prime Minister Modi's mother Hiraben Modi passed away on December 30 last year at the age of 100. Not only the entire nation but also World leaders mourned her death and extended condolences to a grieving PM Modi.
Many social media users also offered their tributes to the late Hiraben Modi. We came across one such post that shared some photographs and claimed these are pictures of Hiraben Modi in her youth.
However, when we fact checked the images, we found that the images claimed to be of Hiraben Modi in her youth are not of hers.
In the viral reel given above, you can see a slideshow of photos. The photos are claimed to be of Hiraben Modi showing her transformation from her youth until the time she died. However, we saw in the comment section many commenting that the first three photos are not of late Hiraben Modi. Some even claimed that the first photo is actually of former Indian President APJ Abdul Kalam's mother.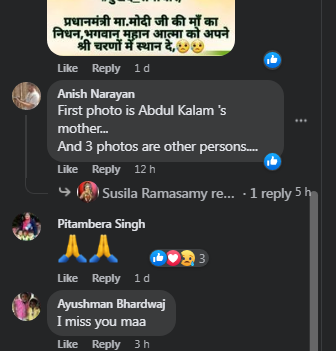 Let us find out what the truth is.
Fact Check
We took screenshots of different photos used to make the reel. It is clear that the last three images are indeed of Hiraben Modi from the recent years. However, the first three photos are not of Hiraben Modi. Here are the details of these pictures:
First Photo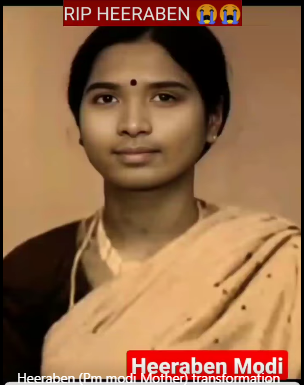 The first photo is a black and white photo of a young woman. One social media user claimed that this photo is not of Hiraben Modi but Dr. A.P.J. Abdul Kalam's mother. However, both of the claims are not true.
Our Tamil team had fact checked this image in 2019 and according to their report, the woman in this image is unknown. However, she is not the mother of the late former President Dr. A.P.J Abdul Kalam. Dr. Kalam's family has denied that this is the photo of Dr.Kalam's mother. You can read the fact check in Tamil by following the link given below:
Second Photo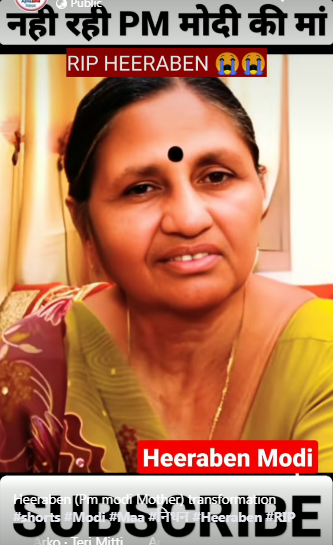 Reverse image search on Google revealed that this photo is not of Hiraben Modi but her daughter and PM Modi's sister Vasantiben Hasmukhbhai Modi. In a report published by Aaj Tak in 2019, a detailed description of PM Modi's family can be found. As per the report, Vasantiben is the only sister of PM Modi and his four brothers. Her husband Hasmukhbhai worked with LIC.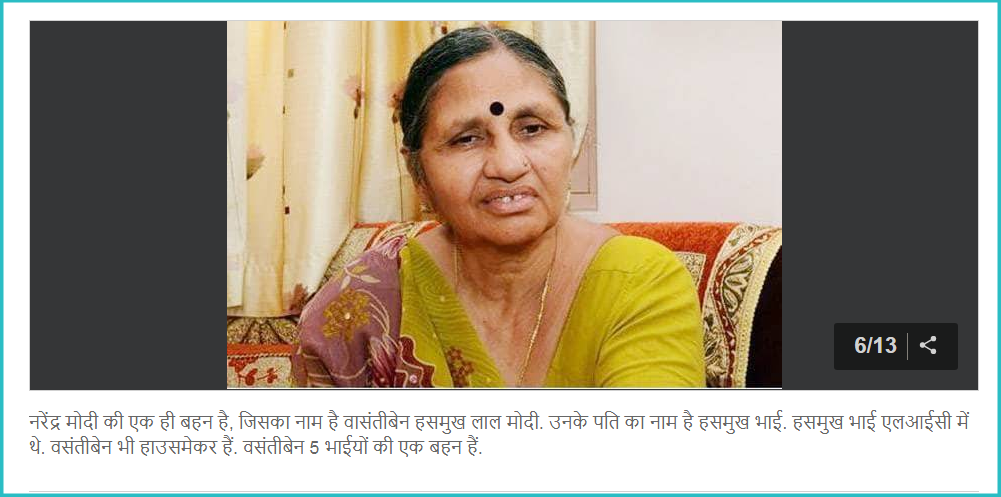 Read full report here – Aaj Tak | Archived Link
Third Photo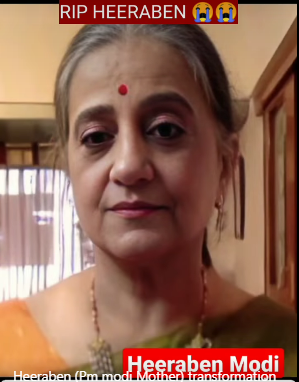 Reverse image search results reveal that this photo is not of Hiraben Modi but veteran film journalist Bhawana Somaaya. This photo is a screenshot of her interview with NDTV's Sanket Upadhyaya. The interview was published on Facebook by NDTV in 2020. In the interview, Somaaya talks about her book 'Letters To Mother'. The book contains a collection of English translation of PM Modi's letters to his mother in Gujarati. You can watch the entire interview below:
Conclusion
Thus, it is clear that the three images shared in the viral as late Hiraben Modi in her youth are of different women. The woman in the first photo is black and white remains unidentified; however, the other women are definitely not Hiraben Modi.

Title:Unrelated Photos of Different Women Shared As Photos Hiraben Modi in her Youth
Fact Check By: Harish Nair
Result: Misleading