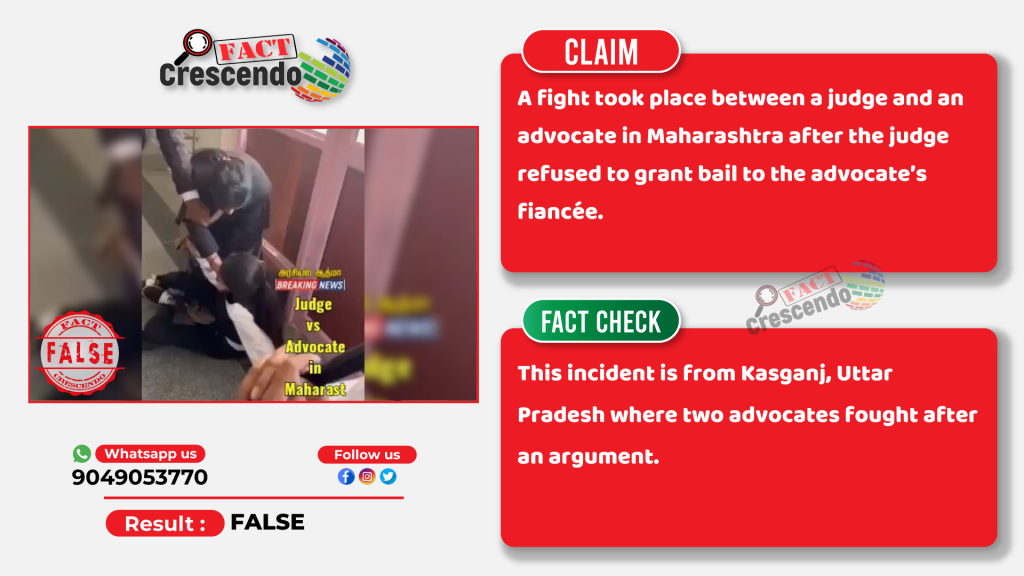 A video of two ladies fighting is currently going viral on social media. The ladies and people around them can be seen wearing lawyer's uniforms.
It is claimed that this fight took place between an advocate and a judge in Maharashtra.
However, fact Crescendo found the claim to be false. This is an incident from Uttar Pradesh where a fight took place between two lady advocates.
What's the Claim? 
Sharing the video, social media users are claiming that, it is first time a fight between a female judge and a female advocate took place in Maharashtra. This incident happened after the judge denied bail to the female advocate's fiancée. 
Fact Check- 
A keyword search on Google led us to a report published by The Print on 29 October 2022. An image of the same incident was also published. According to the report, this incident took place at a family court in the Kasganj district of Uttar Pradesh. Both the ladies were advocates. They had come to the court to resolve a matrimonial matter of a couple.
Advocate Yogyata Saxena lodged a complaint with Kasganj Police after she was thrashed by the prosecution advocate and her client over a difference of opinion.
Following this incident, Kasganj Police also tweeted saying, "In relation to an incident on 27 October 2022 in Kasganj, advance action is being taken by registering charges under relevant sections."
We found the same video uploaded on the Navbharat Times YouTube channel 2 months ago. According to the report, the incident took place inside the family court premise in Kasganj, Uttar Pradesh. The two female advocates came to court over a case but later engaged in a heated argument which led to a fight. Lady police had to intervene to stop the fight. 
Conclusion: 
Fact Crescendo found that the claim along with the video is false. The fight did not take place between a judge and an advocate in Maharashtra. This incident is from Kasganj, Uttar Pradesh where two advocates fought after an argument.

Title:The viral video of a fight between two lawyers in a court in Uttar Pradesh is viral as an incident from Maharashtra. 
Fact Check By: Siddharth Sahu
Result: False