A video of a group of kids reading Quran in a football field is being shared widely on social media platforms. It is being claimed that this was a part of yesterday's opening ceremony of FIFA World Cup 2022 in Qatar.
However, we found the video to be more than a year old. The video is not from yesterday's opening ceremony.
Viral Video
In the above video, we can see a Quran recitation ceremony in a Football Stadium. The caption of the post is as follows: "FIFA World Cup 2022 opening with Quran Recitation. Qatar just have done what no one imagined. 💜"
Many users on Facebook have shared the same video with the same caption. You can see few of such posts in the screenshot given below: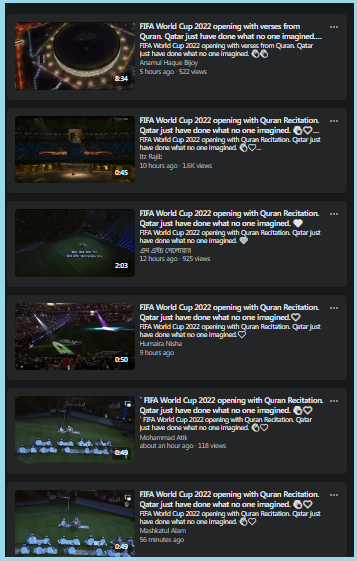 Let us find out whether this video has something to do with the opening ceremony of FIFA World Cup or not.
Fact Check
We did a Google reverse image search on some screenshots of the video that lead us to an article published on an Algerian news website Sabaqpress. The article published last year is about the grand inauguration of the Al Thumama stadium in Qatar.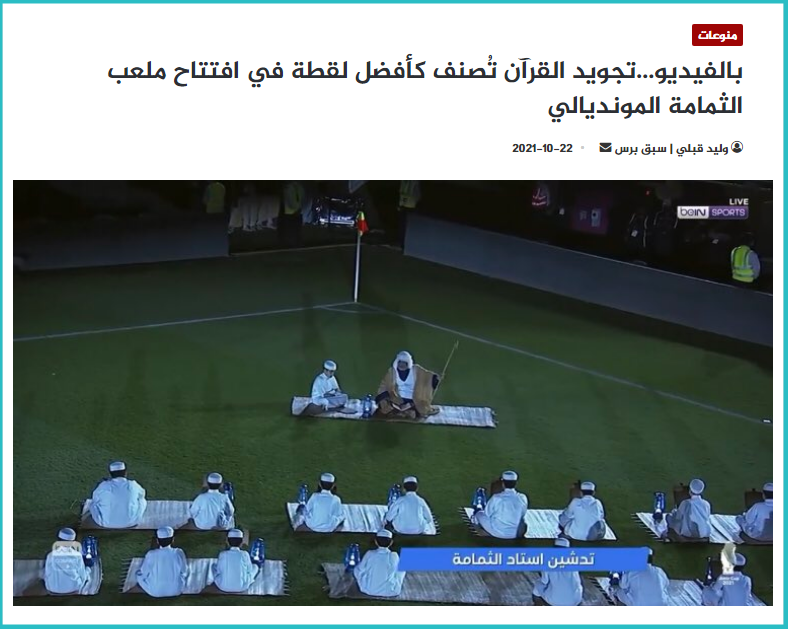 Read full article here – Sabaqpress.dz
The Quran recitation seen in the viral video is from this inauguration. You can find several videos of the inauguration ceremony on YouTube. All of these videos were posted last year. You can watch one such video below.
The actual opening ceremony, however, did have recitation of some verses from the Holy Quran by Qatari Paralympian Ghamin Al Muftah, the brand ambassador of FIFA World Cup. He was joined by 85 year old Hollywood star Morgan Freeman. 
The ceremony also featured a performance by BTS's Jung Kook. Jung Kook performed the song 'Dreamers' at the opening ceremony of the FIFA World Cup in Qatar. You can watch his performance below.
In addition, it is to be noted that the opening ceremony took place at Al Bayt stadium in Doha and not Al Thumama stadium.
Conclusion
The viral video being shared as Quran recitation during the opening ceremony of FIFA World Cup in Qatar is more than a year old. The video is of the inauguration of the Al Thumama stadium that took place last year.

Title:Old Video of Quran recitation at Al Thumama stadium shared as FIFA World Cup Opening Ceremony…
Fact Check By: Harish Nair
Result: Partly False