Since Elon Musk took charge of Twitter, the social media platform is the news but not for the right reasons. From firing more than half of the staff to charging eight dollars for the blue tick, Musk announced (and retracted) many changes to revitalize Twitter to make it "the everything app."
Among all the new measures, Twitter Blue subscriptions proved to be the most controversial. Twitter Blue is a monthly subscription ($8) that adds a blue checkmark to the user's account.
Although it was rolled out with much fanfare, it was plagued after parody accounts started impersonating leading brands and politicians.
Fake "verified" accounts in the names of politicians, celebrities, major organizations, and businesses started appearing on the platform on Thursday, reports BBC.
How Did It Begin?
In a move to give "power to the people", Musk announced widespread verification on Twitter. For that users only need to pay USD 8 fee per month.
By replacing the current "lords & peasants system" of Twitter verification, Musk said the subscription model not only give Twitter a revenue stream but also democratizes journalism and empowers the voice of the people..
Apart from a blue checkmark on the profile, Twitter Blue subscribers also get exclusive features like editing tweets, priority in replies, ability to post long videos.
Blue checkmark on the profile indicates authentic accounts of people. Earlier, it was given to the accounts of public interest that Twitter independently verified.
Rationale Behind Twitter Blue
Although Musk has said he purchased Twitter to "help humanity" and indicated profitability was not his priority, he expressed concern over Twitter relying entirely on advertisers.
90 percent revenue of Twitter comes from advertising.
On 1 November, Musk rolled out Twitter Blue subscription with a USD 8 fee every month. Twitter Blue is currently available on iOS only in the US, Canada, Australia, New Zealand, and the UK.
Musk also claimed subscription model will help to eliminate bots and trolls.
Interestingly, more than 80 percent of Twitter users who took part in a recent poll said they would not pay for the checkmark.
Problem of Impersonation
After Twitter Blue subscription went live, the platform has seen a huge rise of fake accounts getting blue check marks.
A number of accounts impersonating big brands like Tesla, SpaceX, Coco-Cola, Nestle, Apple, Nintendo, BP, and Eli Lilly caused a storm on the platform.
Although Twitter suspended these fake accounts but not before they garnered hundreds of thousands of impressions.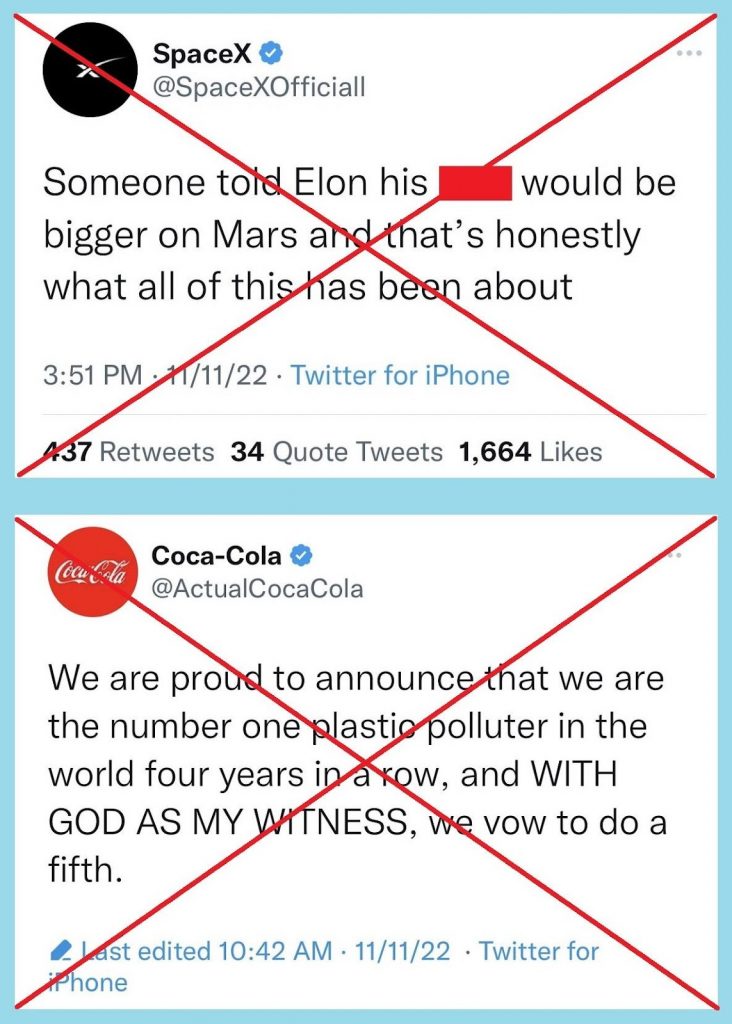 The impersonation problem was not limited to big brands. Many fake accounts popped up on the platform impersonating US President Joe Biden, Donald Trump and George W Bush, and former UK PM Tony Blair.
The fake Bush account joked about "missing killing Iraqis" while Blair agreed with him.
But amongst all, US pharmaceutical company Eli Lilly was most affected by the impersonation problem.
A fake account impersonating Eli Lilly declared "insulin is free now".
Real Eli Lilly account came forward and clarified that it was "a misleading message from a fake Lilly account."
Eli Lilly stock dips after this prank tweet. According to The Star, the company's stock dropped 4.37 percent on Friday – erasing over US $15 billion in market cap – after a fake account impersonating Eli Lilly promised free insulin.
Similar loss was suffered by Lockheed Martin when a fake account tweeted that it will not sell weapons to Saudi Arabia, Israel, and the US until further investigation into their record of human rights abuses.
Twitter Takes Steps
According to Twitter policy, impersonation is defined as false profile information to represent itself as a person or entity that is not associated with the account owner, such that it may mislead others who use Twitter.
Deceptive identities may feature the likeness of another person or organization in a manner that confuses others about the account's affiliation.
To combat impersonation, Twitter started to add an "official" label to some accounts as an added layer of authenticity to accounts.
The "official" label is supposed to tell apart those who were authenticated by Twitter versus those who pay for the Twitter Blue subscription.
However, just hours after launching the feature, Elon Musk said he was getting rid of it. "I just killed it," Musk tweeted in response to a user who posted that their official label had been removed.
In addition to it, Twitter temporarily restricted Twitter Blue to accounts created before 9 November.
"Twitter accounts created on or after 9 November 2022 will be unable to subscribe to Twitter Blue at this time," reads the Twitter blog.
Musk also announced that accounts engaged in parody must include "parody" in their name, not just in their profile.
"To be more precise, accounts doing parody impersonations. Basically, tricking people is not ok," Musk tweeted.
There is many Blue tick (parody) accounts opened in the name of Musk.
LAST WORD
Users should pay attention to the authenticity of the accounts. Check when the profile was created, how many followers they have, and what tweets they have posted earlier.
If you come across any impersonating account, promptly report it. Do not fall for any online scam run by these fake accounts.