The video shows footage of a deadly earthquake in Kathmandu's Tripureshwor Chowk in 2015. It has no relation with the recent earthquake in Nepal
An earthquake with a magnitude of 6.6 struck Nepal in the early hours of Wednesday November 9, 2022, sending tremors to parts of north India, including Delhi, Ghaziabad, Gurugram and Lucknow. At least six people were killed in Nepal's Doti district in a house collapse.
Amidst this, a video showing CCTV footage of a busy junction hit by an earthquake is widely circulating on social media. Users claim that this video depicts the recent earthquake in Nepal.
The caption of the video states, "Magnitude 6.3 earthquake hit Nepal in the early hours of Wednesday morning. Delhi felt the quake. #earthquake#Nepal"
Fact Check-
We started our investigation by running a reverse image and keyword search on Google, whose results led us to a report published by Euro News on 1 May 2015. The caption states, "CCTV video shows the impact of the 7.9-magnitude earthquake on a monument at a busy roundabout in Kathmandu, Nepal."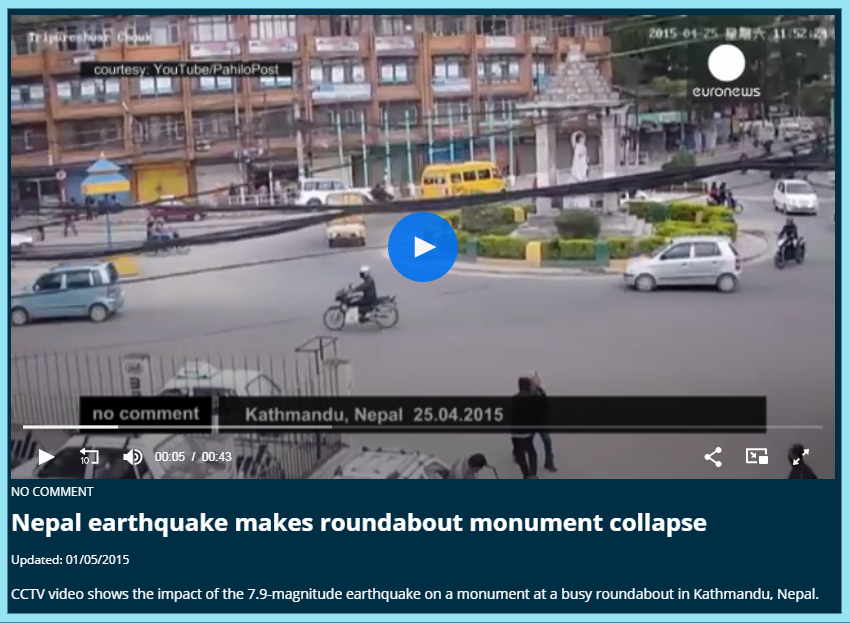 We found a short documentary on the earthquake that hit Nepal in 2015. The viral footage was used in this documentary as well. The documentary named Nepal Rises highlights the never before seen footage of the 2015 Nepal Earthquake. This film brings to light the terrible destruction that resulted in the loss of thousands of lives and displaced millions of people. This video was uploaded in 24 June 2015.
According to Wild Films India, this CCTV footage dates back to 25 April 2015 and shows the Tripureshwor Chowk during the Nepal Earthquake.
Next, we searched for the location on Google Street View,which can be viewed below.
The April 2015 Nepal earthquake also known as the Gorkha earthquake killed nearly 9000 people and injured 21,952 more. It occurred at 11:56 Nepal Standard Time on Saturday, 25 April 2015, with a magnitude of 7.8M or 8.1M.
Conclusion-
Fact Crescendo found the claim made along with the viral video to be False. The viral video dates back to 2015 and shows an earthquake that hit Nepal. It is not related to the recent earthquake in Nepal.

Title:Video from 2015 shared as recent footage of the earthquake in Nepal
Fact Check By: Drabanti Ghosh
Result: Misleading