Cartoon Network Company itself denied the viral claim.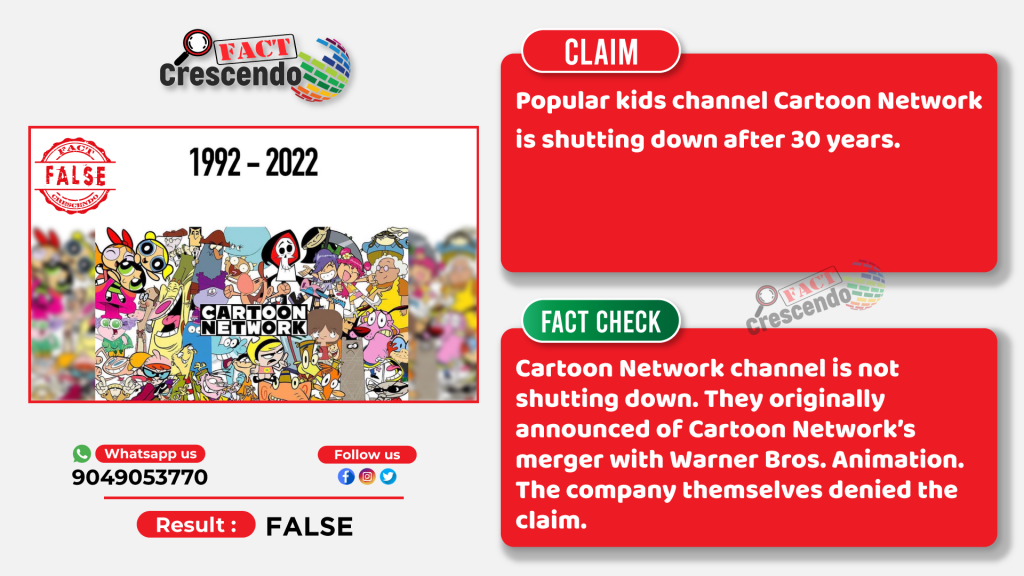 Following the announcement of Cartoon Network's merger with Warner Bros. Animation, the internet was flooded with 'RIP Cartoon Network' posts. Many people assumed that Cartoon Network's closure would mark the end of an era they had cherished for decades. Millennials shared childhood memories on Twitter. Some thanked CNN for making their childhood unforgettable. Most people shared the names of their favorite shows, their characteristics and memories.
Cartoon Network is an American cable television channel owned by Warner Bros. Discovery was founded on October 1, 1992 and is one of the oldest cartoon channels to exist.
Fact Check-
We started our investigation by checking CN Networks' official Twitter account and found a tweet in which the company denies the viral claim that the channel is shutting down. The tweet mentions, "Y'all we're not dead, we're just turning 30. To our fans: We're not going anywhere. We have been and will always be your home for beloved, innovative cartoons More to come soon!"
Collider, an American online entertainment platform, announced on October 12, 2022, that the network is merging with its sister studio to consolidate their animation divisions. While the studios will be combined, the labels will remain independent.
Following the CN Network's clarification media outlets gave reports regarding the same Hindustan Times says "As per ABC news, Warner Bros. Television Group (WBTVG) announced that about 26% of personnel, for a total of 125 positions, across scripted, unscripted and animation, were cut. On the other hand, Warner Bros. Television CEO Channing Dungey said that the merger between Cartoon Network and Warner Bros. might have more effects than their initial planning. Meanwhile, the latest update from Cartoon Network brought some relief to worried fans."
Conclusion-
Fact Crescendo found the claim made along with the viral post to be False. Cartoon Network company has themselves denied the claim, it is clear that the network is not closing down and that the viral claim is false.

Title:Popular kids channel Cartoon Network is NOT shutting down.
Fact Check By: Usha Manoj
Result: False