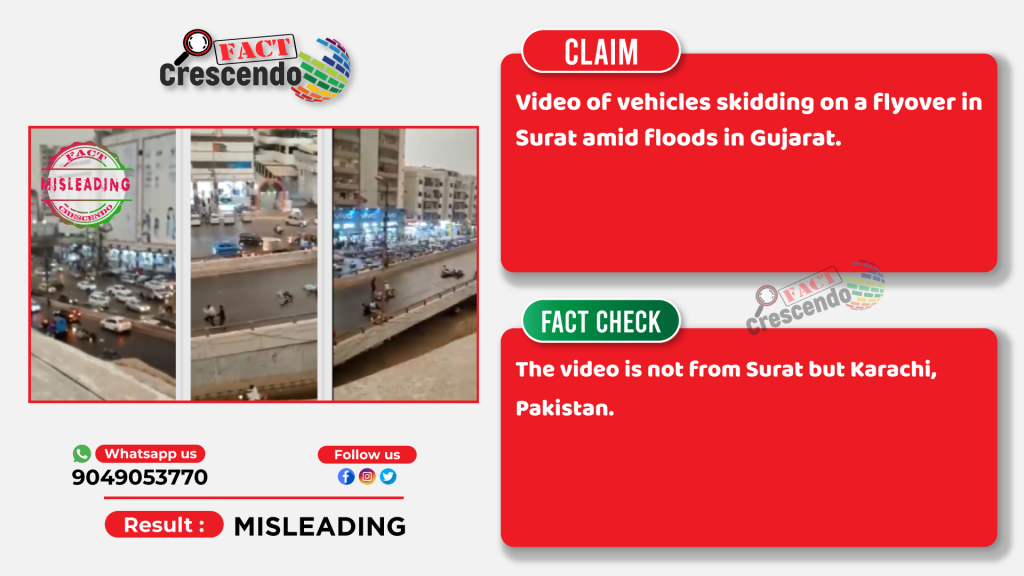 A video showing vehicles skidding on a wet flyover is being shared on social media relating it to the ongoing floods in Surat and other parts of Gujarat.
However, the video is not from Gujarat. In fact, when we investigated the video we found that the video is from Pakistan.
Viral Video on Social Media
In the above reel, we can see a number of bikes skidding on a wet flyover as riders chase them. The text etched on the video says 'Surat monsoon', giving an impression that the video is from Surat, Gujarat.
Gujarat has been witnessing torrential rains and experiencing severe floods in various areas. Since June 1, a total of 69 people have been reported dead in rain related incidents. The floods continue to ravage the state as IMD predict heavy rains in Valsad, Navsari, Surat, Tapi, Dang, Narmada, Chhota Udepur districts, as well as Kutch, Rajkot, Jamnagar, Devbhumi Dwarka and Morbi in the Saurashtra region till Saturday.
However, the viral video is unrelated to the recent Gujarat floods. Here's why…
Fact Check
The same video had gone viral towards the end of June this year with a claim that the incident had taken place in Hyderabad. We verified the video and found that the incident is not from Hyderabad but Karachi, Pakistan. You can read our detailed fact check on the video by clicking the below:
---
Read | Viral Video Of Bikes Slipping On The Flyover Is From Pakistan, Not India
---
A Google reverse image search on some of the screenshots of the viral video led us to a tweet by a journalist Zia Ur Rehman. The caption of the tweet in Urdu reads as such: "Slippery Roads during and after rains in Karachi. Dangerous motorcycle accidents are increasing. These are the scenes from the Millennium Mall." You can see his tweet below posted on June 22 this year.
We checked the Google street view of Millennium Mall in Karachi. We found the landmarks seen in the viral video at some distance from the mall.
In the map given above, you can see the shops seen in the viral video with banner of brands such as 'Oppo', 'Vivo' and 'Haier' along with the Honda Drive In showroom.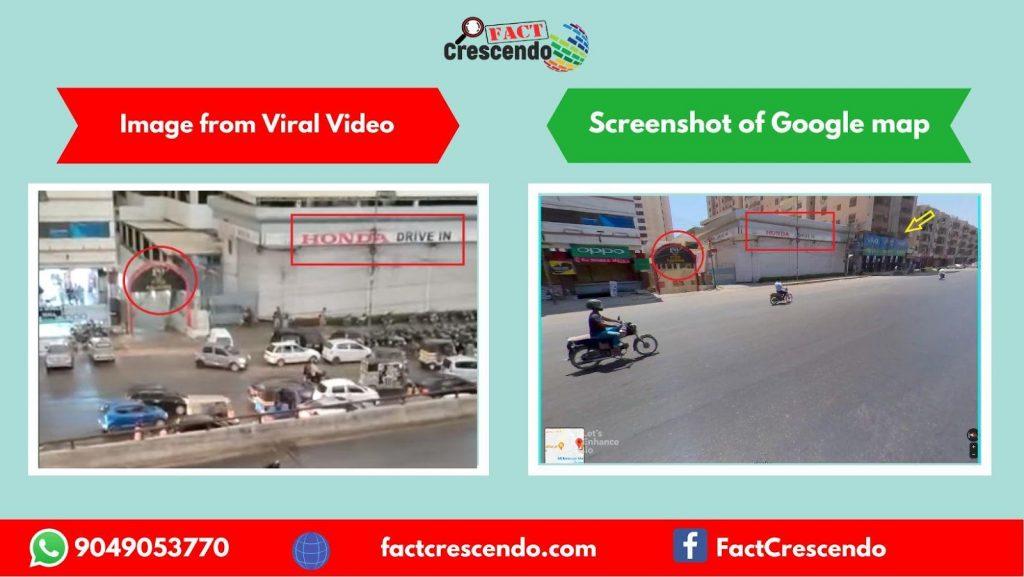 Conclusion
The video claimed to be from Surat was found to be from Karachi, Pakistan in our investigation. Hence, the claim made along with the viral video is misleading. The video is unrelated to the ongoing floods and heavy rainfall in the state of Gujarat.

Title:Video of Vehicles skidding on a Flyover in Karachi shared related to Surat Floods…
Fact Check By: Harish Nair
Result: Misleading