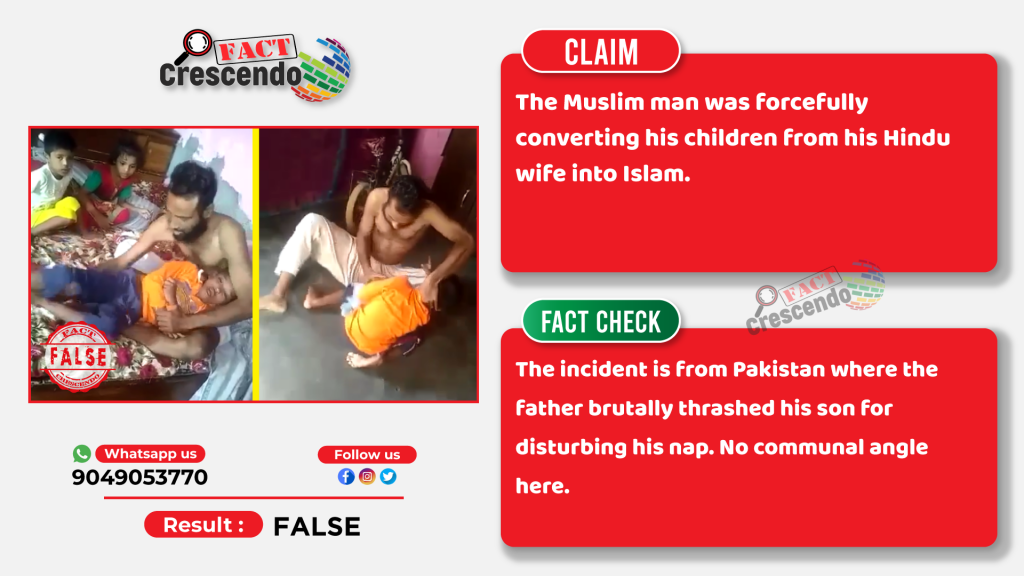 A video showing a man mercilessly beating a child is going viral on social media. It has been claimed that after marrying a Hindu woman, the Muslim man was forcefully converting her children into Islam.
Fact Crescendo received this video on our WhatsApp Helpline (9049053770) with fact-check requests.
We found that the viral video is from Karachi, Pakistan where this man brutally thrashed his son for disturbing his nap. The incident has no communal angle.
WHAT'S THE CLAIM?
The viral clip shows a bare-chested man slapping and choking a young boy. The man keeps hitting the child despite his pleading for mercy.
People are sharing this video with a caption that reads: "See, how the man, after marrying a Hindu woman, is beating their children to force them to praise Allah and converting them into Islam. Share this video as much as you can. So, the perpetrator will get arrested." (Translated from Hindi)
[Warning: Video shows violent child abuse. Viewers may find it distressing]
Original Post – Facebook | Facebook
FACT CHECK
Google reverse image search on the keyframes of the clip led us to a tweet by Irum Azeem Farooque, a former member of the Provincial Assembly in Pakistan.
She shared the screengrab of the viral video tweeting, "this man from Orangi, Karachi needs to be in jail and the kids to a safer place."
Taking a cue, we came across a news report by 24NewsHD. It is a media publication from Pakistan.
According to this report published on 6 July, the incident depicted in the viral video is from Orangi Town, Karachi. Ismail, the father, hit his 8-year-old boy son, Asad, because he disturbed his sleep.
The wife of the man recorded the whole incident and filed a complaint against him. She told the police that her sleeping husband got up with the noise of the child. Then he started beating him up. She further said that her husband also subjected her to the most inhuman torture, reported 24DigitalHD.
Various media portals have reported on this incident after it went viral in Pakistan earlier this month.
After the uproar on social media, Arif Aslam Rao, Senior Superintendent of Police of Karachi, formed a team to nab the accused who had fled away to evade the arrest, reported Suchi News.
Police have arrested Ismail on the complaint of his wife.
The mother told the police that her husband was suffering from depression for some time. On 4 July, he came home from work and tortured the children for making noise.
No media reports suggest any communal reason for the incident. No Hindu-Muslim or Love Jihad angle is reported about this viral video.
CONCLUSION
Hence, a video from Pakistan is doing rounds on social media in India with a false communal spin. The man from Karachi tortured the child for making noise when he was taking a rest in the afternoon.
(If you also come across any such videos and images you think are falsely viral, send them on our WhatsApp Helpline (9049053770) or tag us on Facebook, Twitter, and Instagram.)

Title:Video of Father Torturing Son in Pakistan Goes Viral With Communal Spin in India
Fact Check By: Mayur Deokar
Result: False