The video is not from Gujarat but from Patna in Bihar. Dhanrua Police is investigating the matter.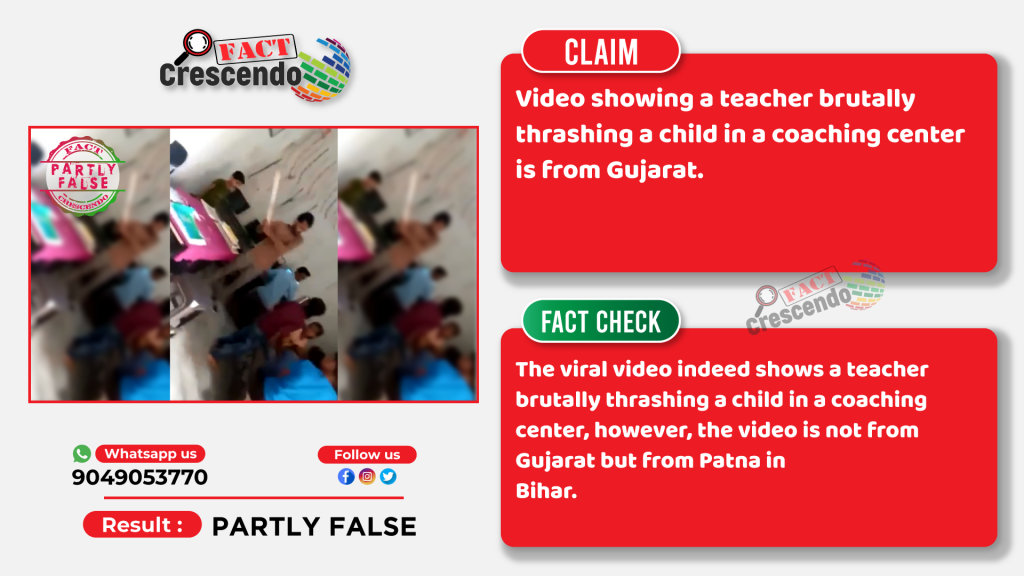 A video showing a man brutally thrashing a child is widely circulating on social media with the claim that this video was shot in a coaching center in Gujarat.
The caption of the post states, "Gujarat ke coaching centre mein, share karo."
Fact Check-
We started our investigation by running a keyword search on Google, whose results led us to a new report published by Aaj Tak on July 2022. The headline of the video states, "Patna: Tuition teacher thrashed a 5-year-old child with sticks till he fainted and slammed him on the ground." The incident took place at Jaya Coaching Classes of Dhanrua, Patna. The teacher kept on thrashing the child until he almost fainted and fell on the ground but later continued beating the child. The name of the teacher is Chotu. The teacher continues hitting the child until the cane broke into two pieces and later started kicking him till the child pleaded for his life.
According to NDTV, the owner of the coaching class Amarkant Kumar said the teacher, named Chhotu, behaved in this way because he was suffering from high blood pressure. Dhanrua police is investigating this matter.
ABP Live reported that the boy could not bear the brutal beating of the teacher and eventually fell unconscious. The 5-year-old boy was later taken to the hospital for treatment. After the incident, the teacher was caught by the local people and was thrashed.
Conclusion-
Fact Crescendo found the claim made along with the viral video to be Partly False. The viral video indeed shows a teacher brutally thrashing a small child in a coaching center, however, the video is not from Gujarat but from Patna in Bihar.

Title:Video of a teacher thrashing a child is not from Gujarat.
Fact Check By: Drabanti Ghosh
Result: Partly False