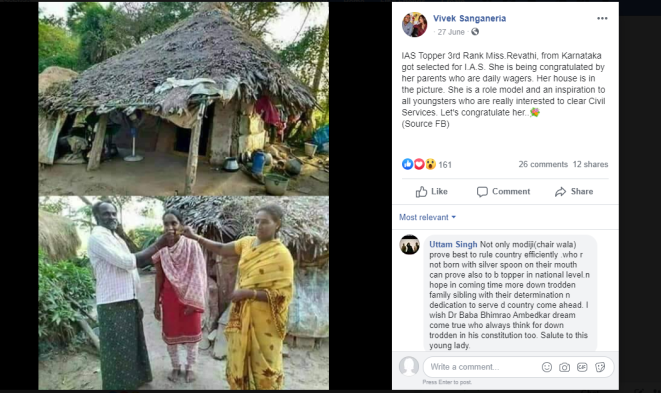 A Facebook post with a collage of two photos and a caption stating that one of the persons in the photo is the third rank holder in IAS exams is slowly going viral in Assam.
The post, shared on June 27, 2020 at 8:24 am says:
"IAS Topper 3rd Rank Miss.Revathi, from Karnataka got selected for I.A.S. She is being congratulated by her parents who are daily wagers. Her house is in the picture. She is a role model and an inspiration to all youngsters who are really interested to clear Civil Services. Let's congratulate her..💐
(Source FB)"
The post has got 26 comments and 12 shares so far.
Is the picture indeed of an IAS officer? Let's check the authenticity of the claim.
Fact Check Methodology:
We ran a reverse image search on Google and found that it has been published on various platforms with a similar narrative.
But we also found a news report in the Telugu page of a multilingual platform AP2TG that said these photos are actually of Sub Inspector Venkata Revathy, her parents and her home at Andhra Pradesh. The photo of the Sub Inspector and her parents was published at the top and the photo of her house was inserted towards the end of the writeup.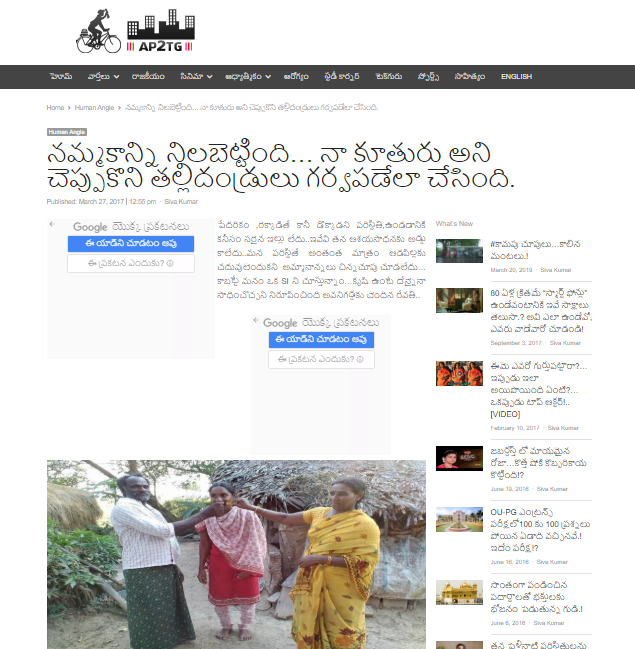 The news report was published in March 2017 when she had just gotten her job.
After this we typed in some relevant keywords and ran a Google Search. We found a Provisional Selection List for the post of SI CIVIL Zone-II Recruitment, 2016 where we found a woman candidate with the same name at Slot number 40.
Following this we searched for "3rd rank holder IAS, Miss Revathi, Karnataka" on Google but could not locate anything except the same photo shared with a similar narrative on different platforms.
Conclusion:
The fact check shows that the post with the collage is False. The images that are being shared aren't of a 3rd rank holder IAS officer as claimed.

Title:Collage of two photos is not of an IAS 3rd rank holder Miss Revathi
Fact Check By: Manjori Borkotoky
Result: False