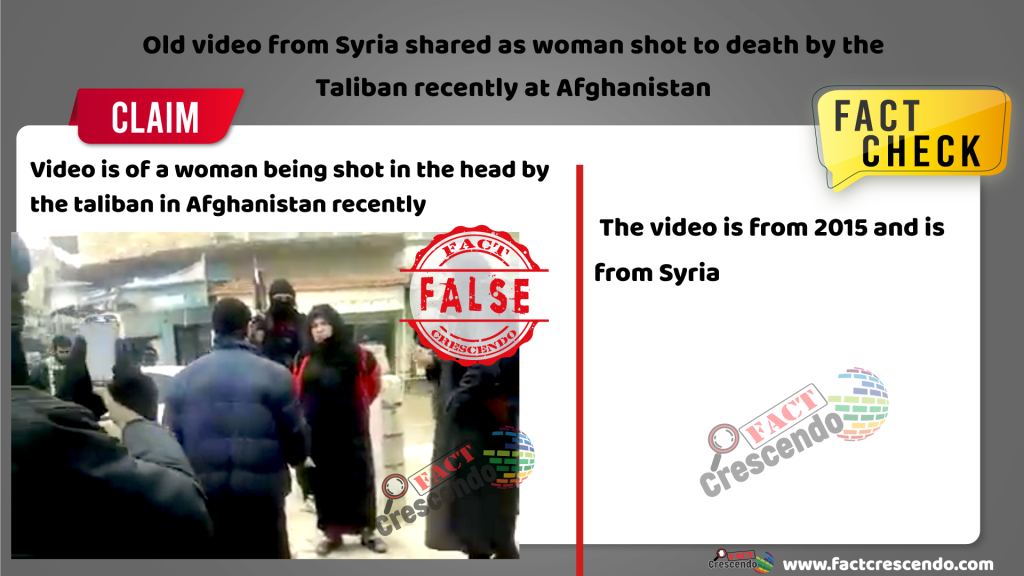 As India celebrated its 75th Independence Day on Sunday, Taliban forces entered the Afghan capital Kabul forcing the incumbent President Ashraf Ghani to flee.
In the aftermath of the fall of Kabul, social media witnessed a flurry of disturbing that went viral in no time. Some of those videos, however, have been debunked as old and misleading by Fact Crescendo.
One such video going viral across social media platforms shows a burqa clad woman being shot to death on the streets and captions being shared with the video states that it happened because she was not accompanied by a male on the streets of Afghanistan.
We've received multiple requests to verify the information on our 24×7 WhatsApp Factline number 904 905 3770. Archived Video | Archived Request
Fact Crescendo found that the the claim is False. The video is actually from 2015 when reportedly a woman charged with adultery was executed by al-Qaeda's Syria wing, al-Nusra Front, outside the city of Idlib.
Fact Check Methodology
At first we split the video into keyframes using the In Vid- We Verify tool and came across a link to a page published at 9:17pm On Jan 18, 2015 on the website Nairaland Forum. The page has a link to the video with a thumbnail of the gory scene and has the caption "Shocking Jabhat Al-nusra Execute Woman For Adultery By Shooting Her Top Of Head."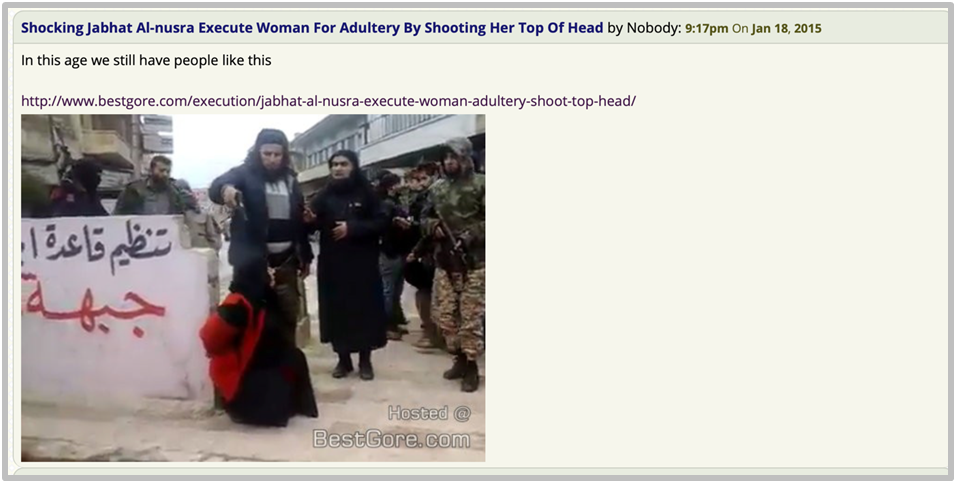 Screenshot, Nairaland Forum
Following this, we ran a relevant keyword search on Google and came across multiple news reports on the incident. The Daily Mail reported on January 15, 2015 about the incident with the headline: "The execution that sickened even ISIS: Woman accused of adultery is shot by Al Qaeda in Syria… but even rival Islamists say a veiled woman should not have been killed." The report says that the footage has been filmed by Jabhat al-Nusra fighter in Ma'arat al-Nu'man, located in the north-western city of Idlib. Read more: Daily Mail
We saw a similar report on Vice News, published on January 15, 2015 with the headline: "Syrian Militants Publicly Execute a Woman Accused of Committing Adultery." The report has a screenshot of the viral video and states that Suspected members of al Nusra Front reportedly shot a woman to death in the street after refusing her request to see her children.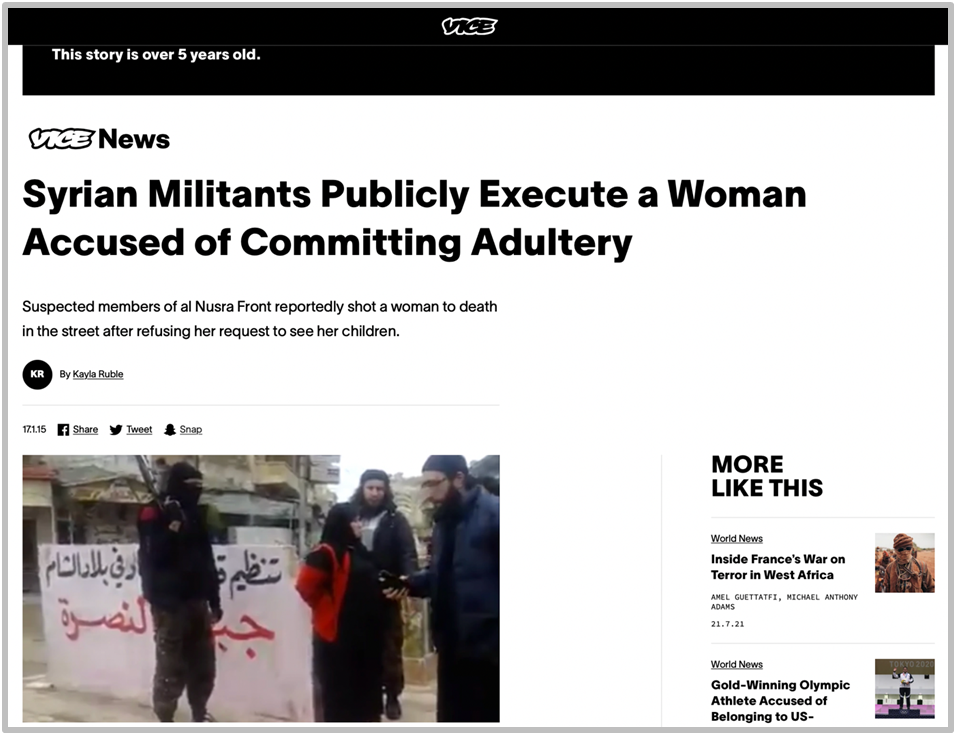 Screenshot of the report on Vice News.
Conclusion
From the above Fact Check it is clear that the viral video of a burqa clad woman being shot is not recent but is from January 2015. Contrary to the claim, the video is not from Afghanistan but is from Syria.
Title:Old video from Syria shared as woman shot to death by the Taliban recently at Afghanistan
Fact Check By: Manjori Borkotoky
Result: False