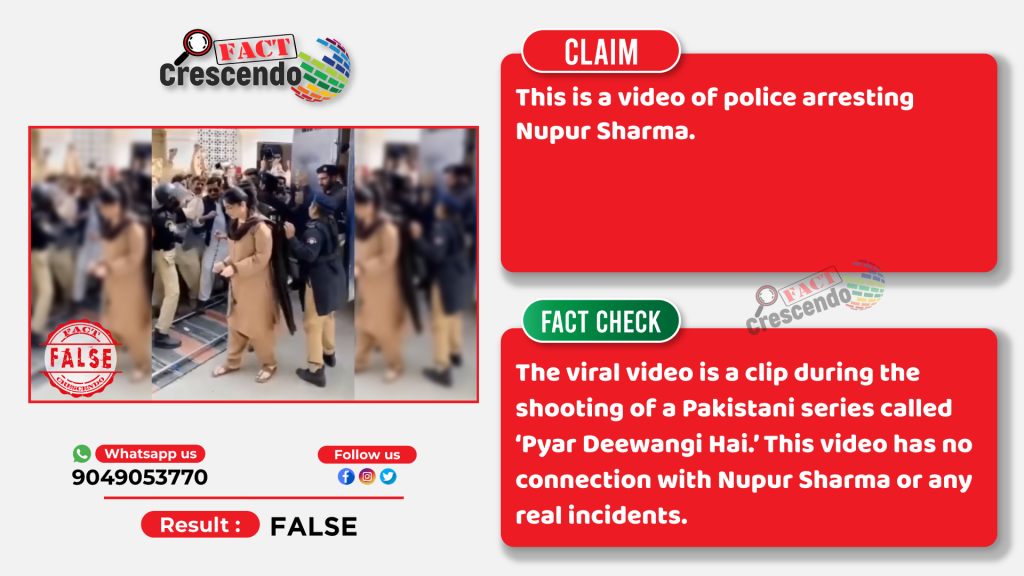 A video of a woman in police custody is going viral on social media with a claim that police arrested former BJP spokesperson Nupur Sharma for her objectionable comment on Prophet Muhammad.
However, Fact Crescendo found the claim to be false. A viral video is a clip of a Pakistan TV serial shooting.
WHAT'S THE CLAIM?
Sharing the video users are claiming that Police had arrested Nupur Sharma. The Hindi text along with the video reads, "Nupur Sharma arrested. Where are the supporters of Nupur Sharma?"
FACT CHECK
A first glance at the clip raises doubt about the viral claim. The uniform of the police in the video is different from the Indian police.
Also, we can see the camera, trolley, and person with the reflector board. It clearly indicates the fact that the video might be of some kind of shooting.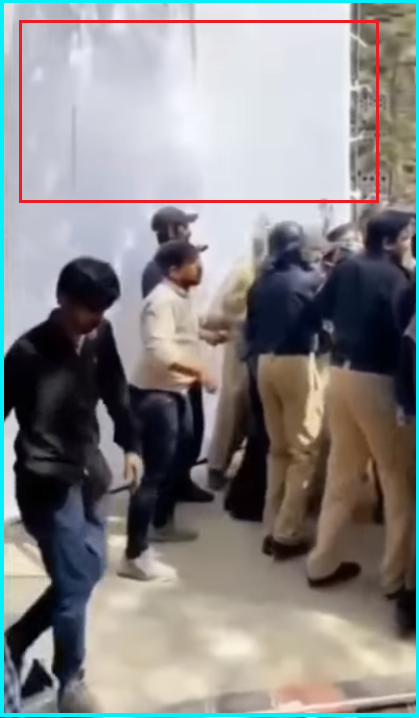 A Google reverse image search led us to the same video uploaded on TikTok on 26 May 2020. In the comment section, it was mentioned that this video is a clip of a TV show called Pyar Deewangi Hai.
We found that in this video was uploaded on YouTube Channel 'Ary Digital HD' on 17 April 2022. Ary Digital is a Pakistani production house located in Karachi.
The viral visuals can be seen from 16 seconds to 23 seconds.
In the description, it was mentioned that the video is a teaser for a serial called 'Pyar Deewangi Hai.'
Hence, the video is not only a TV show but also an old one from Pakistan. So, the viral video has no connection with the Nupur Sharma case.
Has police Arrested Nupur Sharma?
On 18 June 2022, the Times of India reported that Nupur Sharma was untraceable. A team of Mumbai police went to Delhi to serve to summon Nupur Sharma after an FIR was registered against her for objectionable comments on Prophet Muhammad but failed to do so as she was untraceable. Later they sent the summon through e-mail.
Meanwhile, on 24 June 2022, The Hindu reported that Nupur Sharma was also summoned by Kolkata Police. Complaints against Nupur Sharma were registered in 10 police stations in Kolkata. She sought four weeks' time fearing the threat upon her life after the first summon was issued.
CONCLUSION
The viral video is a clip of a Pakistani TV show. It does not show the police arresting Nupur Sharma. As of now, Nupur Sharma has not been arrested. Thus, the viral claim is false.

Title:Clip of A TV serial shooting viral as Nupur Sharma arrested by police
Fact Check By: Siddharth Sahu
Result: False