The image shows Balasaheb Thackeray giving his blessings to Shinde's mentor, the late Anand Dighe.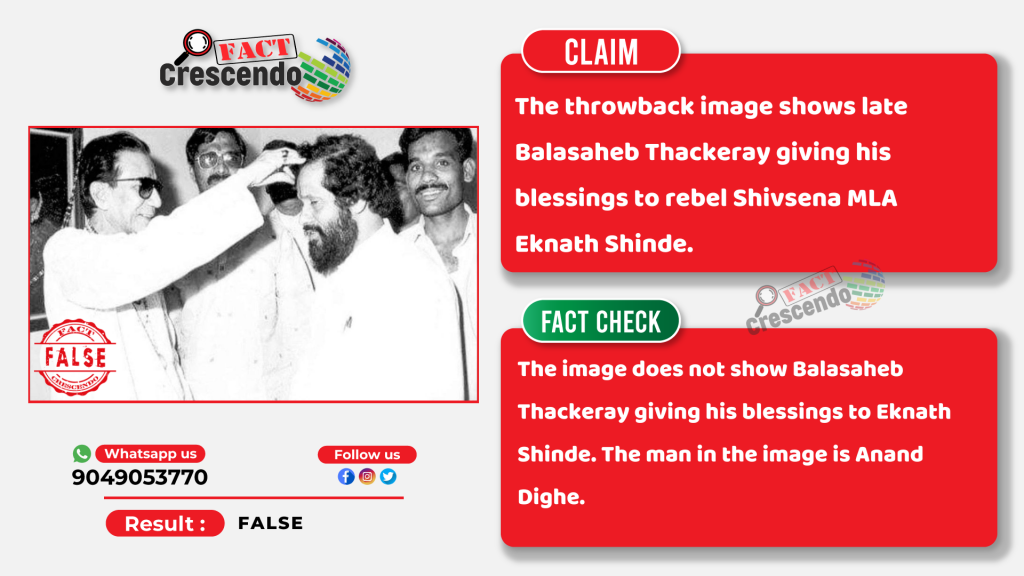 As the political crisis in the party deepens, several Shiv Sena workers took to the streets against the party rebels across Maharashtra and Delhi. The Maharashtra CM Uddhav Thackeray and the state minister for urban development, Eknath Shinde, are engaged in a power struggle with each other for the reigns of Shivsena.
Amidst this, an image showing Balasaheb Thackeray applying tilak on someone's head is widely circulating on social media with the claim that it shows Balasaheb Thackeray giving his blessings to Eknath Shinde.
The caption of the post states, "In an old Photo, Balasaheb Thackeray giving blessings by giving Tilak of Eknath Shinde."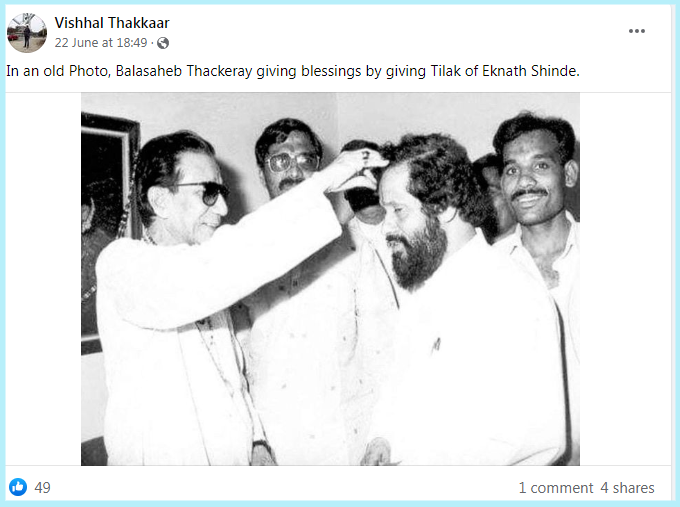 Fact Check-
We started our investigation by running a reverse image search on Google whose results led us to BBC Marathi's news report published on 15 April 2022. The caption of the image states, "Balasaheb Thackeray and Anand Dighe." The report explains why there is Anand Dighe's chair in Shivsena's office. It contains bites from people close to the leaders, explaining Anand Dighe's relationship with Shivsena and his importance.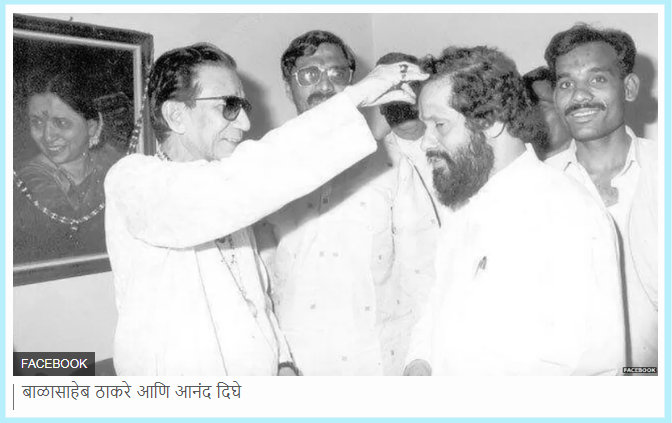 Lokmat has also published the same image stating that it shows Balasaheb Thackeray giving his blessing to Anand Dighe. This news report was published after the film 'Dharmaveer: Mukkam Post Thane" was released. This movie is a biopic based on the life of Anand Dighe, a charismatic Shivsena leader and party's former District Unit Chief for Thane.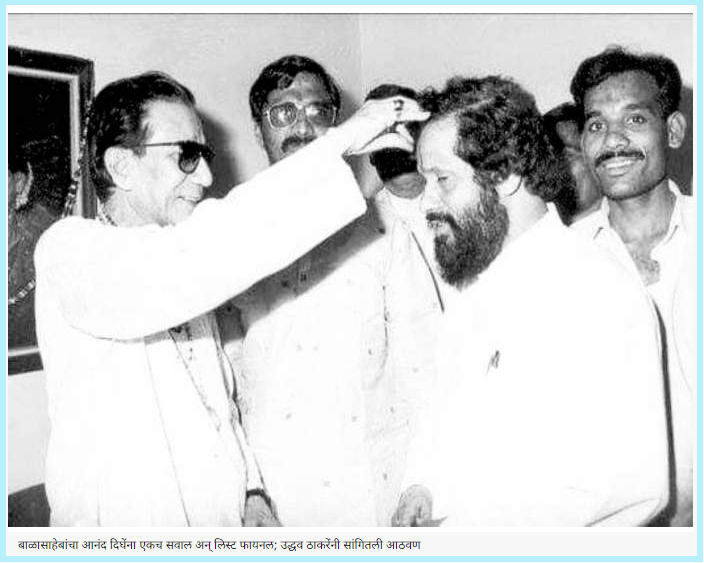 Relationship Between Eknath Shinde and Anand Dighe
The leader of the rebel MLAs who have raised a mutiny against Uddhav Thackeray, Eknath Shinde is a mentee of late Anand Dighe. Shinde, who hails from Satara, migrated to Thane in his youth and completed his education there. He drove an auto-rickshaw to make ends meet. He was actively involved in the political activities of Shivsena in his youth. Thus he managed to catch the attention of Shivsena's Thane Unit Chief Late Anand Dighe.
Dighe was a charismatic leader who was extremely popular among the party workers and the public of Thane-Palghar area. This even earned him the nickname of 'Balasaheb Thackeray of Thane'. Similar to Balasaheb Thackeray, Anand Dighe never contested elections himself. Instead he organized religious festivals and public courts to resolve issues of the public. After the death of Dighe in 2001, Eknath Shinde was named the Shivsena candidate for Thane seat by late Balasaheb Thackeray in 2004. Shinde has never lost the seat ever since, winning elections in 2009, 2014 and 2019.
Conclusion-
Fact Crescendo found the claim made along with the viral video to be False. The image does not show late Balasaheb Thackeray giving his blessings to Eknath Shinde instead the man with Balasaheb Thackeray is Shinde's mentor late Shivsena leader Anand Dighe.

Title:Balasaheb Thackeray is not giving his blessings to Eknath Shinde
Fact Check By: Drabanti Ghosh
Result: False