The video showing police thrashing rioters is not from Kanpur but shows an old incident from Mumbra in 2020.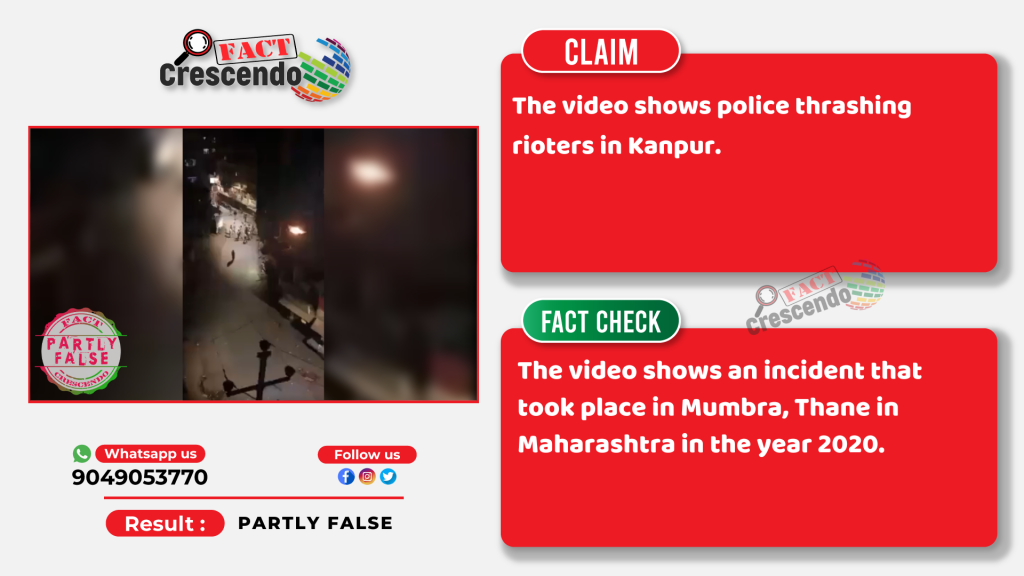 Kanpur witnessed incidents of stone pelting in the area on 3 June against the statement given by BJP spokesperson Nupur Sharma. Police have arrested 36 accused in this matter on charges of rioting and attempted murder.

Amidst this, a video showing police taking action on alleged rioters is widely circulating on social media with the claim that it shows police officers thrashing alleged rioters on the streets of Kanpur at midnight.
The caption of the post states, "Scenes from the streets of Kanpur during midnight."

Caption in Hindi "आधी रात को कानपुर की गलियों से आती हुई उह, आह की आवाज़ को ही शास्त्रों में शुकुन कहा गया है |"
Fact Check-
We started our investigation by running a reverse image search as well as keyword search on Google. The results led us a tweet posted on 4 April 2020 stating that this video could be from Hyderabad. This hinted that the video is not a recent one.

Taking a cue from this, we ran a keyword search on Google and YouTube whose results led us to a news report published by Gallinews India on 29 March 2020. The caption of the video states "2 Groups ki Jhadap mai Police ki lathi se pit gaye Tamasha Dekhne waale."

According to the tags of the video, this incident is from Mumbra, Thane. The video states that the incident took place in Thane.
"Hindustani Reporter," had uploaded a news on the same video on 29 March 2020. They mentioned that the incident took place in 27 March 2020 in Kausa, Shree Lanka from Mumbra in Thane. According to the report, the police resorted to lathi charge to disperse the mob when supporter of two local politicians clashed.
Conclusion-
Fact Crescendo found the claim made along with the video to be Partly False. The viral video is not from Kanpur neither is recent but shows an incident that took place in 2020 from the area of Mumbra in Maharashtra.

Title:Viral Video of police using force is not from Kanpur.
Fact Check By: Drabanti Ghosh
Result: Partly False