A post claiming Martyr Bhagat Singh's last surviving sister Parkash Kaur died recently at the age of 96 is receiving a lot of traction on Facebook. Many users have commented their condolences and some have even shared the post under the impression that the news is recent. You can see the post below: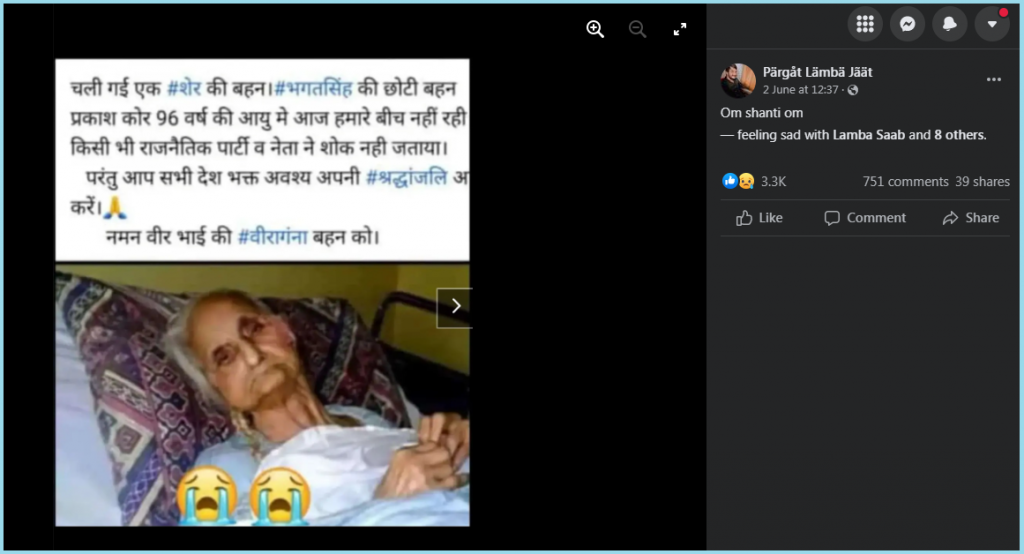 In the post given above, the rough translation of text in Hindi is as follows: "The Lion's sister has left us! Bhagat Singh's younger sister Prakash Kaur has passed away at the age of 96 but no political party or leader has expressed grief. However, all of you patriots must pay her tributes. Hearty Tributes to the brave warrior sister of brave brother."
Following this appeal, tributes poured in for Parkash Kaur in the comment section of the post. However, Parkash Kaur had died 8 years earlier at the age of 94 in Toronto, Canada. Here's the truth…
Fact Check
The great Indian revolutionary fondly known as Shaheed-e-Azam, Bhagat Singh has been a symbol of the youth's resistance against oppression. His legacy can still be seen through movies and literature about the young freedom fighters of India. Bhagat Singh was born in Banga village in Punjab state of present day Pakistan. He had six siblings including Bibi Parkash Kaur, who was his younger sister. She came to modern day India after her marriage and later migrated to Canada where she breathed her last.

Read the news here: Indian Express | Archived Link
On the 100th birth anniversary of her brother, Bibi Parkash Kaur breathed her last after suffering from prolonged illness. As per media reports, Kaur was living with her elder son Rupinder Singh Malhi in Toronto, Canada from 1980 until her death in 2014. Coincidentally, she passed away on September 28, the birth anniversary of her legendary brother.
Conclusion
From our fact check, it is clear that Bibi Parkash Kaur, the last surviving sister of Bhagat Singh died 8 years ago and not recently as claimed in the Facebook post.

Title:Bhagat Singh's sister Parkash Kaur died in 2014 not recently…
Fact Check By: Harish Nair
Result: Misleading