The video is from Bihar's Araria district showing a bridge collapsing during the floods in 2017.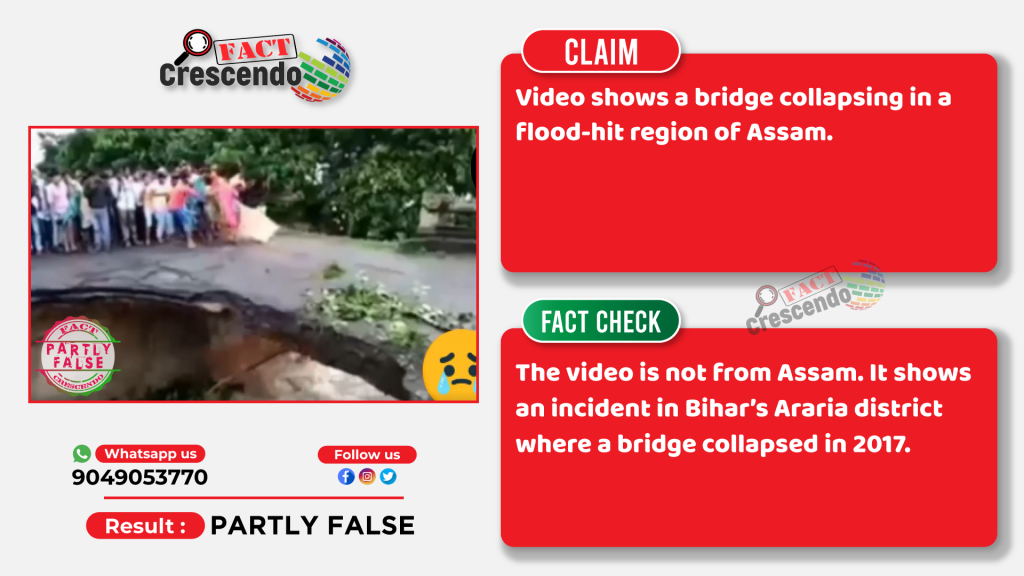 A shocking video showing a family of three falling and drowning away as the floodwater brings down a bridge is widely circulating on social media.
Users are claiming that this video is of a recent incident from the flood-hit Assam.
The caption of the post states, "Present Situation in North East India. #Landslide, #Flood: #Assam #Manipur #Nagaland #Meghalaya."
The caption of another post sharing the same video states, "Assam flood 2022: heavy rain."
However, many disturbing scenes of devastation in the recent floods have emerged from Assam and other Northeastern states, but this particular video is not from Assam. Our research indicates that the video is old and from Bihar. Here is the truth about the video.
Fact Check-
We started our investigation by running a reverse image search of one of the key frames on Google whose results led us to the same video published on 18 August 2017 by ANI on YouTube.
The caption of the video mentions, "Shocking! 3 family members feared drowned as bridge collapses – Bihar News"
The description of the video stated that in a shocking incident, three people were feared drowned after a bridge connecting a village collapsed. The video was recorded on camera in Bihar's Araria district.
According to India.com, the incident happened on 13 August 2022 and had been captured by a local. Three persons including two children were washed away in floodwaters as the bridge they were crossing collapsed in the Araria district of Bihar. The deceased have been identified as Jano, Rehman, and Shaheel.
According to NDTV, the video captures a family of three – a woman, a girl, and a man – trying to cross a damaged bridge that stands on a bed of fast-flowing water. Araria district in particular accounted for over 30 deaths during the flood. The Disaster Management Department in a statement said 28 National Disaster Response Force teams carried out rescue operations in flood-hit areas, while seven Army teams helped them out.
However, it is true that Assam is reeling under severe floods caused due to pre-monsoon showers with lakhs being affected. The total death toll in the state has risen to 18 across 31 districts, according to the bulletin issued by the Assam State Disaster Management Authority (ASDMA).
Conclusion-
Fact Crescendo found the claim made along with the video to be Partly False. The video does not show a footage of the Assam floods. The video dates back to 2017 showing a flood carrying away a bridge in Bihar's Araria district. However, it is true that Assam is severely affected by floods caused by the pre-monsoon showers.

Title:2017 video from Bihar goes viral as visuals of recent Assam floods.
Fact Check By: Drabanti Ghosh
Result: Partly False