The image has no relation with the recently discovered Shivling in Gyanvapi Masjid by Hindu groups.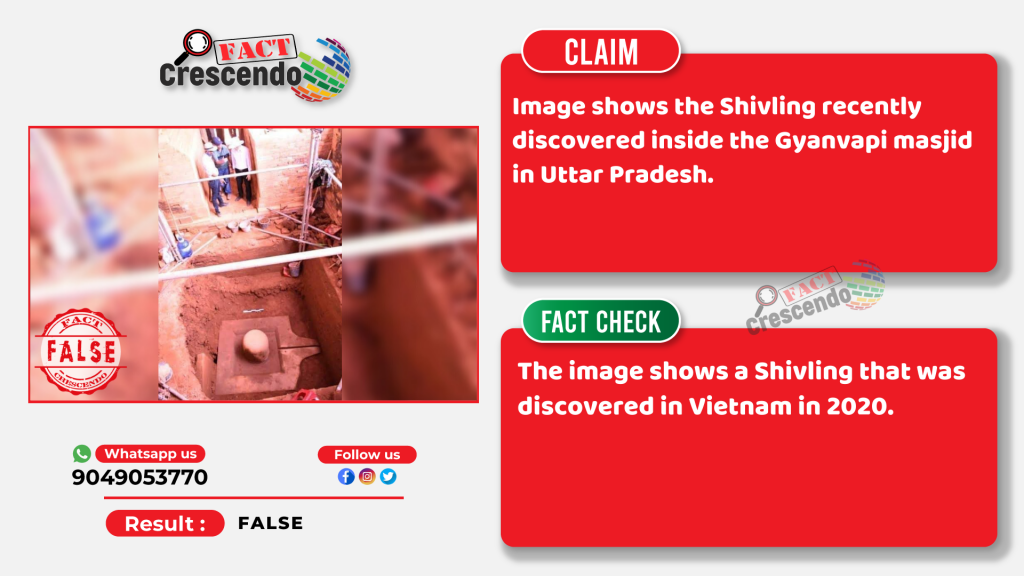 The Gyanvapi Masjid, adjacent to the Kashi Vishwanath Temple in Varanasi, is embroiled in a legal fight. Controversy surrounding recent discovery in the mosque has been creating buzz on media and social media. Several social media users have shared unrelated images of Shivling from different parts of India as the Shivling claimed to be found at the Gyanvapi masjid by Hindu groups.
Similarly, another image of a Shivling discovered after an excavation is widely circulating on social media with the claim that it is the 12 feet Shivling that has been recently discovered inside the Gyanvapi masjid in Uttar Pradesh.
The caption of the image states, "The Shivling is 12 feet by 8 inches in diameter in #GyanvapiMandir #BabaMilGaye. Now the Hindu side is seeking permission to worship daily at the Gyanvapi-Shringar Gauri complex, Har Har Mahadev."
Fact Check-
We started our investigation with a reverse image search on Google; the results led us to a tweet made by Dr. S. Jaishankar, External Affairs Minister of India and Member of Parliament (Rajya Sabha) from Gujarat State on 27 May 2020. The caption of the image states, "Reaffirming a civilizational connect. Monolithic sandstone Shiv Linga of 9th century CE is latest finding in the ongoing conservation project. Applaud ASI GoI team for their work at Cham Temple Complex, My Son, #Vietnam. Warmly recall my visit there in 2011."
According to the tweet the image is from Viernam.
According to Hindustan Times, a Shiv Linga or representation of the Hindu deity Shiva dating back to the 9th century has been unearthed at Cham temple complex in Vietnam during restoration work by the Archaeological Survey of India (ASI) in May 2020.
Cham temple complex is part of the UNESCO world heritage site of My Son in Quang Nam province of Vietnam, was built in the 9th century AD during the reign of King Indravarman II, who was also responsible for the famous Dong Duong Buddhist monastery in the same region.
Conclusion-
Fact Crescendo found the claim made along with the image to be False. The Shivling seen in the viral image is not the Shivling discovered in Gyanvapi masjid. The image shows a Shivling discovered in Vietnam in 2020.

Title:2020 Image from Vietnam shared as Shivling discovered in Gyanvapi Masjid.
Fact Check By: Drabanti Ghosh
Result: False