The video has been digitally altered. The original video does not show the pigeon greeting back Russian President Putin.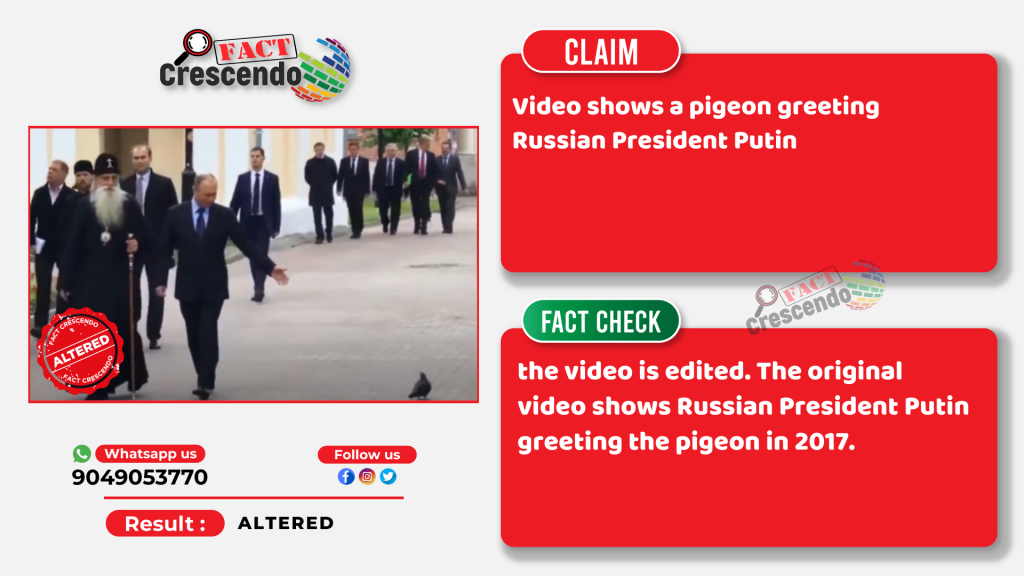 A video showing Russian President Vladimir Putin waving at a pigeon and the pigeon apparently saluting President Putin back is widely circulating on social media. Believing it to be real, users have been sharing this video claiming that the pigeon shows respect to President Putin.
The caption of the video states "The pigeon saluted Putin."
Facebook Post | Facebook Post | Archive Link
Fact Check-
Keyword search led us to a report by Ruptly on 1 June 2017, which stated that this video shows Russian President Vladimir Putin getting ignored by a humble pigeon during his visit to the Rogozhskaya Zastava Spiritual Centre in Moscow.
The headline of the report states "Russia: Coo-Coo! – Putin blanked by pigeon at Spiritual Centre."
We found news reports that stated that Vladimir Putin visited the Rogozhskaya Zastava Spiritual Centre of the Russian Orthodox Old-Rite Church in 2017.
Let us tell you that the video is not available on Ruptly's news website or YouTube channel as YouTube has blocked channels connected to Russian state-backed media outlets such as RT and Sputnik across Europe effective immediately, due to the situation in Ukraine. We can only view the thumbnail of the video.
We found Ruptly's original video on an another channel that mentioned Putin greeting a pigeon. The video was uploaded on 1 June 2017. We can clearly see that after Putin greets the pigeon, the pigeon does not greet him back.
The viral video is edited. Below you can see a comparison between the viral video and the original video
Conclusion-
Fact Crescendo found the viral video to be edited. The original video does not show the pigeon greeting Putin back. Pigeon's salute has been added digitally to the original video.
Title:Digitally edited video shared as a pigeon saluting Russian President Putin
Fact Check By: Drabanti Ghosh
Result: Altered