The video has no relation with the recent communal violence in Delhi. Video shows a Qazi making inflammatory statements against a particular community, who was later booked by Dehradun Police.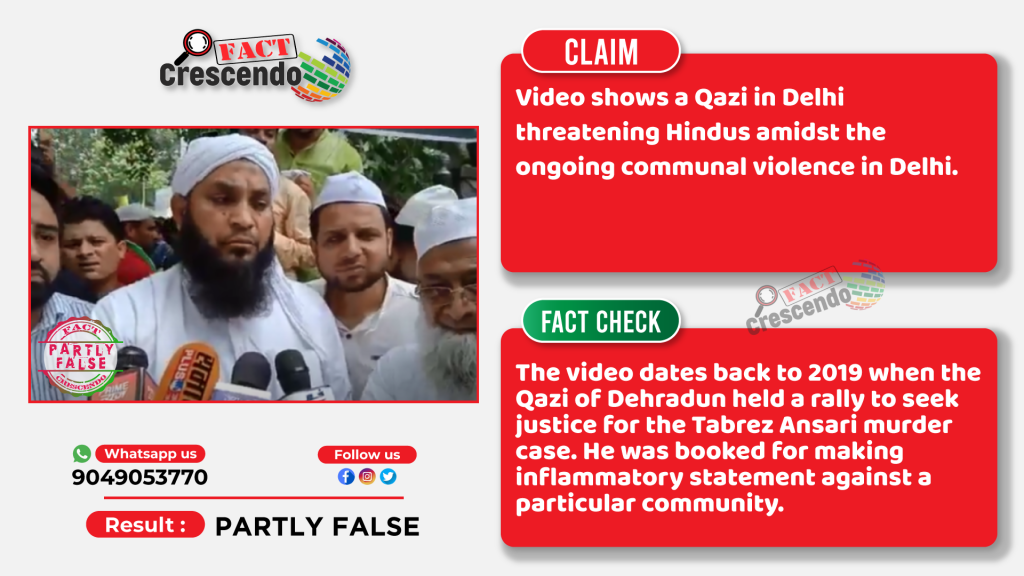 In Delhi's Jahangirpuri two communities clashed with each other during celebration of Hanuman Jayanti. Following this incident, MCD ran bulldozer on alleged illegal encroachments in the area and demolished shops and homes of many residents. Many alleged that this was a deliberate act of vengeance by BJP ruled Municipal Corporation of Delhi (MCD) that was trying to emulate the 'Bulldozer model' seen recently in UP and MP.
Amidst this, a video is widely circulating on social media with the claim that a Qazi in Delhi can be seen threatening Hindus and saying that they will not let Hindus live in peace.
The caption of the social media post states, "Is this why Arvind Kejriwal has increased their salary 3 times since coming back to the power?"
The burnt caption in the video states that Delhi Qazi said they will not let the Hindus live in peace.
https://archive.org/details/1420_20220420
Archive Link
Fact Check-
We started our investigation by running a reverse image search on screenshots of the image along with a keyword search on Google. The results led to the same video published by a Youtube channel named "Qari usman hassani official" on 1 July 2019.
The caption of the video stated, "Jharkhandi mob lynching tabraiz ansari k qatl par bole mufti raees Dehradun."
The video is 3 minute long where we can hear the Qazi make inflammatory statements. We can hear the Qazi speak about Tabrez Ansari, who was brutally lynched by a mob and forced to chant "Jai Shree Ram". 
Keeping this in mind, we ran a keyword search on Google, which led us to a news report by Live Hindustan published in 2019. The report stated that people of the Muslim community took out a rally in Dehradun demanding capital punishment for the killers of Muslim youth- Tabrez Ansari, who was killed in a mob-lynching incident in Jharkhand. District president of Jamiat Ulema-e-Hind and the Shahar Qazi, Mufti Raees Ahmed Qasmi led the rally.
According to the Times of India, The district president (Dehradun) of Jamiat Ulema-e-Hind, Mufti Raees Ahmed, was booked for making 'provocative speech' while talking to media persons outside Dehradun court. The alleged statement, which went viral on social media, was made after a protest held by Muslim organisations against the alleged murder of Tabrez Ansari in Jharkhand. A case had been registered under section 153 A (1) (b) (promoting enmity between different groups on grounds of religion) and 505-2 (hate speech) of the IPC.
Who is Tabrez Ansari?
On 17 June 2019, 24-year-old Tabrez Ansari was attacked by a mob in Jharkhand. He was tied to a tree, brutally beaten and forced to chant Hindu religious slogans. He died four days later. The incident came in to light after a video of the lynching went viral. The attackers had accused him of bike theft. The Jharkhand police submitted a charge sheet seeking punishment under Section 302 of the IPC (murder) against 11 of the accused.
Conclusion-
Fact Crescendo found the claim made along with the video to be Partly False. The video of the Qazi issuing threats to Hindu community is not related to Delhi or the recent incidents in Jehangirpuri. The video dates back to 2019 when the Qazi of Dehradun held a rally to seek justice for Jharkhand man Tabrez Ansari who was lynched by a mob. He was later booked for making inflammatory statement against a particular community.

Title: Fact Check By: Drabanti Ghosh
Result: Partly False