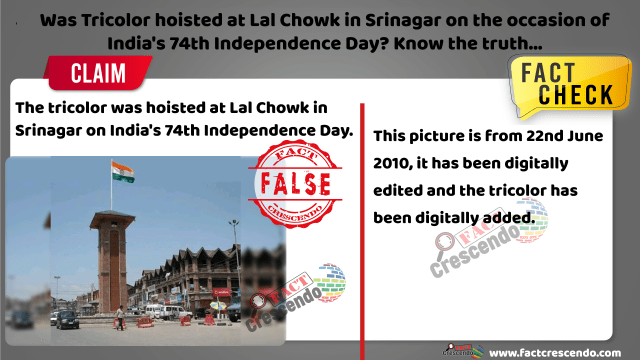 India's 74th Independence Day was celebrated on 15th August. In this context, a picture has been circulated on social media forums in which we can see the tricolor hoisted at Lal Chowk in Srinagar, the capital of Jammu and Kashmir. This picture claims that the tricolor was hoisted on the occasion of the 74th Independence Day.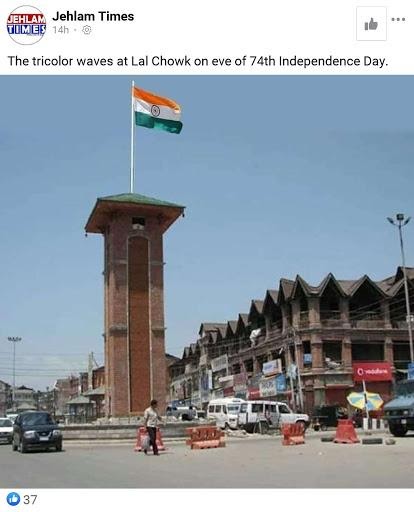 This picture has been shared a lot on the social platform.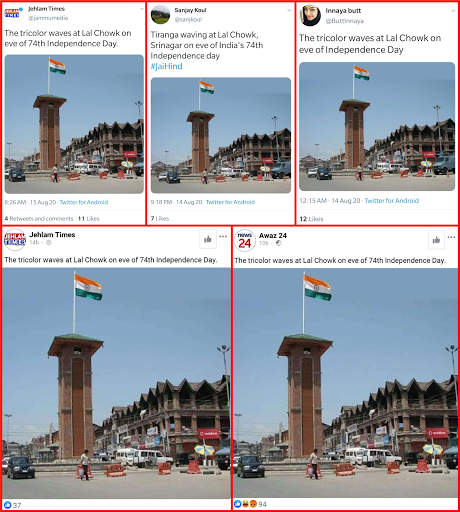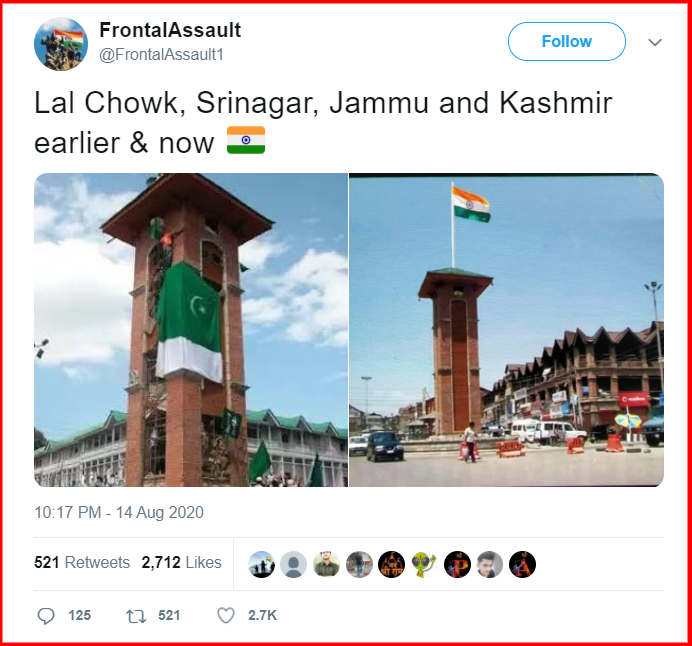 BJP MP from Ladakh Jamyang Tsering Namgyal has posted this picture on his Twitter handle and wrote, "What has changed since #5Aug2019? Lal Chowk #Srinagar which had remained as a symbol of the #AntiIndia campaign by dynast politicians & #Jihadist forces has now become the crown of nationalism. #modihaitomumkinhai
Thanks my countrymen for electing @narendramodi @AmitShah #modisarkar
Social media users have posted this picture and claimed that after the abrogation of Article 370, India got real independence.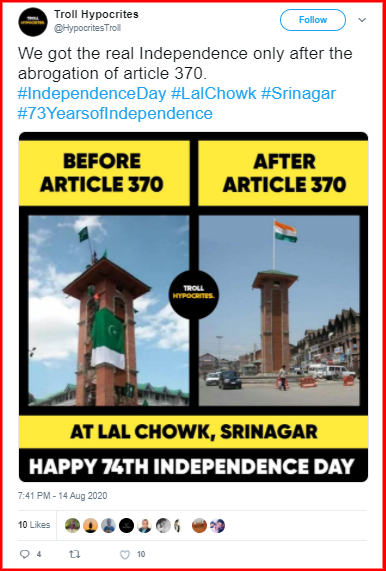 Many social media users have credited Prime Minister Narendra Modi, that due to his efforts, the tricolour was hoisted at Lal Chowk.
We began our research through a Reverse Image Search, we found a page called Sunday Gentlemen where a journalist named Mubasshir Mushtaq posted this picture in a blog written by him. This photo was taken on 22 June 2010.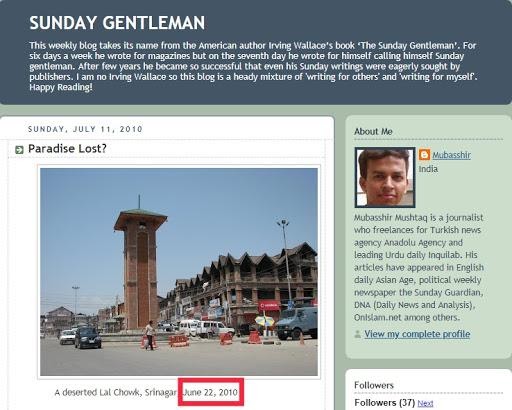 Now you can see comparative analysis of the viral picture and the actual picture below.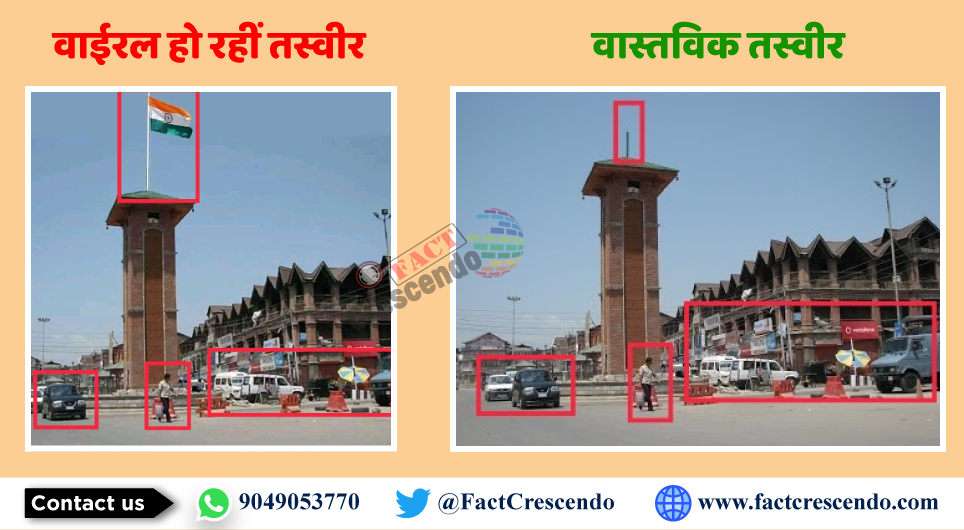 Black and white cars are seen on the left in both the photographs. A person is seen walking in the middle whereas, two white cars and a blue truck can be seen on the right side. If you look closely at the tower of Lal Chowk, you will see the tricolor waving in the viral picture whereas in the actual picture you will see only one pole in place of the tricolor. This proves that the tricolor has been added through digital editing on the viral picture. We searched for a news article through keyword search, through which we came to know the current status of Lal Chowk on 15th August 2020.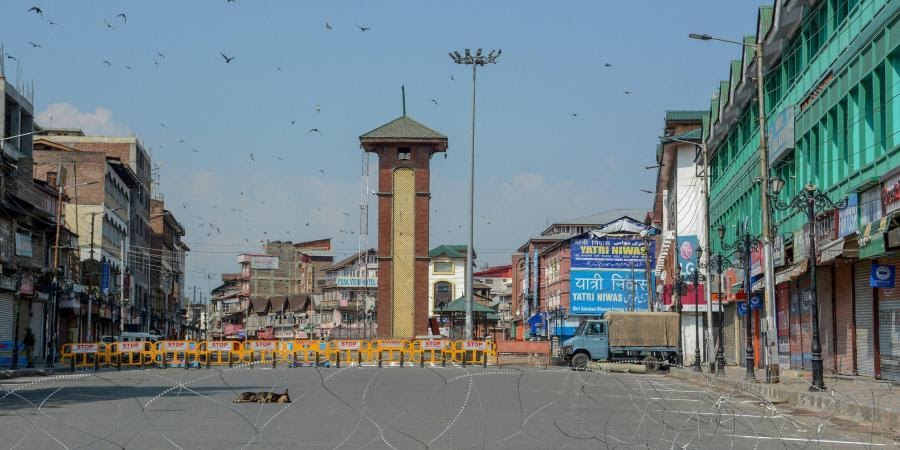 We took this picture from a news article published on 15th August 2020 by New Indian Express, which was pulled by PTI. On India's 74th Independence Day, there was a ban on the movement of people at Lal Chowk in Srinagar, due to which, barricades were set up there.
Let us also tell you that currently Lal Chowk looks something like this.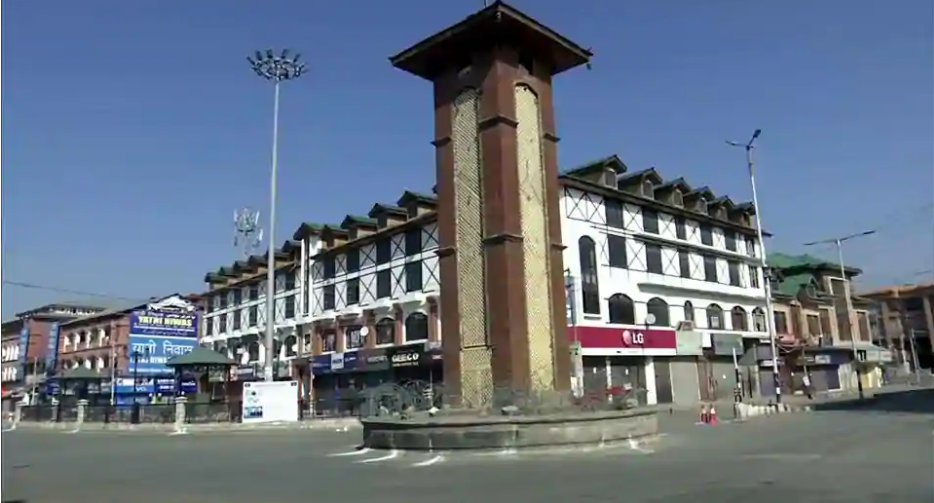 We have taken this picture from a news article published on 4th August 2020 by Hindustan Times. This picture has been taken by ANI news agency.
Below you can see Lal Chowk in Google Street View.
Conclusion: We found the above claim wrong after fact-checking. The Tricolour is digitally mounted in the viral picture. In reality this picture was published in June 2010 and the Indian flag is not seen at Lal Chowk in the original picture.

Title:Was Tricolor hoisted at Lal Chowk in Srinagar on the occasion of India's 74th Independence Day? Know the truth…
Fact Check By: Aavya Ray
Result: False