The video has no relation with the recent violence during Ram Navami celebrations in Khargone, Madhya Pradesh. The video shows the family of a COVID-19 deceased being escorted to a quarantine centre in Moradabad.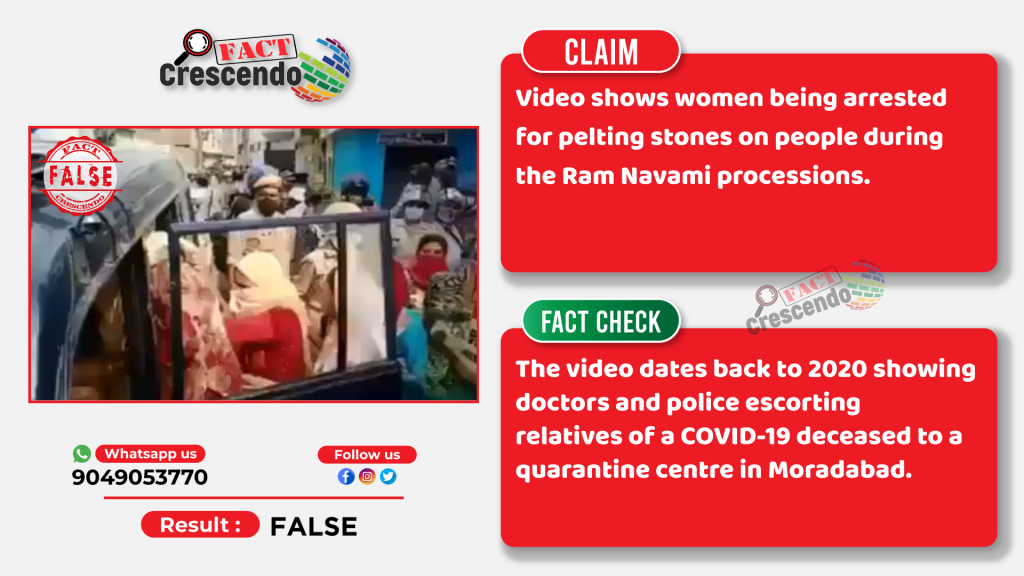 A video showing police arresting a group of women is widely circulating on social media with the claim that these are Muslim women being arrested for pelting stones at the procession held on Ram Navami in Khargone, Madhya Pradesh.
Several Facebook users have shared this video taking a dig at the women calling them 'lionesses'. Overall, the post implies that the women in the video are being arrested for their involvement in the stone pelting incident that took place on the day of Ram Navmi.
The caption of the post states "Farewell to the stone-throwing lioness on Ram Navami."
(Hindi: रामनवमी पे पत्थर फेंकने वाली शेरनियों की विदाई)
However, the reality of the video is not what is being claimed in the above post. In fact, the video is not even from Madhya Pradesh. Let's see the reality of the viral video.
Fact Check-
We started our investigation by running a reverse image search on one of the key frames of the video on Google, whose results led us to a news report published by NDTV on 15 April 2020.
The headline of the report mentions, "Doctors, Cops Escorting Possible COVID-19 Patient Attacked in Moradabad, UP."
According to the report, the video is from Nawabpura colony in Moradabad in Uttar Pradesh where some residents in attacked a team of doctors and other medical staff, when they went there to take primary contacts of a COVID-19 patient who died, to a quarantine facility.
A police team escorting the doctors was also attacked. Some police officers and a doctor were injured but no one had any serious injuries.
According to Amit Pathak, a senior police officer in Moradabad said a COVID-19 patient had died in the area and the doctors were trying to quarantine his immediate contacts.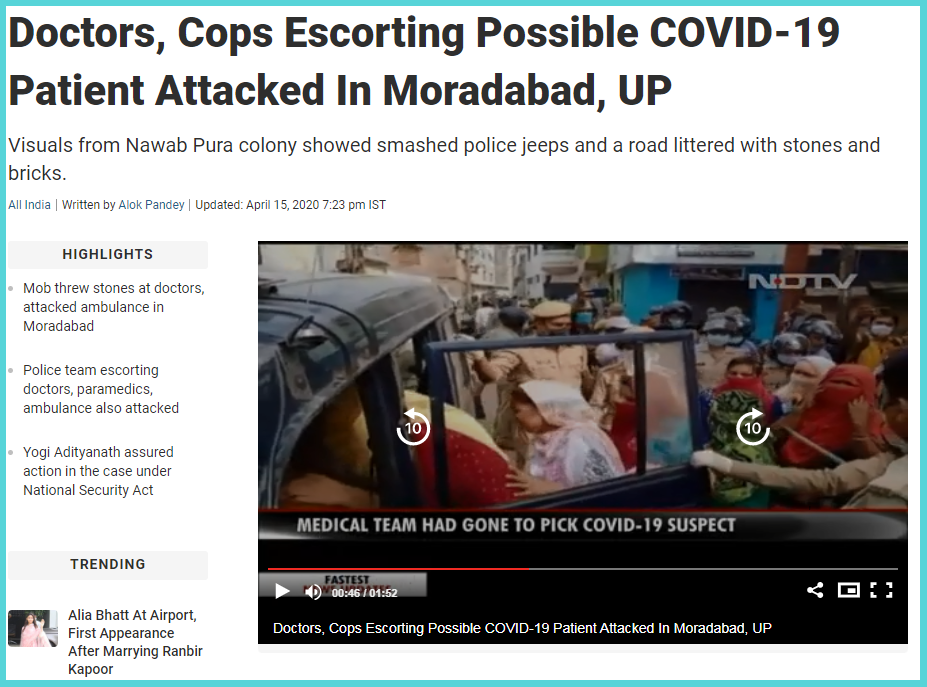 India Today and the Hindu also reported this news on 15 April 2020. The report stated that a team of doctors and medical staff was attacked by a mob in Moradabad's Nawabganj area when they went to bring a coronavirus patient from the area.
The area was declared a hotspot after one person from the area passed away on April 13 allegedly because of coronavirus. Three persons including a doctor were injured as a crowd attacked a health department team who went to take samples for COVID-19 in the Nawabpura area.
A police team led by Superintendent of Police Amit Anand had to rush with Shehar Imam Masoom Azad to restore normalcy.
Conclusion-
Fact Crescendo found the claim made along with the video to be False. The video has no relation with the recent Ram Navami procession or communal clashes. The video dates back to 2020 showing medical professionals and cops escorting relatives of those who died from Covid-19 to a quarantine centre in Moradabad, Uttar Pradesh.

Title:Old video from UP passed off as women arrested for stone pelting during the Ram Navami processions in Madhya Pradesh
Fact Check By: Drabanti Ghosh
Result: False