Dr. Manoj Mittal has himself confirmed to Fact Crescendo that the social media posts are baseless and fake. He is healthy and continues consuming cow dung.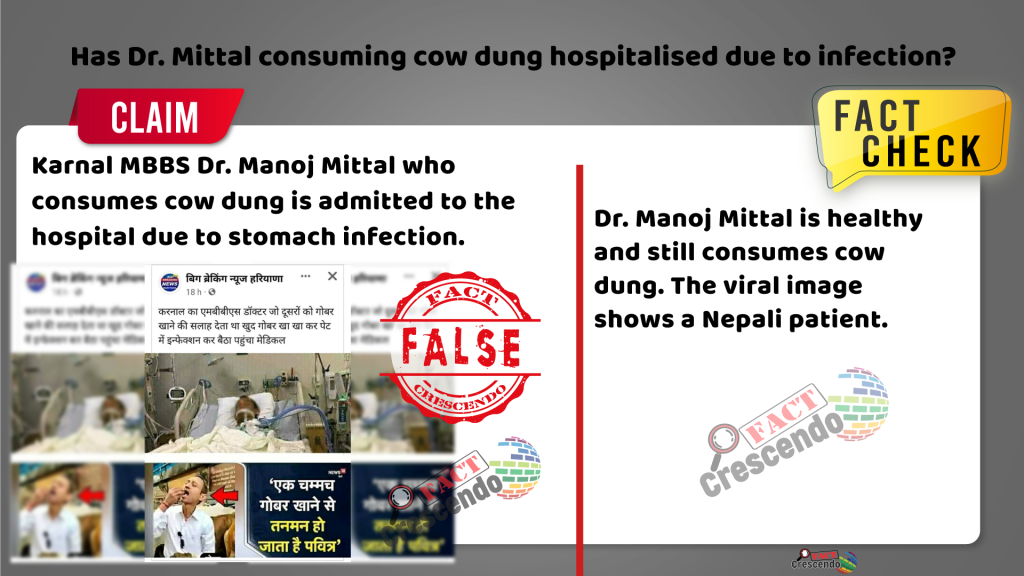 Last month, a video of a doctor named Manoj Mittal eating cow dung went viral on social media. In the backdrop of this, social media users are claiming that his health has deteriorated seriously because of eating cow-dung and he has been admitted to the hospital.
A video of him eating cow dung along with a picture of a hospitalized man is being shared along with the claim. The caption of the post reads, "MBBS Doctor from Karnal who asked others to eat cow dung and used to eat cow dung himself is now admitted in the hospital due to stomach infection."
The image is widely circulated on Facebook.
Fact Check-

A video of Dr. Manoj Mittal eating cow dung went viral on social media where he could be seen teaching people the benefits of cow dung. He claimed that eating cow dung helps in purifying mind, body and soul. Several media websites reported this video last month.
According to a report published by "Patrika", Manoj Mittal is a resident of Karnal district of Haryana. He is a practicing pediatrician. According to him, he suggests everyone to eat cow dung for its health benefit. He also suggests that pregnant women should consume cow dung for normal delivery.
Next, Fact Crescendo contacted with Dr. Manoj Mittal, who rubbished the ongoing claims about his health.
"The claim that is going viral is completely false. I am completely healthy. The video in this post is mine; but the picture of the person admitted in the hospital is not mine," said Dr. Mittal.
On our request, he recorded a video of himself clarifying the viral claims. You can see that below.
Then who is the person seen in the hospital bed?
We did a Google reverse image search on the viral image and found the same picture on the website of gofundme.com. According to the website, the name of the person seen in the picture is Bidhan Thapa.
He was a resident of Nepal. He died on 10 July 2017 at the age of 29 in a hospital located in the US. A person named Balaram Poudel has published this information.
Conclusion-
Fact Crescendo found the viral image on social media to be False. Dr. Manoj Mittal is healthy and the information about his sickness is fake. The viral image is not Dr. Manoj Mittal.
(If you also have any suspicious messages, posts, photos, videos or news, send them to our WhatsApp Fact line Number (9049053770) for Fact Check. Follow Fact Crescendo on Facebook , Instagram and Twitter to read the latest Fact Check.)
Title:FACT CHECK: Has Dr. Mittal Been Hospitalized for Infection After Consuming Cow Dung?
Fact Check By: Aavya Ray
Result: False