A video showing an explosion in Karachi, Pakistan is going viral on social media as Police inflicting atrocities on Muslims in Tripura.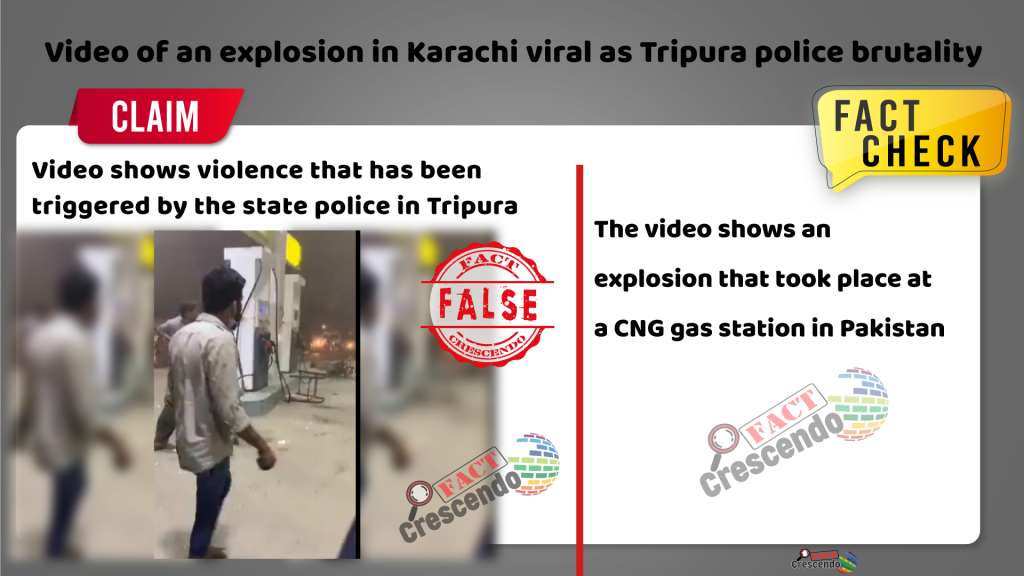 A disturbing video of people lying on ground in a petrol pump is being circulated on social media alleging it to be police brutality in Tripura. This video is getting viral in the backdrop of reports of communal violence emerge from various places across the country.
The caption of the video states "Police Department is one such department of our country which is always known for its justice which punishes the wrongdoers and gives justice to the oppressors, but #त्रिपुरा The absurd acts of the police are a matter of shame for the police department of the whole country. #ShameOnTripuraPolice" (sic)
Fact Check-
We fragmented the video using In-Vid We Verify tool and ran reverse image search on the images thus obtained. We found the same video published by an Urdu news channel named Aaj News on 29 October 2021. According to the tweet, the incident seen in the video is from Pakistan's Karachi where a blast took place near Nizamabad Abdullah College.
According to a report published by Geo News, an explosion had taken place in a CNG gas station near Nizamabad Abdullah College in Karachi on the evening of October 29, 2021. The explosion took place due to a gas leakage that the CNG station. 4 people lost their lives and 6 got seriously injured in the explosion.
Fact Crescendo contacted a Pakistan based journalist Mr. Izharullah , who confirmed to us that the viral video is indeed from Karachi in Pakistan. The video shows an explosion that took place at a CNG gas station.
Conclusion-
Fact Crescendo found the claim made about the viral video on social media is False. Video of a blast in a gas station in Pakistan is being falsely shared as Police inflicting atrocity on the people of Tripura.
Title:Video of an explosion in Karachi goes viral as police brutality in Tripura…
Fact Check By: Aavya Ray
Result: False