Image of a girl who was severely injured young woman who survived a deadly attack on her life was shared as the image of actress/model Poonam Pandey who was recently hospitalized after an alleged assault by her husband Sam Bombay.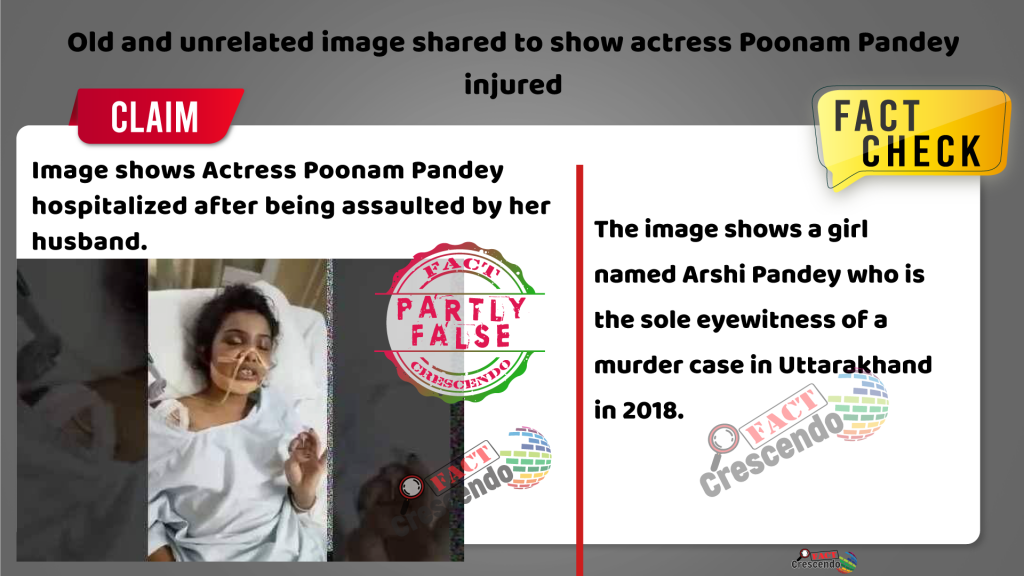 An image of a critically injured women lying on a hospital bed is being shared widely on social media. It is being claimed that this image is of actress Poonam Pandey. It is also being claimed by some social media users that her condition is due to being assaulted brutally by her Muslim husband Shamshad Ali a.k.a. Sam Bombay. The posts further claims that her husband injured her jaw, eye and neck due to which she has now been admitted to the hospital.
The roughly translated caption of the post in Hindi states that, "This is Poonam Pandey who often makes indecent comments on Hindutva, Hindu Goddesses. He married Shamshad Ali alias Sam Bombay in the intoxication of secularism. Shamshed beat her so much that his jaw broke, eye injury, neck sprained, now this traitor is admitted in hospital."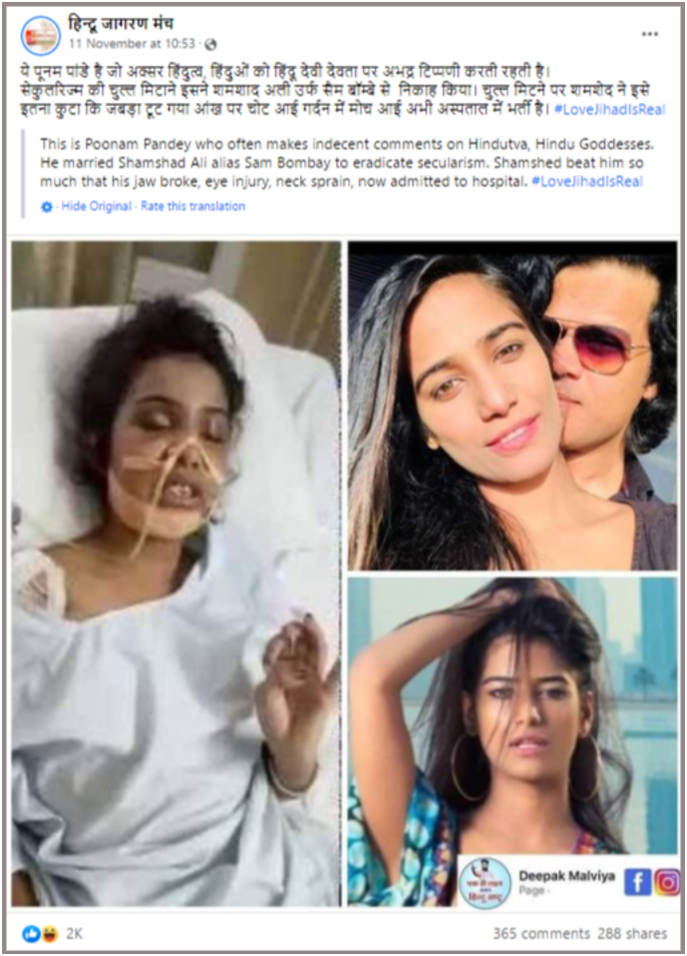 This image is being widely circulated on Facebook as well.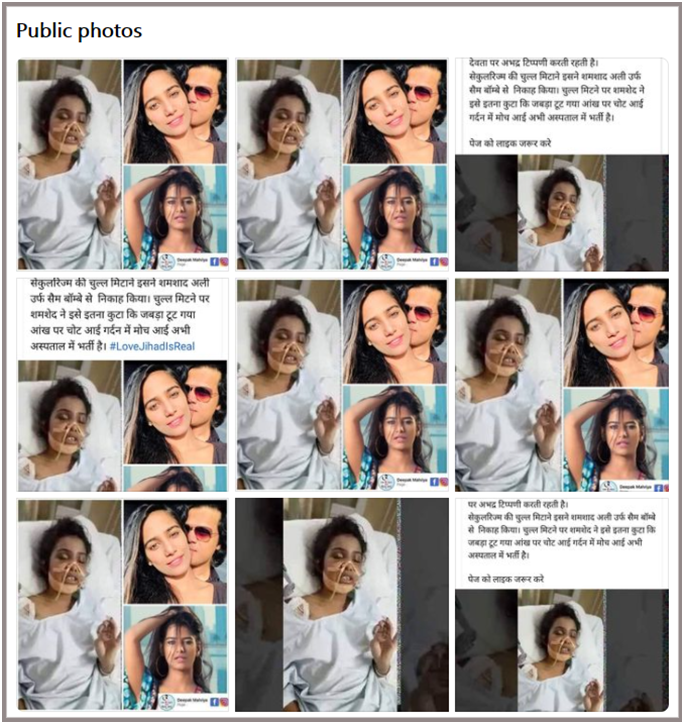 Several users have shared the images with the same claim on Twitter.
Are these claims true? Is the woman seen in the photos actually Poonam Pandey? Let us find out…
Fact Check-
We started our investigation by running a reverse image search on Yandex whose results led us to a video published on Youtube by Amit Bandhana on 24 September 2018. The caption of the video mentions "Poonam Pandey | Arsha Pandey hospital viral video."
Keeping this in mind, we ran a keyword search on Google, which led us to a news report published by Jagran in 2018. The report containing the viral image mentions that the woman has been identified as Arshi Pandey who is the sole eyewitness of the Poonam murder case. She was discharged after spending 18 days at the hospital post-which her relatives took her home. She was given police protection after returning home.
The report states that on August 27, 2018 two unidentified men attacked transporter Lakshmi Dutt Pandey's wife Poonam and his daughter with a sharp weapon in Gorapadao in Haldwani's Mandi Chowki area in Uttarakhand. Poonam has lost her life in this attack while her daughter survived and spent several days in the hospital.
According to Amar Ujala, Arshi had identified three culprits but according to her, the mastermind was not present at the crime scene. The police suspected that more than one person was involved in the entire crime. She gave information about the culprits to the police with the help of sign language and wrote some information on paper. The report also contains several other images of Arshi Pandey, which can be seen below.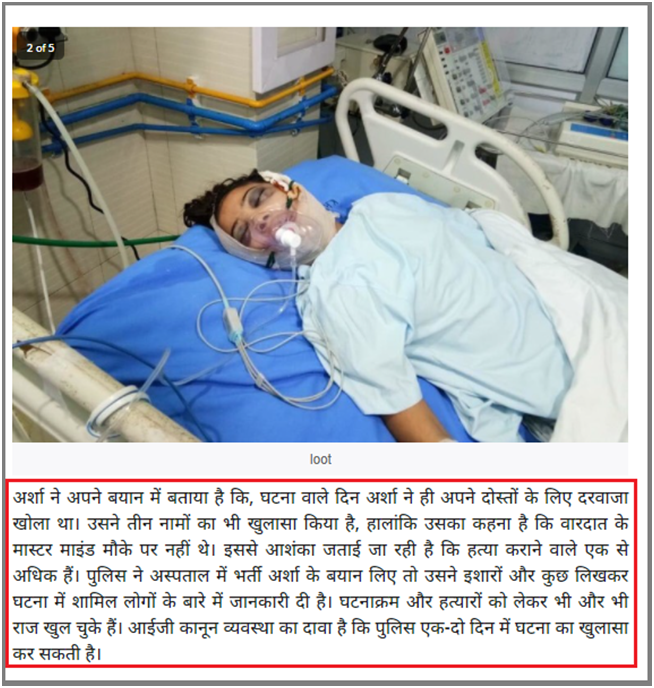 Searching further on this incident, we found that this incident took place in Uttarakhand's Haldwani area where mother Poonam Pandey and daughter Arshi Pandey were shot by few unidentified men. The report also states that the murderers also killed the pet dog at home while Arshi Pandey fighting death in the hospital. It is to be noted Poonam Pandey, mentioned in the report is not the actor and model in question. Both the cases are completely different and unrelated.
An update on the incident posted by Jagran in 2019 mentioned that even after one year of the incident, the culprit was unidentified.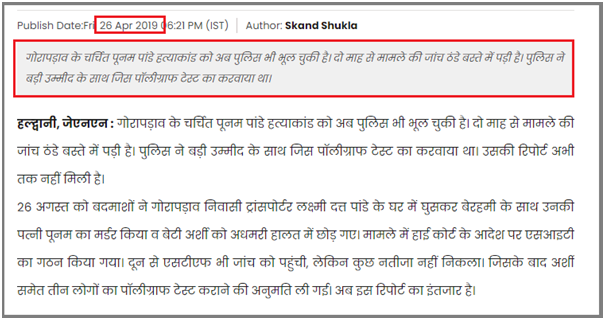 Thus, it is clear that the viral image in circulation does not belong to actress Poonam Pandey but shows the only eye witness of Poonam Pandey murder case in Uttarakhand. The woman is identified as Arshi Pandey.
What is the case of assault on actress Poonam Pandey?
Poonam Pandey is a Bollywood actress and model, who has had a fair share of controversies in the past. She grabbed limelight for the first time, when she promised to strip herself naked if India won the ICC Men's World Cup in 2011. Poonam was reportedly admitted to a Mumbai hospital with serious injuries to her head, face and eyes recently. Following a complaint, the Mumbai Police have arrested her husband, Sam Bombay, on charges of assault on November 8.
Conclusion-
Fact Crescendo found that the images viral on social media has been shared along with false claims. The viral image on social media does not show the actress Poonam Pandey. The image shows a girl named Arshi Pandey who is the sole eye witness of a murder case in Uttarakhand in 2018. However, there have been reports on actress Poonam Pandey's assault for which her husband has been arrested. The claims made in the above post is misleading.
If you find any such photos/videos forwarded to you on WhatsApp and you are suspicious about it, then forward such content to us on our Fact Line Number +91 9049053770. Our team will verify the content for you and tell you whether it is true or false.
Title:Old and unrelated image of an injured woman shared as actress Poonam Pandey after being assaulted by her husband…
Fact Check By: Aavya Ray
Result: Partly False