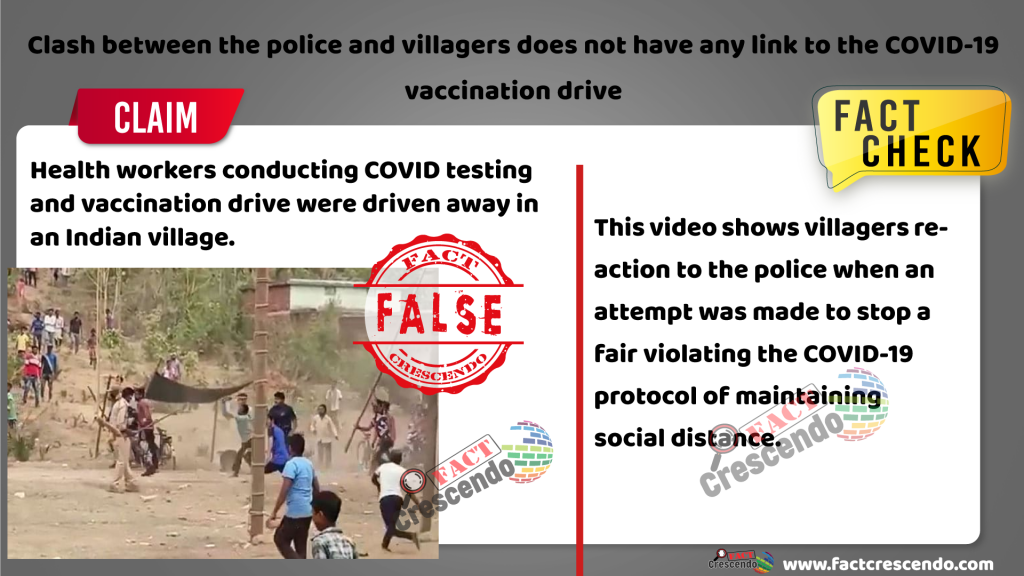 Amidst the ongoing COVID-19 pandemic, many videos and photos have been going viral on social platforms with false and misleading claims. Fact Crescendo has been debunking many such videos and images and has brought its authenticity to their readers. After a year-long wait the country has come up with vaccines to safeguard the citizens from COVID-19 that has already claimed thousands of lives in the country.
In such a situation, a video is going viral on social media with the claim that the health workers carrying out coronavirus testing and vaccination were attacked and driven out by villagers because they believed that the vaccination drive is a scam. In the video, we can see the crowd chasing policemen and throwing stones at them.
The title of the post reads, "India: Villagers chasing healthcare workers who are testing and vaccinating for COVID-19. They can also see the ongoing fraud in the name of the vaccine. "
Fact Check-
We started the investigation by breaking this video into small keyframes with the help of Invid We Verify tool and doing a reverse image search on Google. The results lead is to a news article published by NDTV where the video going viral can also be seen. According to the news published on 23 April 2019, this video is from Saraikela in Jharkhand. According to the report, the local administration and police went to Bamni village of Saraikela in Jharkhand to stop a crowded fair organized amidst the coronavirus crisis. As the authorities tried to convince the organizers to stop the fair, where hundreds of people had already gathered, the negotiations failed, and the villagers chased them with sticks and stones.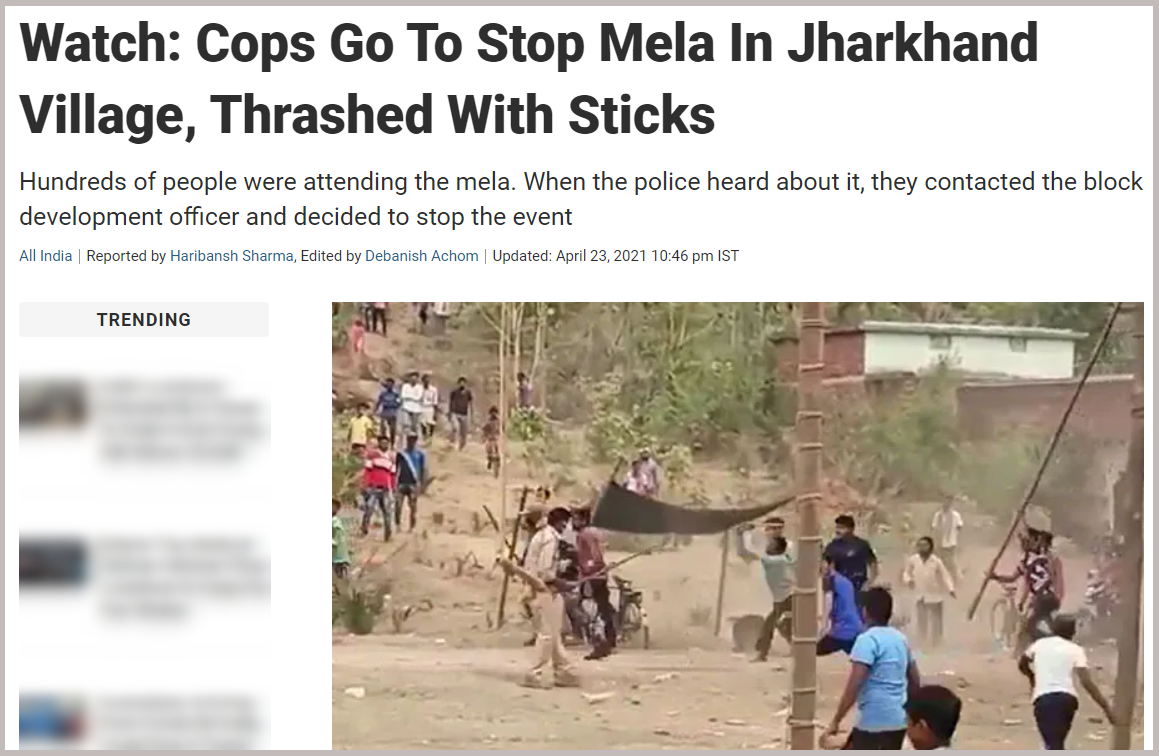 Taking cue from this news, Fact Crescendo contacted Saraikela's SP Mohammad Arshi to find out whether a health worker or police officer in the district was attacked during the vaccination drive. He told us that the claims made through this video on social media are false. There was no attack on health workers and police during the vaccination drive in the district. We did not get any information about an attack by any such mob during the COVID-19 testing or vaccination campaign in Saraikela. Also, the video in question is not related to the vaccination drive. This incident occurred when our officials tried to stop a fair, where hundreds of local people had gathered in violation of the COVID-19 protocol. When the police tried to stop the fair, people opposed it but later the situation was brought under control. We also arrested 8 people in relation with the incident."
Conclusion- Fact Crescendo found the above-mentioned to be False. The Coronavirus vaccination drive has no relation with this video that is going viral on social media. This video shows villagers reacting to the police's attempt to stop a local fair violating the COVID-19 protocol of maintaining social distance.
Title:Clash between the police and villagers does not have any link to the COVID-19 vaccination drive
Fact Check By: Aavya Ray
Result: False