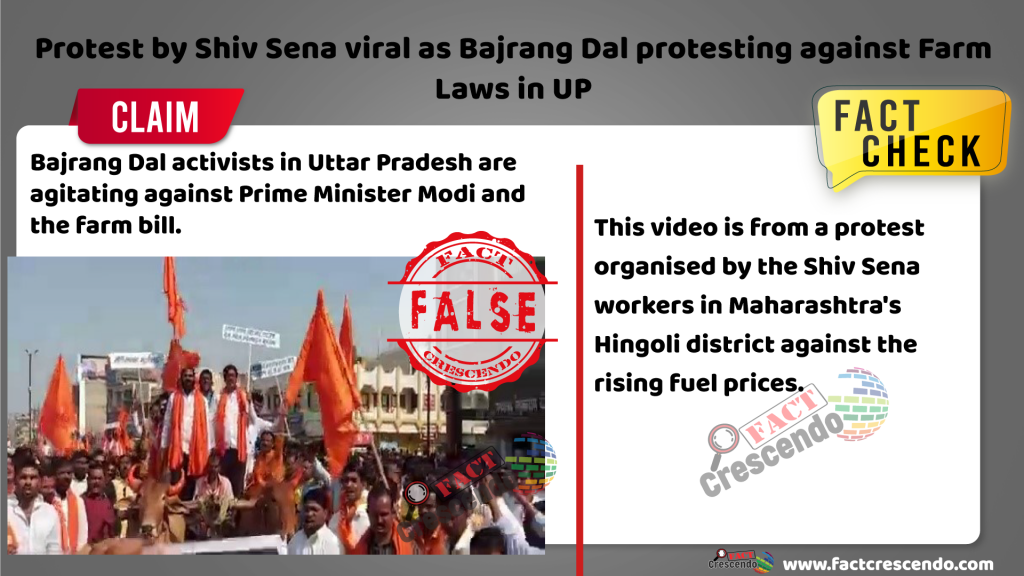 After the increase in fuel prices, protest are being organized by Shiv Sena at different places in Maharashtra. A video of this protest is also being shared with wrong narratives on social forums with claims that in Uttar Pradesh, Bajrang Dal activists are protesting against Prime Minister Narendra Modi and the farm laws.
The title of the video going viral reads,
"Gae bhens paani mein, Bajarang Dal vaale bhi Modi haye haye chillaane lage." 
The description of the video reads,
"Uttar Pradesh mein Bajarang Dal ne kisaan virodhe kaale kanoon ke khilaaf virodh kiya aur pradhan mantri Narendra Modi ko chor bola ab unko sachchai pata chal gayee hai, yeh chaukidaar nahin chor hai."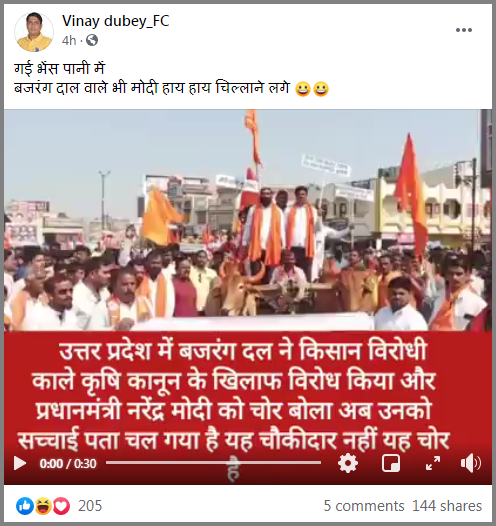 Fact Crescendo found that the viral claim is false. The video is related to the protest against the central government which was organised Shiv Sena activists in Hingoli district of Maharashtra.
We started our investigation by searching for the above claim using keywords, but did not find any news report validating if Bajrang Dal activists were protesting against Prime Minister Narendra Modi and agricultural laws. After watching the video closely, we heard that the people in the video were actually protesting against petrol and diesel prices. Hence, we tested the viral video by cutting it into small key frames using InVID tool through Google reverse image search. As a result, we found a YouTube channel called Gor Culture News in which this viral video was aired on 5th February 2021. The title of this video reads,
On the way, Shiv Sena MLA Santosh Bangar of Hingoli district raised slogans of 'Modi Sarkar Chor Hai'.
After taking the above information into account, we contacted MLA Santosh Bangar, who told us that, "The viral video is about the protest in Hingoli against the rising fuel prices. This rally took place on 5th February this year. In the video you can see me as well, raising slogans. The rally was held from Gandhi Chowk in Hingoli to Collector Office. People seen in the video are Shiv Sena activists; they are not people of Bajrang Dal." Let us tell you that Santosh Bangar is an MLA from Kalamnuri located in Hingoli. Subsequently, Santosh Bangar sent us some more videos of the protests that took place on 5th February.
Conclusion: After fact-checking, we have found the above post unauthentic. The video is about a protest organised by Shiv Sena activists against the rising fuel prices in Hingoli district of Maharashtra.

Title:Protest by Shiv Sena viral as Bajrang Dal protesting against Farm Laws in UP
Fact Check By: Aavya Ray
Result: False