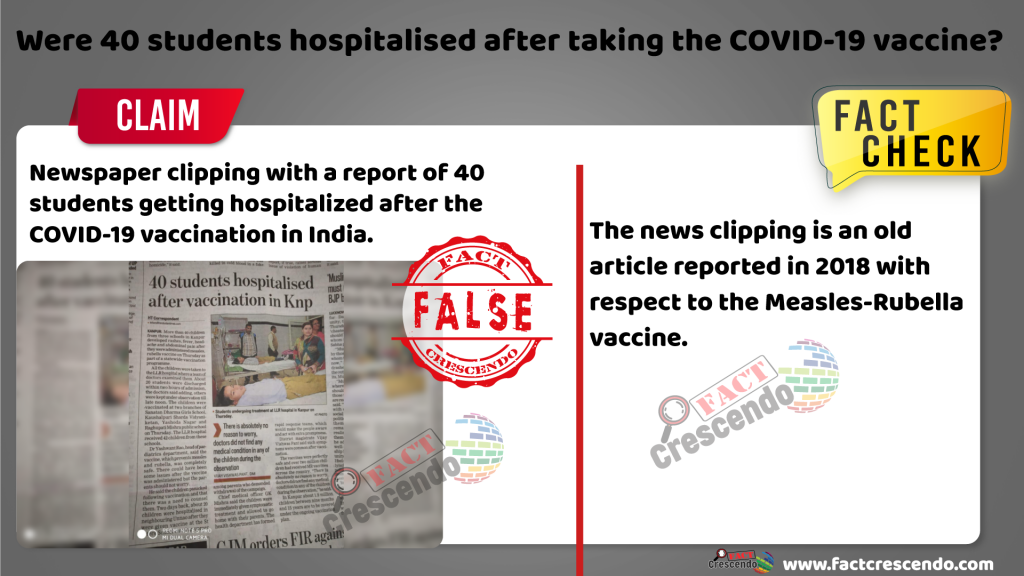 Social media is flooded with misinformation related to the COVID-19 vaccination drive going on in India. Amidst this social media users posted a newspaper clipping and claimed that 40 students were hospitalized soon after their injection of the COVID-19 vaccine in India. The headline of the newspaper clipping reads as "40 students hospitalised after vaccination in Knp" by HT correspondent.

The viral post on social media was captioned as "Soon after injected covid-19 vaccine in India."
Fact Check–
We started our investigation by a keyword search on Google using the headline in the newspaper clipping and found a report by Hindustan Times published on November 30, 2018. The report is available on a website named Press Reader, we found that this website is a digital news stand with access to newspaper and magazines worldwide. The news report mentions "More than 40 children from three schools in Kanpur developed rashes, fever, headache and abdominal pain after they were administered measles, rubella vaccine on Thursday as part of a state wide vaccination programme." It further reported about 20 students being discharged within two hours of admission and others kept under observation till late noon that day. In the article, it can be also read that the children were administered the Measles-Rubella vaccine. Thus, we can say that the incident has no connection with the recent COVID-19 vaccination in the country.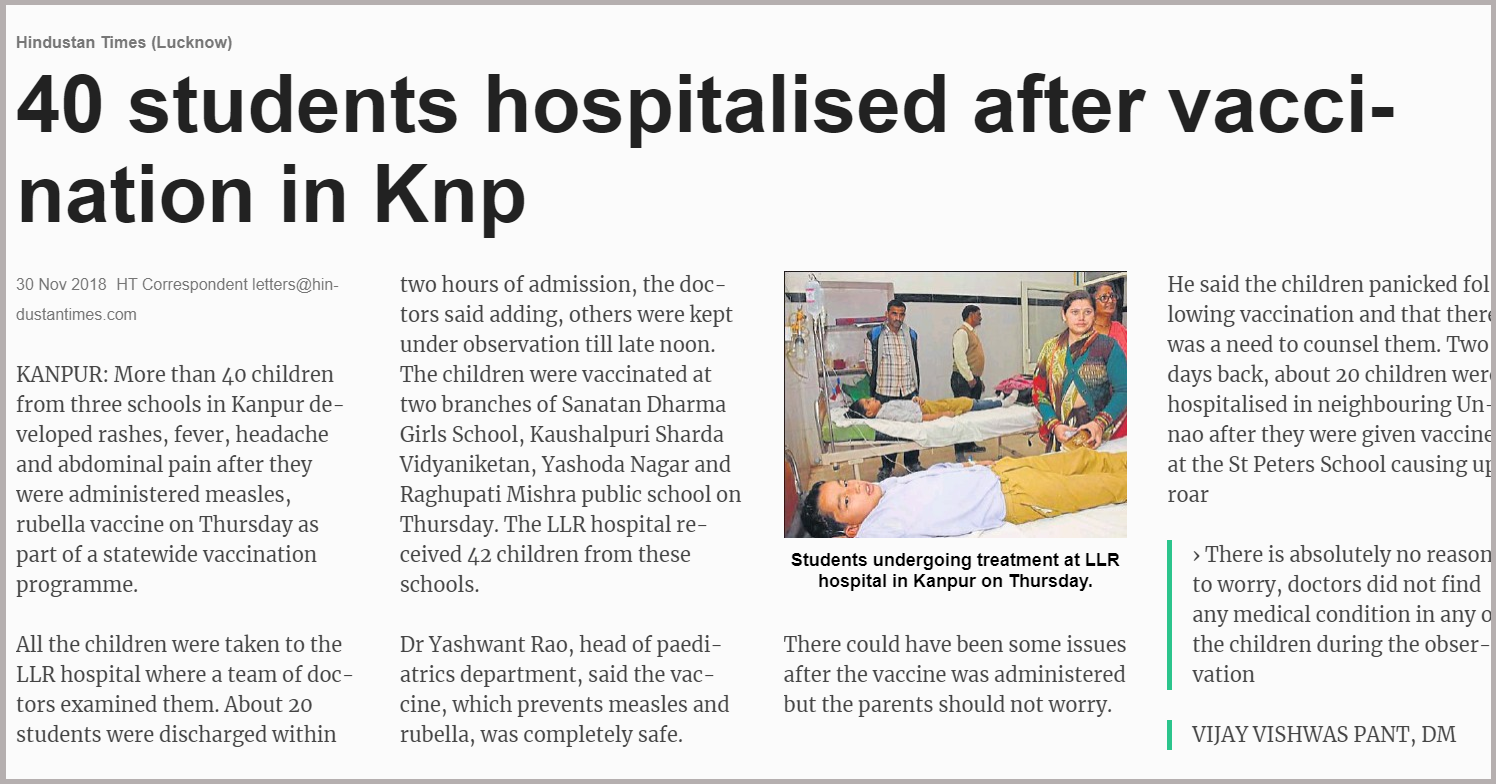 We also found a similar news report published on 30 November 2018 by The Times of India who reported the same incident. The news report also mentioned that the students were admitted in the hospital after getting the measles rubella vaccination.
Further we found a clarification tweet by PIB Fact Check's official Twitter handle which mentioned that "A tweet referring to a news article is claiming that 40 students have been hospitalised after being administered with COVID19 vaccine #PIBFactCheck: This claim is #Fake. The news article exhibited is old and has no correlation with the ongoing COVID-19 vaccination drive in India."
We searched on the Indian Ministry of Health's website and found a document on the frequently asked questions which mentions that based on the potential availability of vaccines the Government of India has selected the priority groups who will be vaccinated on priority as they are at higher risk. The first group includes healthcare and frontline workers. The second group to receive COVID 19 vaccine will be persons over 50 years of age and persons under 50 years with comorbid conditions.
Thus it is unlikely that this viral article is related to the current COVID-19 vaccination drive.
Conclusion- Fact Crescendo found the viral newspaper clipping to be False. The newspaper clipping with a report of 40 students getting hospitalized after the COVID-19 vaccination in India is fake and old. The original news report is actually from 2018  when students were admitted to hospital after taking the measles rubella vaccine. It has no connection with the COVID-19 vaccination in India.

Title:Were 40 students hospitalised after taking the COVID-19 vaccine?
Fact Check By: Aavya Ray
Result: False