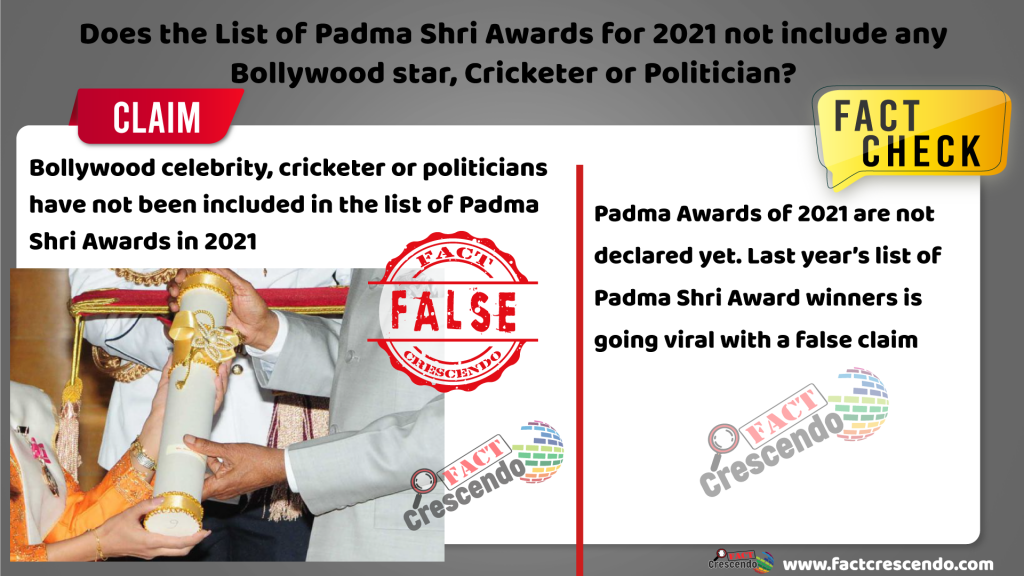 A message is doing rounds on social media claiming that not a single Bollywood celebrity, Cricketer and Politician have been included in the list of Padma Shri Awards for the year 2021. Many hailed it as a historic decision of the government to give the award only to real social workers.
Fact Crescendo received several requests on our WhatsApp Factline (9049053770) about it.
We found out that viral claims are false. The Padma Shri Awards for 2021 are yet to be announced.
What's the claim?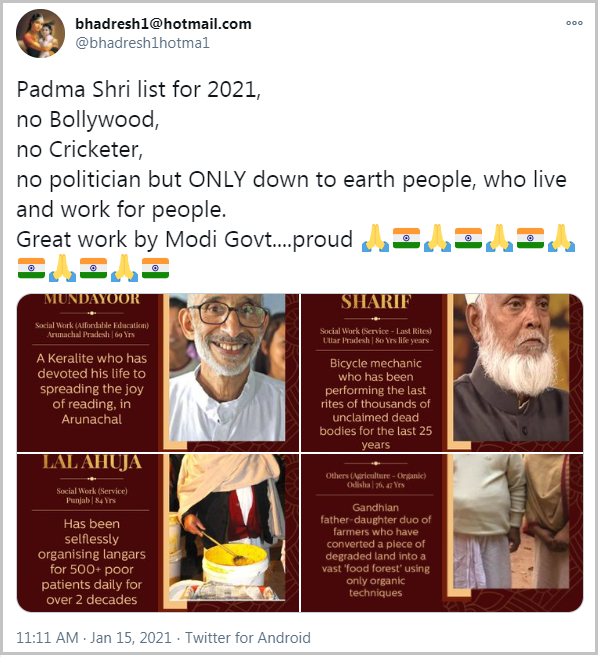 Several users tweeted photos of social workers along with the caption that reads: Padma Shri list for 2021, no Bollywood, no Cricketer, no politician but ONLY down to earth people, who live and work for people. Great work by Modi Govt.
Same claims are also being shared on Facebook. You can check them here.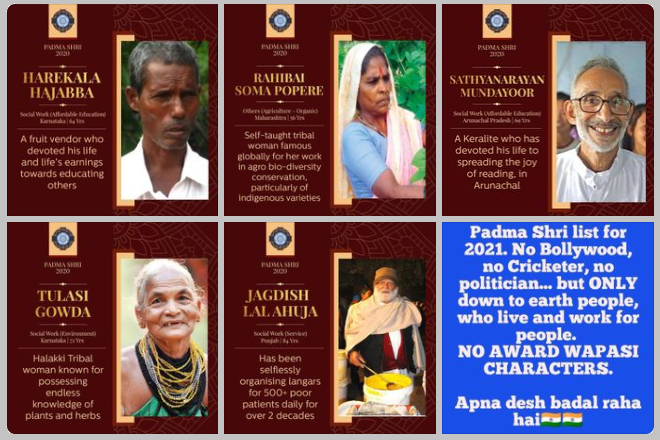 FACT CHECK
To begin with, we checked whether this year's Padma Awards have been declared. However we could not find any news about it.
We also searched the official website of the Padma Shri Awards. In the About Us section of the website, it is clearly mentioned that – The Padma Shri Awards are one of the highest civilian honours of India announced annually on the eve of Republic Day.
In other words, the Padma Awards of this year (2021) will be announced on 25th January 2021.
Then who are the social workers people are raving about?
In total, names of 15 social workers have been shared on social media. They are – Jagdish Lal Ahuja, Rahibai Soma Popere, Moozhikkal Pankajakshi, Mohammed Sharif, Dr. Ravi Kannan, Harekala Hajabba, Usha Chaumar, Tulasi Gowda, Abdul Jabbar, S. Ramakrishnan, Yogi Aeron.
They all are winners of the Padma Shri Awards for the year 2020. They are not this year's recipients.
You can check this Twitter thread of the official Padma Shri Award handle. Here you can see all the creatives used in viral posts.
Full list of last year's Padma Shri Award winners is available on the official website.
Interestingly, last year film director Karan Johar and actress Kangana Ranaut were also recipients of the Padma Shri along with the above-mentioned distinguished personalities.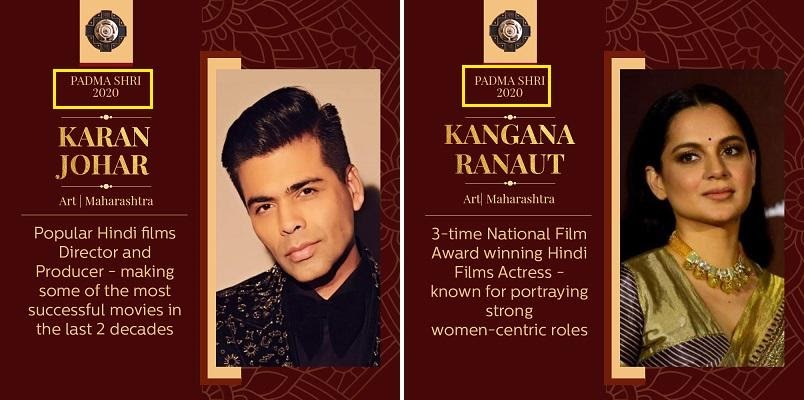 Original Tweet – Karna Johar | Kangana Ranaut
Conclusion
It clear now that the Padma Shri Awards of 2021 have not yet been declared. Last year's list of Padma Shri Award winners is going viral with a false claim that no Bollywood celebrity, cricketer or politicians have been awarded in 2021.

Title:Does the List of Padma Shri Awards for 2021 not include any Bollywood star, Cricketer or Politician?
Fact Check By: Mayur Deokar
Result: False