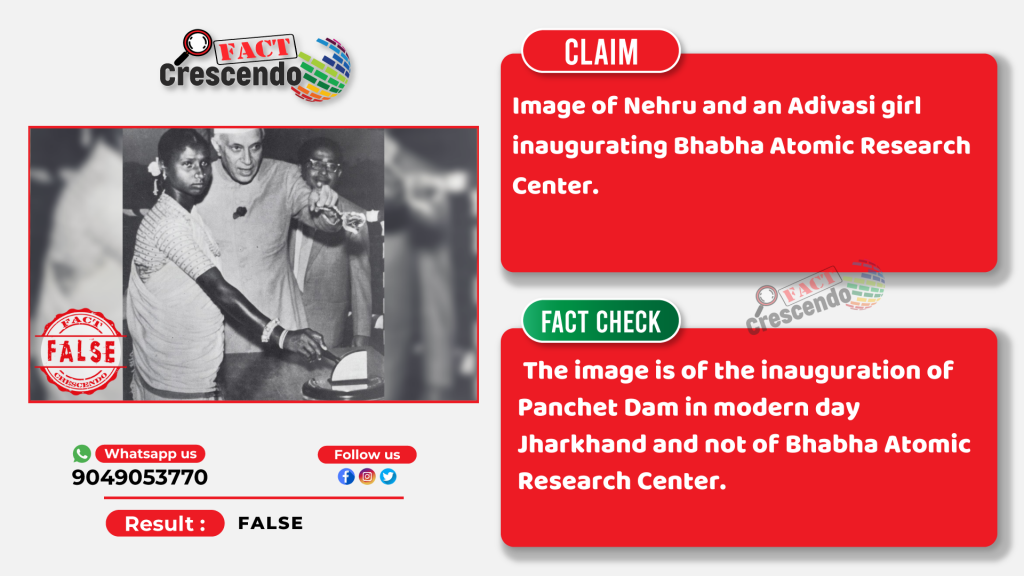 A photo of the first Prime Minister of India, Pandit Jawaharlal Nehru and a young girl inaugurating a project is going viral on social media. The photo was shared by a Twitter user whose profile name is 'satendra picture posted is of April 1969.' It garnered over 430 retweets and 2497 likes in just a few hours.
We can see Pandit Nehru with a girl whose hands are on a lever switch. The caption of the tweet is as follows: "Bhabha Atomic plant being inaugurated by an Adivasi lady." It seems the user meant the Bhabha Atomic Research Center in Trombay, Maharashtra.This viral tweet also caught the attention of the National Spokesperson of the Indian National Congress (INC), Supriya Shrinate. She retweeted this tweet with a caption in Hindi, roughly translated as, "This is what Pandit Nehru was". You can see her tweet below:
However, many pointed out in the comment section that this picture is not of the inauguration of Bhabha Atomic Research Center (BARC). Hence, we decided to fact check the image and find out the actual context of the image. Let us see when and where the image was taken and whether the image is from the inauguration of BARC or not.
Fact Check
Through reverse image search of the viral image, we got an article from The Hindu, dated June 2, 2012. The headline of the article is as follows: 'Recovering Budhni Mejhan from the silted landscape of modern India'. The article written by writer Chithra Padmanabhan contains the image in question. The article talks about a Santhali girl named Budhni Mehjan who worked at the Damodar Valley Project. Budhni inaugurated the power project at Panchet dam alongside the then Prime Minister Nehru in December 1959.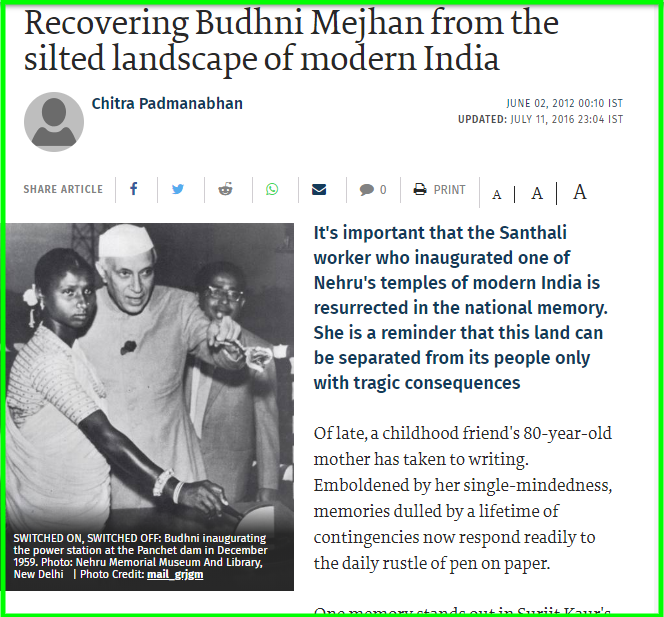 An event that was supposed to be one of the most memorable moments of Budhni's life soon turned into a nightmare. Pandit Nehru allegedly welcomed Budhni by garlanding her. As per Santhali traditions, she was declared Nehru's wife as a man garlanding a woman was considered as his marriage to her. Also as per traditions, she was kicked out of the community for marrying a man outside the community.
In an interview with BBC journalist Ravi Prakash, published in 2016, Budhni says, "I had not garlanded PM Nehru. I had simply shook his hand. Only because of this small mistake, I was forced to leave my village and I was ousted from my community. I was a worker in DVC's powerhouse. I came to Panchet for work so that I can feed myself. However, in 1962, DVC fired me from my job. "
The article features a photograph of The Statesman newspaper, which contains Budhni's photo with Pandit Nehru taken during the inauguration of Panchet Dam in 1959.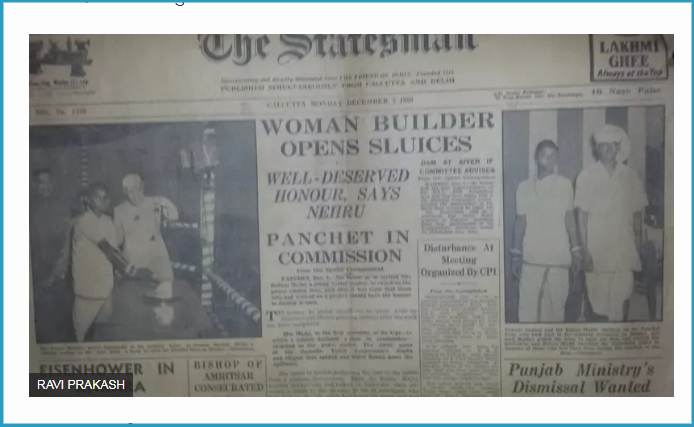 Read the article here – BBC | Archived Link
The article also says that in 1985, then Prime Minister and grandson of Nehru, Rajiv Gandhi, searched for Budhni and later invited her to meet him in Bhillai. He apparently came to know about Budhni while researching documents related to Jawaharlal Nehru. Budhni says she met Rajiv Gandhi who got her job at DVC reinstated. Now she has retired.
You can read a related fact check on the viral image in Malayalam by clicking on the link given below. Some users shared the viral image as the inauguration of Hirakud dam in Odisha on Facebook.
Also Read | പണ്ഡിറ്റ്‌ നെഹ്‌റു പവര്‍ പ്ലാന്‍റ് ഉദ്ഘാടനം ചെയ്യുന്നതിന്‍റെ ഈ ചിത്രം ഓടിഷയിലെ ഹീരാകുഡിന്‍റെതല്ല…
Conclusion
The image of Pandit Nehru with a tribal girl Budhni is from the inauguration of Panchet Dam in today's Jharkhand. The image is not of the inauguration of Bhabha Atomic Research Center as claimed in viral tweet. The image taken on 6 December 1959 shows a 15-year-old tribal girl Budhni Mehjan inaugurating the fourth Dam under Damodar Valley Project, the Panchet Dam at the behest of then Prime Minister Jawaharlal Nehru.

Title:Viral image of Pandit Nehru with a Tribal Girl is not from Inauguration of BARC…
Fact Check By: Harish Nair
Result: False