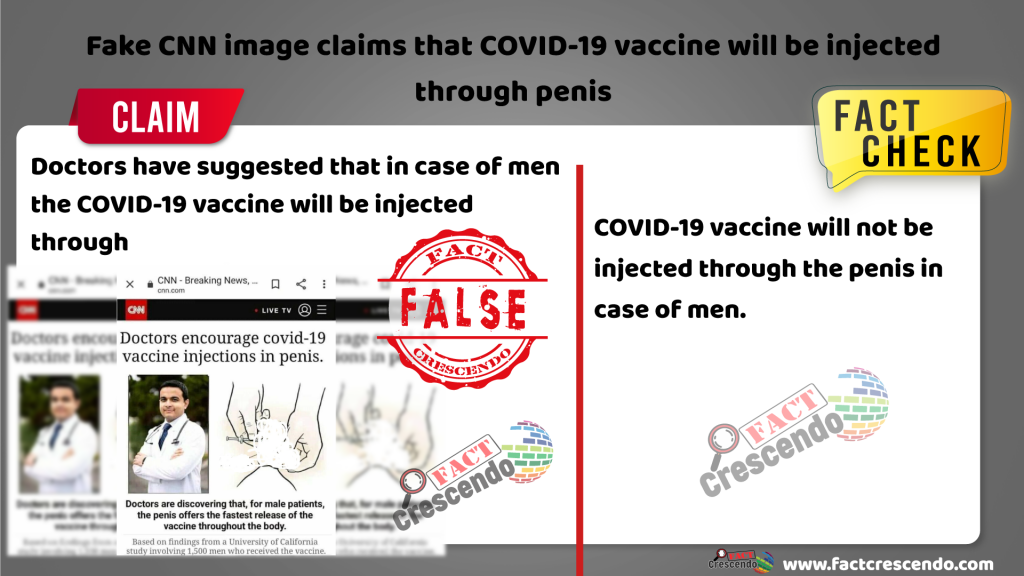 COVID-19 Vaccine has become a major misinformation trend on social media. Recently a screenshot using the logo of CNN, a US-based media organisation is going viral on social media claiming that doctors encourage COVID-19 vaccine injections to be given on the penis. It includes an image of a doctor and a digital sketch depicting an injection in the penile area. The post further claims that doctors have discovered that the penis releases the vaccine fastest throughout the body. It also claims that this is based on a finding during a study conducted by the University of California.
Fact Check-
We started our investigation by looking for similar articles on the CNN website related to the COVID-19 vaccine being administered in the penis but we could not find any related news on the same. Further we noticed several errors on the viral screenshot when we compared it with any news on CNN's website. In the headline COVID-19 is spelt as 'covid-19'. One can also see that the format of the news article is different form that shown in the viral screenshot. The viral screenshot does not have a by-line and dateline unlike the format used in the original articles. The text used in the viral image is centrally aligned whereas a CNN article is left aligned.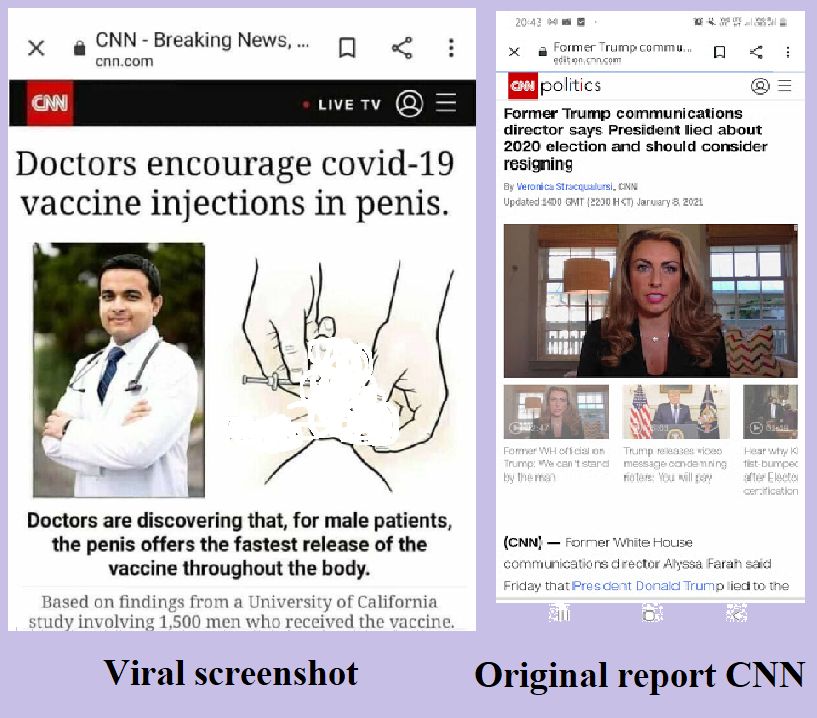 With a further keyword search we found several live news meme generator apps including the CNN Breaking News meme template. Thus it is very clear that the viral screenshot has been digitally edited and created to misinform people suggesting that the COVID-19 injection can be administered to male patients in the penis.
Next, we ran a reverse image search on the photo of the doctor used in the viral screenshot whose results led us to the same image posted on a medical website of Biote Medical. The website identified him as Dr. Mohitkumar Ardeshana MD who is an experienced hospitalist at Claremont Medical Center in Claremont, California.
Fact Crescendo contacted Dr. Mohitkumar Ardeshana who confirmed us that the viral article is completely fake. He clarified that he has not spoken about any such study about the COVID-19 vaccine being injected in the penis.
Conclusion- Fact Crescendo found the viral post to be False. The viral post on social media claiming that doctors have suggested that the COVID-19 vaccine will be injected through penis in case of male recipients is false. The viral screenshot is digitally edited.

Title:Fake CNN image claims that COVID-19 vaccine will be injected through penis
Fact Check By: Aavya Ray
Result: False