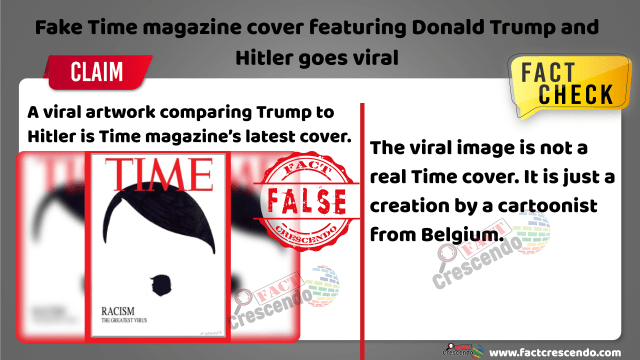 An alleged Time magazine cover comparing US President Donald Trump to Hitler has become the talk of social media. "Racism – the greatest virus", reads the headline of this so-called cover story. Many people have been sharing this cover-photo believing it to be true.
Upon an investigation, Fact Crescendo found that the viral artwork is not a real Time magazine cover.
What's the claim?
A columnist Tamal Bandyopadhyay shared the following tweet admiring the creativity of cover. His tweet has been shared by businessman Harsh Goenka too.
What a cover! @TIME pic.twitter.com/SjXXYBO3ln

— Tamal Bandyopadhyay (@TamalBandyo) June 1, 2020
FACT-CHECK
Protests over the death of an African-American George Floyd have escalated all over the US in past few days. It has sparked a heated debate about racial inequality and police brutality in the US.
Given the history of Time magazine covers causing controversies in the past, it is important to know the authenticity of this image.
We did not find the Trump-Hitler cover on the website of Time Magazine. The latest issue of June 1st is about how COVID-19 will shape the Class of 2020 for the rest of their lives.
TIME's new cover: How COVID-19 will shape the Class of 2020 for the rest of their lives https://t.co/nbPZteaBy5 pic.twitter.com/Xph2H4PB00

— TIME (@TIME) May 21, 2020
With a close inspection of the viral photo, one can see a signature O-SEKOER at the bottom-right corner. A simple Google search revealed that it is a pen-name of a Belgian cartoonist Luc Descheemaeker.
It is available on the Facebook page of Luc. He has shared many versions of it there. You can see that in below Facebook album created in 2017.
See the original post – Facebook
Luc has recreated it as a Time magazine cover last month and shared it on Twitter. It was an instant hit on the internet. It went viral and many people took it as a real Time magazine cover. He has responded to some those tweets on his account.
@TIME @USATODAY @nytimes #racism #thegreatest #virus #trump pic.twitter.com/kcovHW3m1y

— luc descheemaeker (@osekoer) May 17, 2020
How to spot fake Time cover?
There is an article on Time's website by its creative director D. W. Pine. He has shared some tips on spotting a fake Time cover.
1. Logo: Most fake covers of TIME get the logo wrong. It's either too vertically scaled, the word TIME is tracked out too much or the logo is in a different font altogether.
2. Border: Most knockoffs also don't include the thin white border that separates the red from the image.
3. Image: Fake covers usually feature stock imagery or lower-quality portraits.
4. Vault: In the end, it's best to check the TIME Vault, where every TIME cover is on display.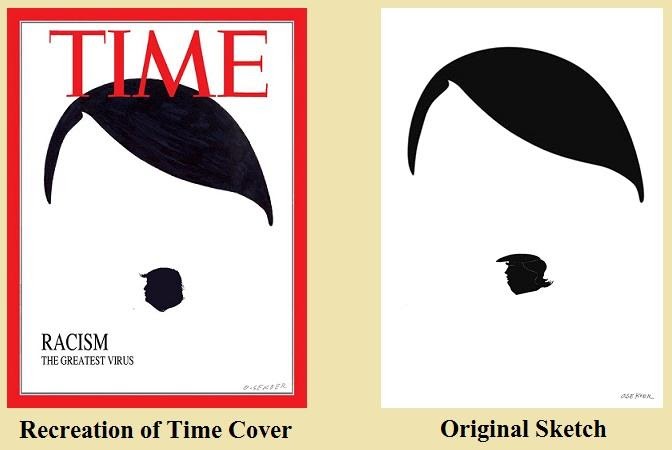 CONCLUSION
So, it clear that the viral image of the Trump-Hitler artwork is not an authentic Time magazine cover. It is just a an artist creation by a cartoonist from Belgium. It is being falsely shared as a real Time magazine cover. 

Title:Fake Time magazine cover featuring Donald Trump and Hitler goes viral
Fact Check By: Mayur Deokar
Result: False