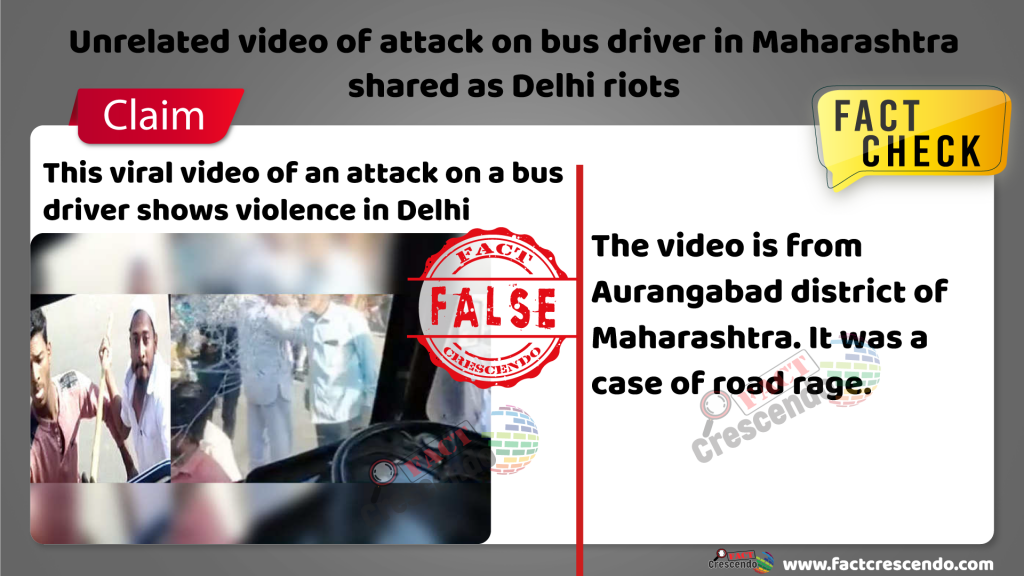 Several clashes erupted in various parts of northeast Delhi over the new citizenship law on Monday. Five people were killed yesterday including a police head constable and more than 50 injured. Social media is now flooded with the videos allegedly showing the violence in Delhi with a communal spin.
A video of an attack on a bus driver is widely circulating on social media with the claim that it happened during riots in Delhi. It shows some men coming out of a car and beating the bus driver with sticks. This 28-second expletive-filled video clip was recorded from inside the bus.
A user tweeted the video on 24th February and claimed, "One more peaceful protest in the spirit of the constitution. Now, it should be clear that calls for "hum dekhenge" were calls for bloody revenge! #DelhiRiots"
Another user linked this video with ongoing CAA-NRC Protest. He claimed in a tweet, "CAA-NRC protests are just an excuse for these people. The real motive is to turn India into Syria." (Translated)
FACT-CHECK
Fact Crescendo found out that the viral video is not from Delhi and has nothing to do with CAA-NRC protests.Our Marathi team brought it to our notice that this video is from Maharashtra. The incident happened in Aurangabad district on 18th February. A group of people beat a bus driver as he did not give them a pass on the road, reports ABP Majha.
The incident took place in Aurangabad-Shirpur bus near Kannad, a 60 km town from Aurangabad. A group of 10-15 people were enraged after the bus driver did not allow them to overtake. They stopped the car in front of the bus blocking the traffic on the busy road.  The angry group thrashed the bus driver Sudhakar Shamrao Shirsat with lathis. A passenger recorded the video of the assault after which it went viral on social media, reports Maharashtra Times.
The case has been registered against the assaulters at Kannad police station. According to the police, two accused Alim Maqbool Shah and Rizwan Salim Shaikh have been taken into custody.
CONCLUSION : FALSE
It is clear that the viral video is not from Delhi. The incident it depicts took place in Aurangabad district of Maharashtra. It was a case of road rage. Many social media users are falsely linking it to the violence in Delhi.

Title:Unrelated video of attack on bus driver in Maharashtra shared as Delhi riots
Fact Check By: Mayur Deokar
Result: False