The World Health Organisation has declared COVID-19 a public health emergency of international concern. WHO has reported more than 2000 deaths from China due to COVID-19.We came across a lot of misinformation on social media, which claimed that the Chinese Government has locked up residents in Wuhan, which is the epicenter of the COVID-19 epidemic; that has now become a ghost city.
Amidst this, a video showing a man abusing is going viral claiming that the video is from Wuhan where people are quarantined and locked up in their houses. It also adds that the residents are getting impatient and irritated and so they are greeting each other with abuses.

The video shows an apartment building where a man shouts "Good morning my neighbours!" Someone in reply shouts "Hey f*** you!" while the first man replies "Yes, yes, f*** you too".
This video has also been shared on Youtube claiming this video to be from Wuhan, China
Fact Check-
We found a building in the video with Chinese initials on it; using OCR, we found the text in simplified Chinese characters, which loosely translates, to English as "affiliated Putuo hospital".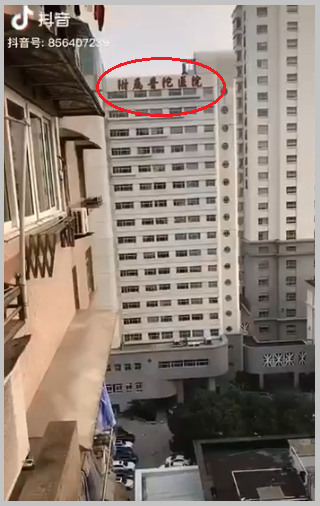 We ran a keyword search on Google to find out where Putuo Hospital is located. We found that Putuo hospital is situated in Shanghai City of China. The video looks as if it is a TikTok video shot by a user as we can see Chinese initials and TikTok's official logo on the top left corner. On searching TikTok, we were unable to find the mentioned user. Next we Googled about TikTok in China that suggested Douyin, which is the Chinese version of mobile video app TikTok.

We found a similar video on the Douyin App whose title loosely translates in English as "6 Beds, 13th Floor, Inpatient Department, 600 Wanping South Road". On searching about Wanping South Road, we found it to be located in Shanghai as well.

Next, we started searching YouTube we were used to keywords "Good Morning my neighbors", we came across a movie scene uploaded on 19 September 2011. The headline reads, "Coming To America _ 1988 _ Good Morning My Neighbours Action." In the film scene, lead actor Eddie Murphy can be heard saying the above-mentioned dialogue. 
From our above investigation, we found that the video is originally from Shanghai, which is a Chinese City. In addition, the audio in the viral video is altered with a dialogue from the movie "Coming To America -1988". Below you can see a comparison video for the same.
Conclusion- Fact Crescendo found the above-mentioned post to be False. The video is originally from Shanghai and has been digitally edited with a dialogue from a film. In addition, this video has no related with Wuhan and the ongoing Coronavirus.

Title:Video from Shanghai made viral as being fromWuhan showing quarantined residents abusing each other.
Fact Check By: Aavya Ray
Result: False