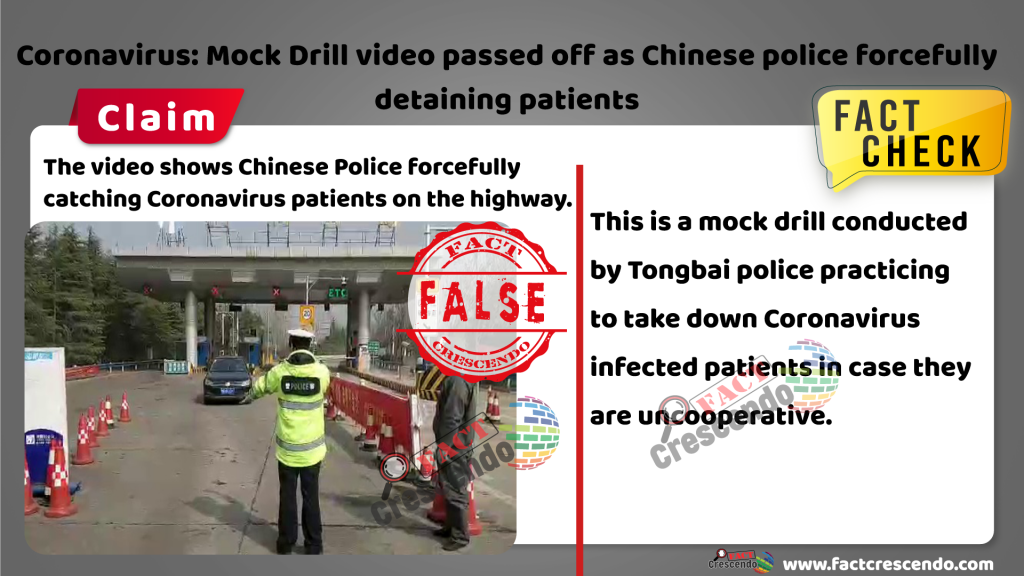 The internet is over flowing with social media users claiming that after the outbreak of Coronavirus in China, the Chinese government has started a mass extermination of human lives infected with coronavirus. We came across several videos, which claimed that the Chinese government has quarantined and locked up infected patient's in their homes.
As of February 24th, 2020, the coronavirus has killed around 2595 people and infected around 77262 in China, according to the daily Situation Report published by WHO.
Amidst this, we came across a viral video on various social media platforms claiming to show how the police and doctors are detaining Coronavirus patients on the highway. We can see a team of police in hazmat suits forcefully restraining a man as he refuses to cooperate with officials when his car is stopped. As the man begins to drive away, he is stopped by a police van and surrounded by men carrying riot shields. As he gets out of his car, a net is thrown over his head and officials grab him.
Fact Check–
We started our investigation by noticing the video carefully, wherein at timestamp of 1:22 secs we found a flag with the word "反恐演 Exercises" written on it, which loosely translated to "Counter Terrorism Exercises"

Next, we used Baidu reverse image search on one of the key frames provided by the InVid Tool and found that Anna Fifield, Beijing bureau chief for the Washington Post has retweeted the same video. We wrote "Only in China: Medical SWAT teams with riot shields and dog-catcher nets practicing to catch a person with coronavirus symptoms."
This video was also tweeted by Bill Bishop's official Twitter account, he writes for a newsletter in China. The title of the video reads, "Video of exercise to practice catching a driver with symptoms".
Next, we used a simple keyword search on Google to find news reports relevant to the viral video. We found a YouTube video published by the verified channel of The Telegraph on 24th February 2020. The headlines mentioned "Coronavirus: 'SWAT' team tackle man in training exercise." According to the news, authorities in Tongbai, Henan have been training to prepare themselves for 'uncooperative' Coronavirus patients. In this exercise, the hostile actor rips off his mask before police and security teams take the man out.
News reports published on 24th February 2020 by Sky News and Global News mention that this video was a mock drill for the SWAT Team practicing to take down Coronavirus infected patients in case they are uncooperative.
Tongbai security bureau's verified account uploaded this video on 22nd February 2020 on Chinese app Weibo that reads, "To win the epidemic defense, Tongbai police had armed exercises security drill."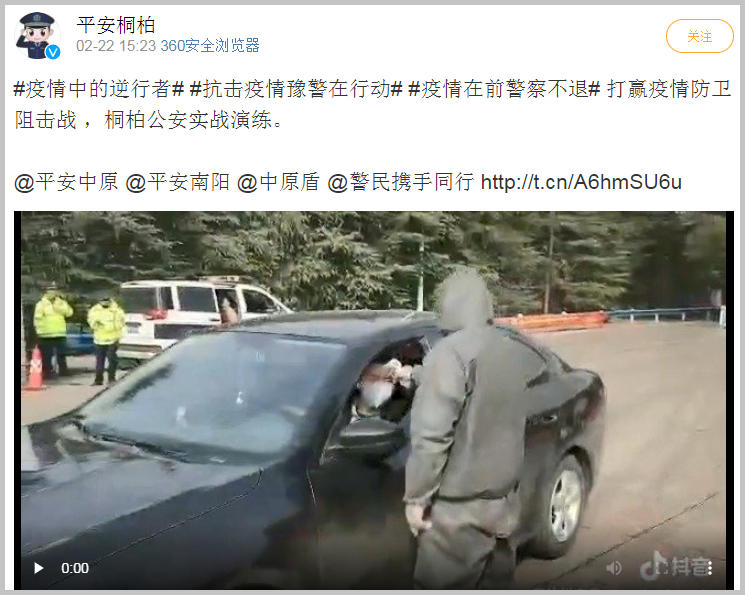 Conclusion- Fact Crescendo found the above-mentioned post to be False. The viral video on social media does not show Chinese officials catching Coronavirus patients on the highway in reality. This video shows a mock drill by Tongbai police practicing to take down Coronavirus infected patients in case they are uncooperative.

Title:Coronavirus: Mock Drill video passed off as Chinese police forcefully detaining patients
Fact Check By: Aavya Ray
Result: False