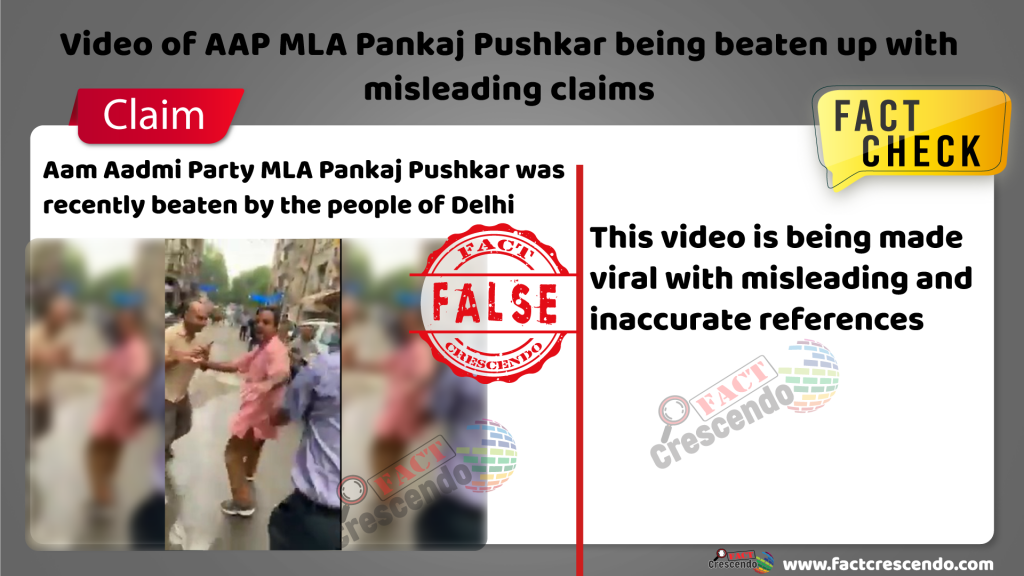 Sharing a video on social media, it is being claimed that Aam Aadmi Party MLA, Pankaj Pushkar, was missing for the last five years, after which he was beaten up a lot by the general public. In this video, we can see the Aam Aadmi Party MLA, Pankaj Pushkar being beaten by the people.
in the title of the post, it s mentioned that "Aam Aadmi Party ke paanch saalo se laapata vidhaayak Pankaj Pushkar ke mil jaane kee khushi mein aam janata ne laat-ghoonson se kiya svaagat! AAP ka uthata starr.
# DelhiElections2020"
This video has also been shared by Congress leader Salman Nizami from his official Twitter account.
Akali Dal spokesperson Manjinder Sirsa, shared this video from his official Twitter account on 8 August 2019 and wrote that "AAP MLA Pankaj Pushkar attacked by the public during raid on ration shops."
In the beginning the investigation, we found this video through the keywords "MLA Pankaj Pushkar Attacked" on Google. As a result of which we found a news article published by India Today on 4th August 2019. The title of the news read that "MLA Pankaj Pushkar and his associate were attacked during raids at ration shops in Timar Pur area". MLA Pankaj Pushkar and one of his associates were allegedly attacked during a raid by a team led by Delhi's Food and Civil Supplies Minister Imran Hussain at two ration shops in Nehru Vihar area of Timar Pur in New Delhi on Saturday. A complaint has also been filed by Pankaj Pushkar against the accused.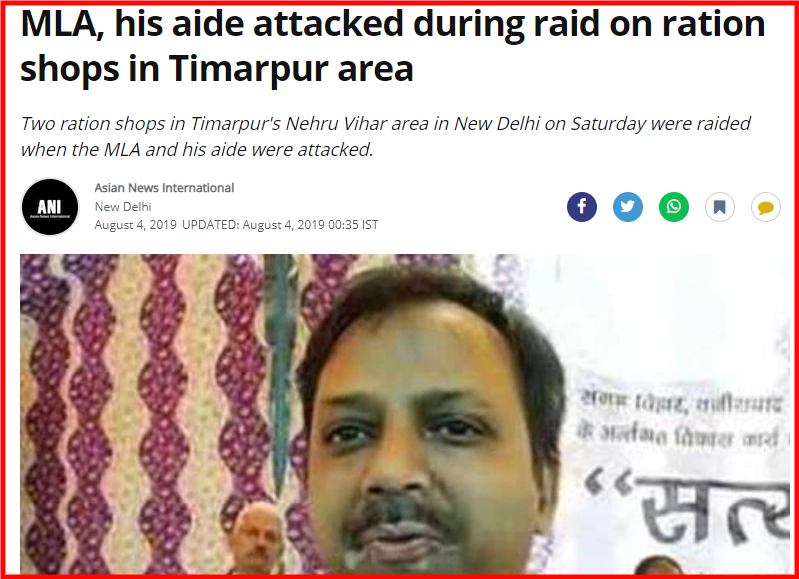 On 4th August 2019, Times of India broadcasted a second angle of the video, writing that "Ration shop owners in Delhi's Nehru Vihar area beat-up Aam Aadmi Party MLA Pankaj Pushkar. Reportedly, Pushkar arrived at the local market to take stock of the work of some ration shops. The shop owners protested after he inquired them about the record books of the shops, which led further dispute in which Pankaj Pushkar was beaten up by the shop keepers. The AAP MLA was accompanied by Delhi Food and Supplies Minister Imran Hussain."
Conclusion:  We found the above post wrong after checking the facts. This video is 5 months old and it is being spread on social media with a false and misleading message. Pankaj Pushkar visited the local market to take stock of the functioning of some ration shops, when he inquired about the record book at the government ration shop in his area, the shop owners protested against it and as the dispute got out of hand, the shop owners resorted to beating Pankaj Pushkar.

Title:Video of AAP MLA Pankaj Pushkar being beaten up with misleading claims
Fact Check By: Ruchika M
Result: False