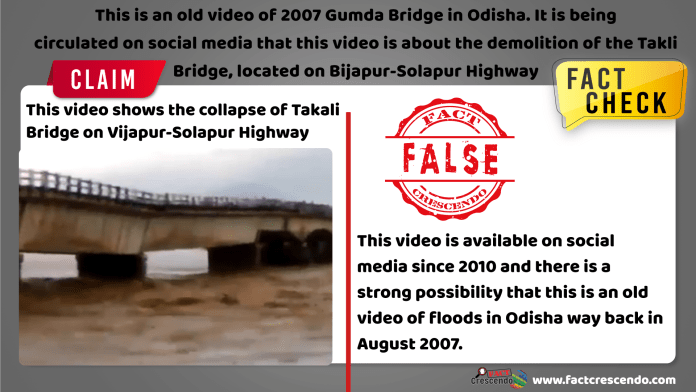 On 13th August 2019 a Facebook user Setiawan posted a video on Facebook. In this video, a bridge can be seen collapsing due to the flow of the river. In the caption of this post it is mentioned "Bijapur Solapur Takali Bridge collapsed, Maharashtra, India 13th August 2019″.
Currently, due to heavy rains in many places in Maharashtra, many types of claims are being made on social media regarding floods. Due to the current state of Maharashtra, one such claim is being made that this video is about the collapsing of the Takli Bridge, located on Bijapur-Solapur Highway.
First we contacted Sushila Khayamghode the Head of the Takali village. After seeing the video he said that this video is not from Takali village. He added, "When this video went viral, I went to the Solapur-Vijapur highway and ensured that Takali Bridge was safe. Please do not believe in rumors." Apart from this, we inquired from the local journalists. They confirmed that this is fake news and rumors are being spread. After this, we took a screenshot of the above video with the help of InVidTool and looked for it in Google Reverse Image Search. We found many old videos uploaded on YouTube 
Video 1:  13th November 2010:  hiprasanna5386
Video 2: 13th July 2011:  mithleshgiet
Video 3: 5th January 2012 : lakojishiba
After that, we analyzed the video with our language expert. We came to know that the language that is being heard in the video is Odia. Then we searched for news related to such incident in Odisha on Google using the keywords "Gumuda bridge collapse in Odisha 2007''. As a result, we got similar news stories related to collapse of a bridge on the news website. In this video it is mentioned the collapse of the Gumda bridge and these reports also mentions the collapse of the Gumda bridge.
7th september 2007 : OutlookindiaPost : ArchivedLink
7th December 2015 : NewindianexpressPost : ArchivedLink
6th June 2017 : MangoNews : YouTube Video
We contacted Pramod kumar Behera, Collector of Raigarh district, Odisha. After seeing this video he said, "this is an old incident and I will confirm and tell you what place it is in Odisha and when this incident had taken place. As soon as we get confirmed news about the video, we will update the post for our readers. Also, when we sent this video to the people of Gumda village and spoke to them about this incident, they also agreed that this bridge was broken several years ago.
This amendment makes it clear that the video shared in this post is available on social media since 2010 and it is not related to the present situation in Maharashtra. This video is being shared with the purpose of misleading people with wrong information. This is a strong possibility that this video is of floods in Odisha way back in August 2007. But this video has no relation with the recent circumstances in Maharashtra
Conclusion: The claim made in the above mentioned post that this video shows the collapsing of Takali Bridge on Vijapur-Solapur highway is false.

Title:This is an old video of 2007 Gumda Bridge in Odisha. It is being circulated on social media that this video is about the demolition of the Takli Bridge, located on Bijapur-Solapur Highway.
Fact Check By: Ruchika M
Result: False