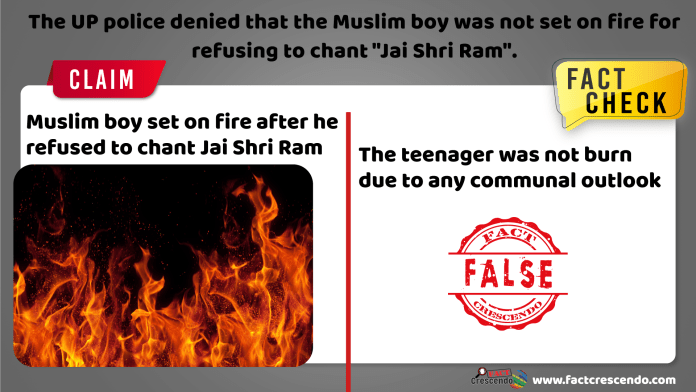 On 12th July 2019, a facebook user Heba Ahemed posted a news which was published by Caravan Daily. On 29th July 2019, Carvaan Daily published news article in which it was mentioned that a 15-year-old Muslim boy was set on fire by four people in Chandauli district, Uttar Pradesh after he refused to chant Jai Shri Ram. This incident happened on Sunday night. The boy was admitted to Kabir Chaura Hospital in Varanasi. The condition of the boy with 60 percent burns is said to be critical.  The teenager victim recorded his statement in front of the hospital camera that he was set on fire after he refused to chant 'Jai Shri Ram'. This incident has been published by leading media organizations and this claim is being widely shared on social media.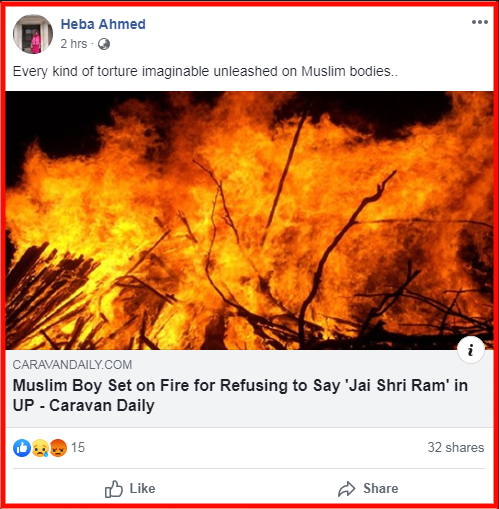 Facebook Post   Archive Link   Carvan Daily       Archive Post
In the beginning of the investigation, we started searching this news on Google. We came to know that this news has been published by a lot of media organizations, but no substantial information has been provided to prove the authenticity of the news. After this, according  to the information given in the news, we spoke to Santosh Kumar Singh (SP, Chandauli). He told us that the claims made on social media are absolutely fictional and baseless. Actually, yesterday around 5:30, the police was informed that a boy has been burnt. When police reached the boy's home, they were told that the victim has been taken to the hospital. The victim's brother went to the police station to lodge a complaint. He has mentioned in the FIR that in Mandrajpur that Yadav's boys took his brother to the farms and set him ablaze.  Based on the information given by the victim, his brother lodged an FIR. After that, he went to meet his brother in the district hospital and came to know that the victim had told the doctor that there were four boys, one of whom said, "Go sunil, bring kerosene oil and set him on fire". According to the police, the boy narrated the same version of the incident to the doctor as well. However, when he was referred to BHU, he informed the police officer accompanying him that he was intercepted by men on a motorbike at Dudhari Pulia. He added that he was forcefully made to sit on the motorbike and took him to 'Bhatija Mod' which is in another opposite direction. He added that there he was dragged into a field and set ablaze.  We asked one of the alleged accused where this incident happened? He told us that this incident happened in Dudhari Pulia. Later, the victim informed the police officer that he was intercepted by men on a motorbike at Dudhari Pulia. Their faces were covered and they forcefully took the victim to 'Bhatija Mod' and set him ablaze. The victim's statements differ regarding the description of the incident. We investigated all the 3 locations and searched for proof but we could not find anything. By the evening, probably people provoked the victim that the story of Jai Shri Ram's slogan should be added with this incident. This story was aired by the mainstream media. According to the information given to us, in  our initial search we were told that the victim walked down to his home after he was burnt. We started scanning all the CCTV cameras on all the possible paths leading to his home, so that we could get some information about the spot where the incident exactly happened. We searched the CCTV cameras on all the possible 3 routes thoroughly but could not find any evidence. Then we thought to give it another try and checked the camera for the fouth time. Althought the name of this road was not mentioned by the victim but the path leads to his home. In that street, the CCTV camera was installed on Mr. Jaiswal's house. After checking, it was seen that at 05:14 am in the morning a young man was coming from the west direction. We went to that location to check if there is any burnt cloth or evidence. After walking down till around 1 kilometer in that direction, we reached the National Highway 2, where we found a mausoleum. On the entrance gate , there were half burnt cloths and a pair of slippers That were kept properly, as if someone had come to pay their respects. The police said that when they were investigating the area around the mausoleum a hawker told them that around 4:25 am, when he was distributing newspapers, it was drizzling. He said that one mad person was setting himself on fire and running around. The hawker added that he went after the burning boy for around 100 metres but due to the rain the fire extinguished and he went away. In 2016, Yadav and Sunil had a fight with the victim's family, due to which the name was taken. This incident was due to some blind faith and superstition.  Further, we found a bottle of kerosene oil from the victim's home, which was used to burn the victim. The victim's family told us that he left the house early on that day. This incident might have happened either due to any tension at home or due to any blind faith. After the incident, the neighbors asked him to take Yadav's name. The victim took Mandrajpur's name and later kept changing the name of the site where the incident occurred. Around 4 to 6 hours after reaching the Banaras Hospital, the media gave this entire incident a communal outlook. In addition to this, the social media users tried to create a trend of 'Jai Shri Ram' and made this incident national news.  ANI UP reported in a tweet that according to ACP Chandauli , the boy has given separate statements which were found to be false in the investigation, an eyewitness saw him burning alone.
Chandauli: Family of a 17-yr-old boy, Khalid, alleged he was set ablaze by some people when he refused to chant 'Jai Sri Ram'.SP Chandauli says that boy has given different statements which were found to be false in investigation, eye witness saw him setting himself ablaze.(28.7) pic.twitter.com/KpfaepUGBj

— ANI UP (@ANINewsUP) July 29, 2019
Chandauli Police posted ACP's statement on Facebook
In addition, Chandauli Police has also clarified about this incident on its official Twitter account and urged people not to spread false rumors and misleading news. In order to read more about this incident on fire, please click on the link below. 
In a different tweet, Chandauli police shared a video of interrogation done by DSP Tripurari Pandey and mentioned that some people tried to make this incident special.
The UPpolicefactcheck @UPPviralcheck presented a fact related to this incident through a tweet.
In a tweet, the Chandauli police issued a warning that if anyone is seen giving this incident a communal perspective and spreading it on social media, then appropriate legal action will be taken against that person.
Conclusion: After investigating the facts, we state that this incident is incorrect. The teenager was not burnt due to any communal reason. The Police anticipate that he got burnt due to either some blind faith and superstition or due to some personal differences.

Title:The UP police denied that the Muslim boy was not set on fire for refusing to chant "Jai Shri Ram"
Fact Check By: Ruchika M
Result: False