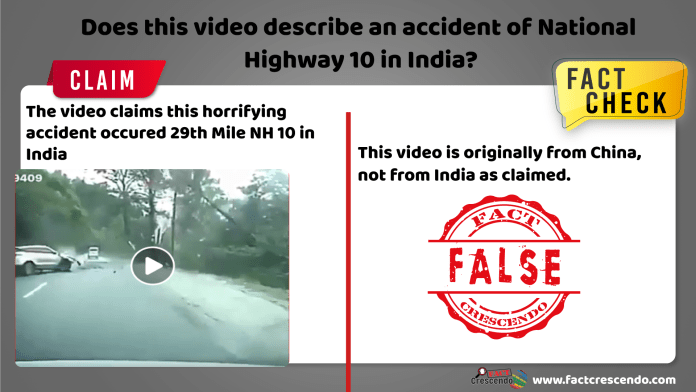 On 12th July 2019, a Facebook page named We Love Siliguri posted this video. The title of this video said this rockslide took place after heavy rainfall hit the region. It can also be seen that on 29th Mile NH 10, a massive boulder rolled down the hill and smashes into a moving car.  So be safe and stay alert. This video shows a moving car that was hit by a huge boulder rolling down a mountain side. The video is doing the rounds with a fake claim that this incident occurred on India's National Highway 10 (NH10) that connects the India-Bangladesh border via Siliguri to Gangtok. On 29th Mile NH 10 Kalimpong in West Bengal the road connects Siliguri, West Bengal with Gangtok, Sikkim. This area is prone to rockslides, which is one of the primary causes that the video has gone viral.  This video was viewed 150 times till the facts were checked.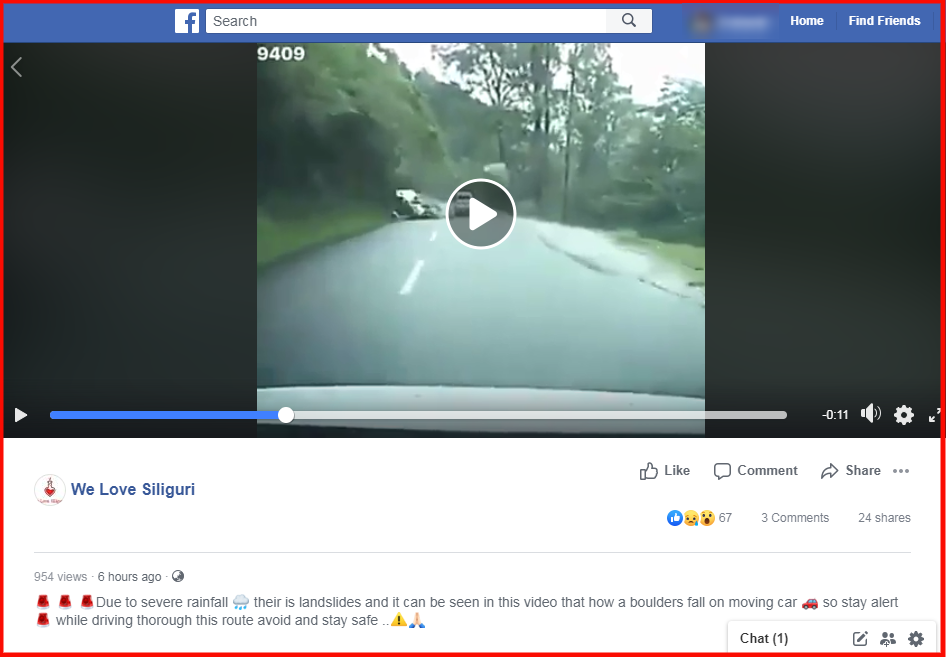 We did a reality check to ensure if thi incident shown in this video really occured of NH 10.  
We started our investigation On Google using the keywords 'Boulder fall on moving car'.  As a result, we found a video uploaded on YouTube.  This video was uploaded by Chinese media called CGTN on 13th October 2018. The description of the video said "a car was collided by a boulder rolling down a mountain and did a 360 spin. Due to massive rockslide, smoke started coming out of the engine. According to the local police, this incident as a natural mishap and no one is injured seriously in this mishap.'' As mentioned in the video, this incident took place on 3rd October 2018 in Tibet Autonomous Region, China.
Thereafter, we searched for news related to the incident in this video. As a result, we found an article published by the Daily Mail. In this article it was mentioned that – a car travelling along a mountainside road in south-west China was nearly crushed during a sudden rock slide.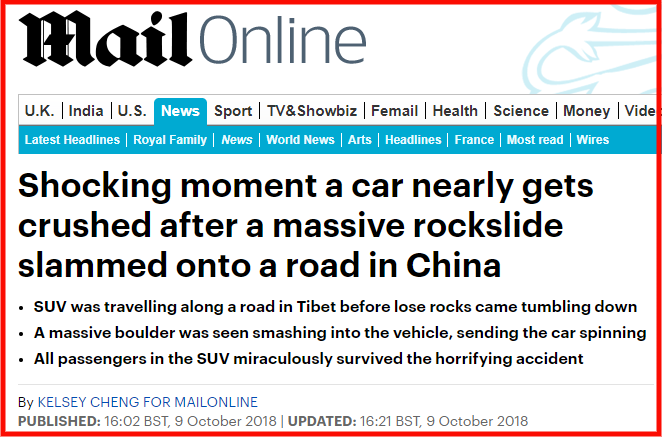 Conclusion:  Fact Crescendo has fact checked and confirms that the video FALSE. This video of a massive boulder rolling down a mountain and smashing a car is from China.  The viral video is doing the rounds with false claim that the incident occurred in Indian on NH 10. 

Title:Does this video describe an accident of National Highway 10 in India?
Fact Check By: Ruchika M
Result: False