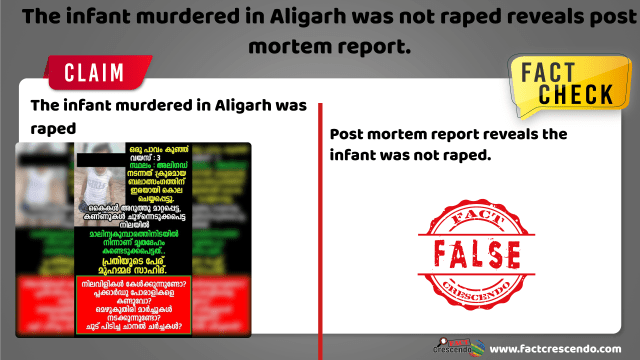 Narrative on social media
A post claiming that an infant was brutally raped and murdered in Aligarh is getting viral on Facebook. A Facebook user named Mada Swamy Madaswamy has published the post on Facebook, which has been able to garner almost 700 shares till now.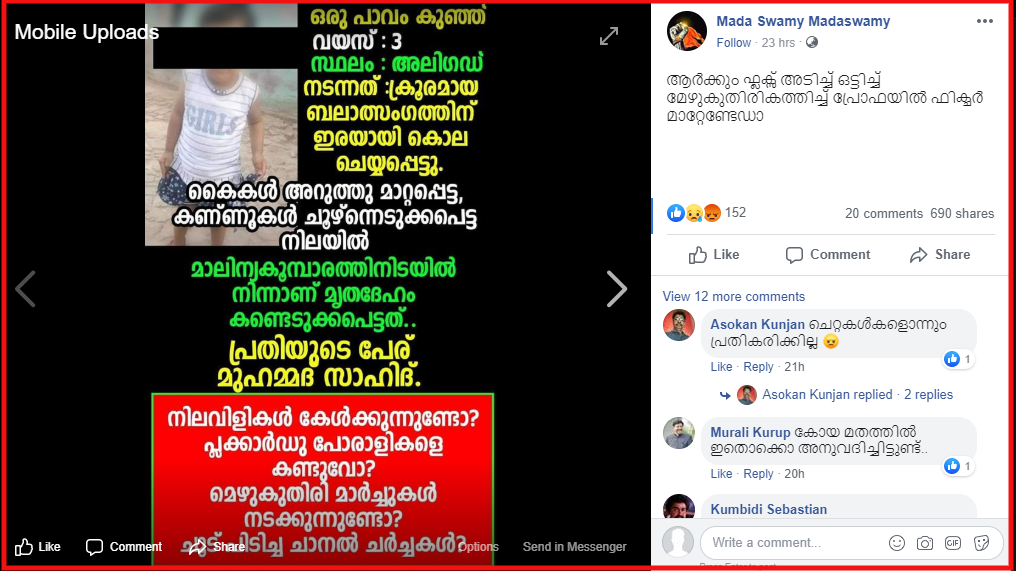 The caption of the post in Malayalam reads as follows: "Doesn't anyone want to hold a placard, light candles or change profile picture?" The image shared with text in Malayalam asks the following questions: "Does anyone hear the cries? Did the placard warriors see this? Are candle light vigils being observed? Where are the hot discussions on news channels?" Let's check out the facts behind this story.
Our Fact Check
We searched on Google with keywords such as Aligarh, infant and murdered, from which we got links to various news articles published by prominent media houses on the incident. As per the report published by Times Now, the incident took place in Tappal area in Aligarh district. The infant had gone missing following which the parents of the child visited police station to register a missing complaint but the police delayed in registering the complaint. The complaint was registered on 31st May 2019 after 30 hours, the report says. The body of the infant was discovered in Tapal area near the home of the infant. Her body was discovered only on Wednesday when locals spotted stray dogs nibbling at what seemed to be the buried body of a child in Tappal area. The body was later identified to be of the girl who was missing 31st may.
The SSP of Aligarh, Akash Kulhary told media persons that a post-mortem report revealed strangulation as the cause of death. The top cop also put rumours of rape to rest by saying that medical reports show no sign of sexual assault.
The prime suspect identified as Zahid, was a neighbour of the deceased girl. The girl's family had borrowed some money for Zahid. Due to which Zahid had an argument with girl's grandfather and uncle.
Conclusion
The claim of the viral Facebook post is False as the SSP of Aligarh has confirmed to the media that the post mortem reports of the deceased girl did not confirm rape.

Title:Fact Check: The infant murdered in Aligarh was not raped reveals post mortem report
Fact Check By: Harish Nair
Result: False