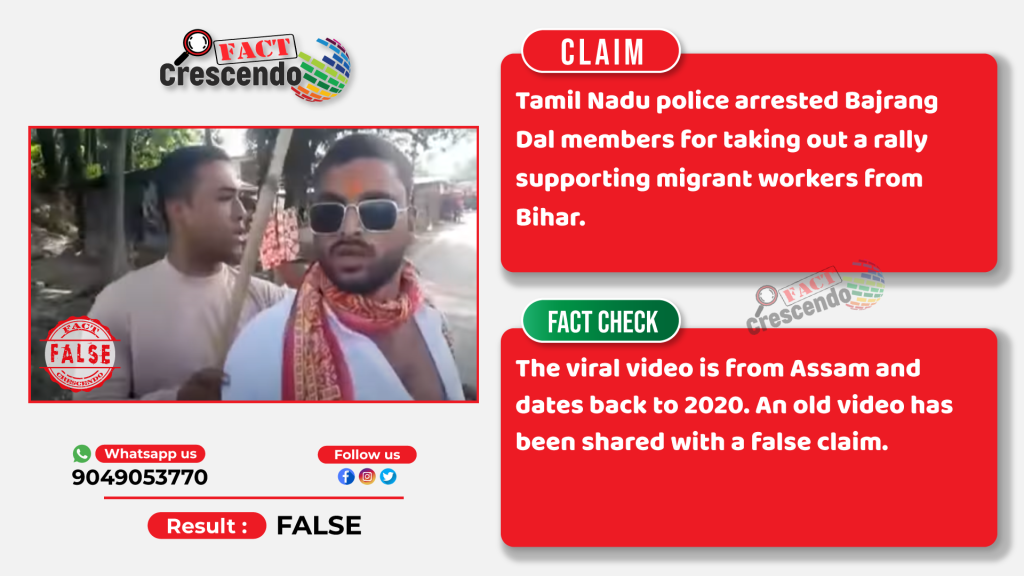 Over the last few days, rampant disinformation about fatal attacks on Hindi-speaking migrant workers in Tamil Nadu is going viral online. Countering the false narrative, the Tamil Nadu government and police have taken strict action against fake news peddlers.
In continuation to this misinformation trend, a video of a group wielding swords and machetes is doing rounds on social media with a claim that Tamil Nadu police arrested Bajrang Dal members for organizing a rally in solidarity with Bihari workers in the state.
Fact Crescendo received the viral video on our WhatsApp Tipline (9049053770) with fact-check requests.
We found that the viral video is from Assam and has been shared with false information.
WHAT'S THE CLAIM?
On Facebook, a viral video shows a bike rally with some participants brandishing swords and machetes. Further in the video, police arrest a few rally members for possessing weapons without permission. Upon being questioned by the police, one of the detained members confesses to being associated with Bajrang Dal.
The caption along with the video reads: Bajrang Dal came to rescue Bihari workers in Tamil Nadu.
Original Post – Facebook | Archive
FACT-CHECK
After closely scrutinizing the video, we noticed several indicators that suggest it is not from Tamil Nadu.
Firstly, the language spoken in the video is a mix of Assamese and Hindi. Secondly, the text displayed in the video mentions the Tinsukia district in Assam. Thirdly, the video features the logo of East Mojo (EM).
Following these clues, we found that the same video had been posted on the East Mojo YouTube channel in 2020.
The Bajrang Dal organized the bike rally depicted in the video in the Tinsukia district of Assam as part of a procession held on 26 October 2020 for the occasion of 'Ashtra Poojan', reported East Mojo.
A group of approximately 70 people on motorcycles, armed with swords, were intercepted by the Tinsukia Police. Although most of the bikers managed to flee, four of them were detained and taken to the police station. Subsequently, the four bikers were fined and later released by the police, reported Time of India.
"I saw them moving from Thana Chariali area and gave chase. One of the members said that he belonged to the Bajrang Dal," said a Tinsukia police as reported by India Today North East.
The official added that no permission was taken from authorities to conduct the rally and the local police were equally taken aback to see bikers armed with swords riding around the town.
No Attacks on Workers
A team of officers from Bihar, who had travelled to Tamil Nadu to investigate allegations of attacks on migrant workers, stated in their report that such rumours were unfounded. They confirmed that no such attacks had taken place and submitted the report after returning to Bihar from various parts of Tamil Nadu.
Tamil Nadu Chief Minister MK Stalin reassured migrant workers in the state that the rumours of any threat to their safety are baseless.
Bihar and Tamil Nadu police have warned of strict action against those who posted fake videos claiming attacks on workers.
They have even registered cases against media channels, newspapers, and political leaders including BJP leader Prashant Umrao, journalist Mohammed Tanveer and an editor of Dainik Bhaskar for false reports, reported Scroll.
Tamil Nadu police have issued guidelines on how to dispel rumours regarding attacks on migrant workers in the state.
Read – NDTV
CONCLUSION
Thus, it is clear that an old video from Assam has falsely been shared in connection with recent alleged attacks on migrant workers in Tamil Nadu. The claim that Tamil Nadu police arrested Bajrang Dal members for taking out a rally supporting Bihari workers is false.
Fact Crescendo has debunked several such videos falsely shared about alleged attacks on migrant workers in Tamil Nadu. You can read them here.
(If you come across any news, videos, or images that seem too good (or bad) to be true, don't hesitate to send them our way. Our team of fact-checkers will look into it and then share our findings with you. Together, we can fight the spread of fake news and misinformation. Our WhatsApp number is 9049053770. To stay updated, follow us on Facebook, Twitter, or Instagram.)

Title:Bajrang Dal Members Were Not Arrested For Rescuing Bihari Workers in Tamil Nadu
Fact Check By: Mayur Deokar
Result: False