Viral video is from Japan and dates back to 2021.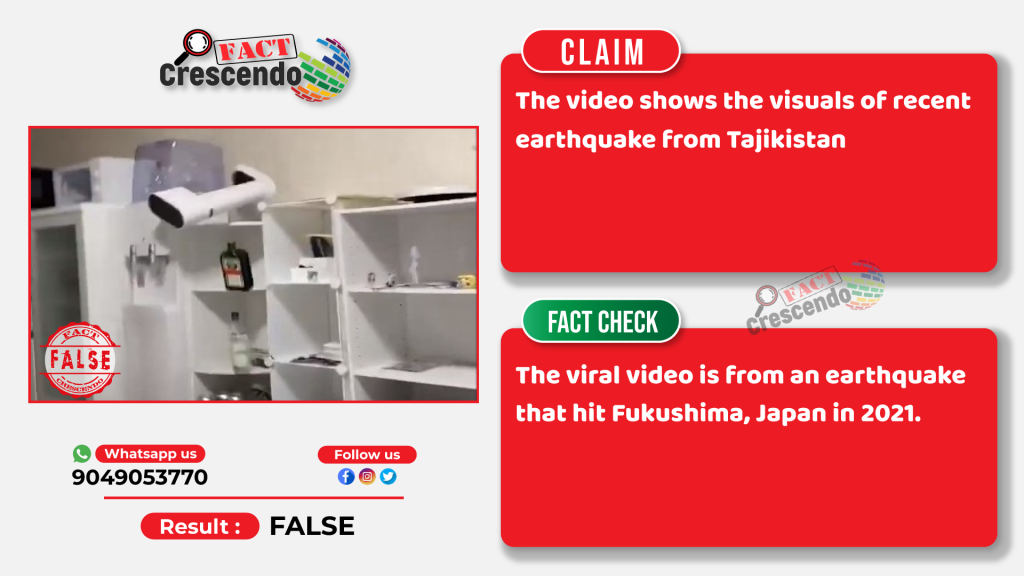 Tajikistan was hit by 6.8 magnitude earthquake on 23 February and its tremors were felt in China and other neighbouring countries. Following this incident, social media users shared a video claiming that the visuals were from an earthquake that struck Tajikistan. In the viral video, it can be seen that the cupboards, fridges, water filters and other belongings in the closed room were shaking violently and the things on top fell down with a loud noise.  
Caption of the video states "The strong earthquake that struck earlier this morning, affects the territories of Pakistan, Tajikistan, Uzbekistan, China, Afghanistan, and Kyrgyzstan".
Even the media outlets used the same video with the caption "An earthquake of magnitude 7.2 hit #Tajikistan near the border with #China"
The same video was widely shared on Facebook as well.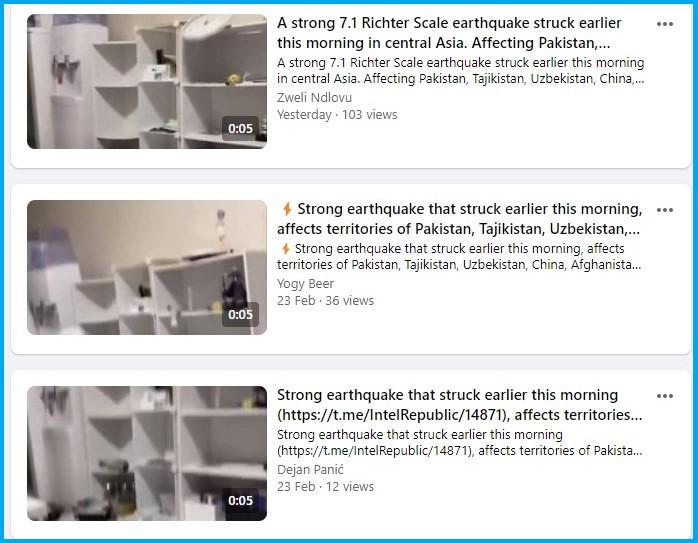 Fact Check-
We conducted a reverse image search on Google with the k eyframes of the viral video to find the original source. As a result, we found on 13 February, 2021, a Twitter profile named Global News Network uploaded the viral video with the caption, "7.2 magnitude earthquake hits off the coast of Japan. Tremors were felt across a large area, including Tokyo".
In further search we discovered a longer version of the same video uploaded by a Turkish public broadcaster, TRT World Now and the clip was shared on 13 February 2021 with a title that said that this visual is from an earthquake that hit Fukushima, Japan.
The same video was also posted on February 13, 2021, by the Facebook page of Turkish English international news channel 'A News' and captioned it as footage of the earthquake in Japan.
We also found a report by Reuters from 13 February 2021 which said that according to Japan Meteorological Agency, the earthquake had a 7.3 magnitude. 
Based on the facts and evidence, it is clear that the viral video is not related to the recent Tajikistan earthquake.
Conclusion–
Fact Crescendo found the claim made along with the viral video to be False. The viral video is from an earthquake that hit Fukushima, Japan in 2021and is not related to the recent Tajikistan earthquake.

Title:Old video from Japan shared as recent visuals from Tajikistan earthquake
Fact Check By: Usha Manoj
Result: False